Back to selection
Camera to Cloud to Remote Collaboration: New Remote Tools and Workflows from NAB 2023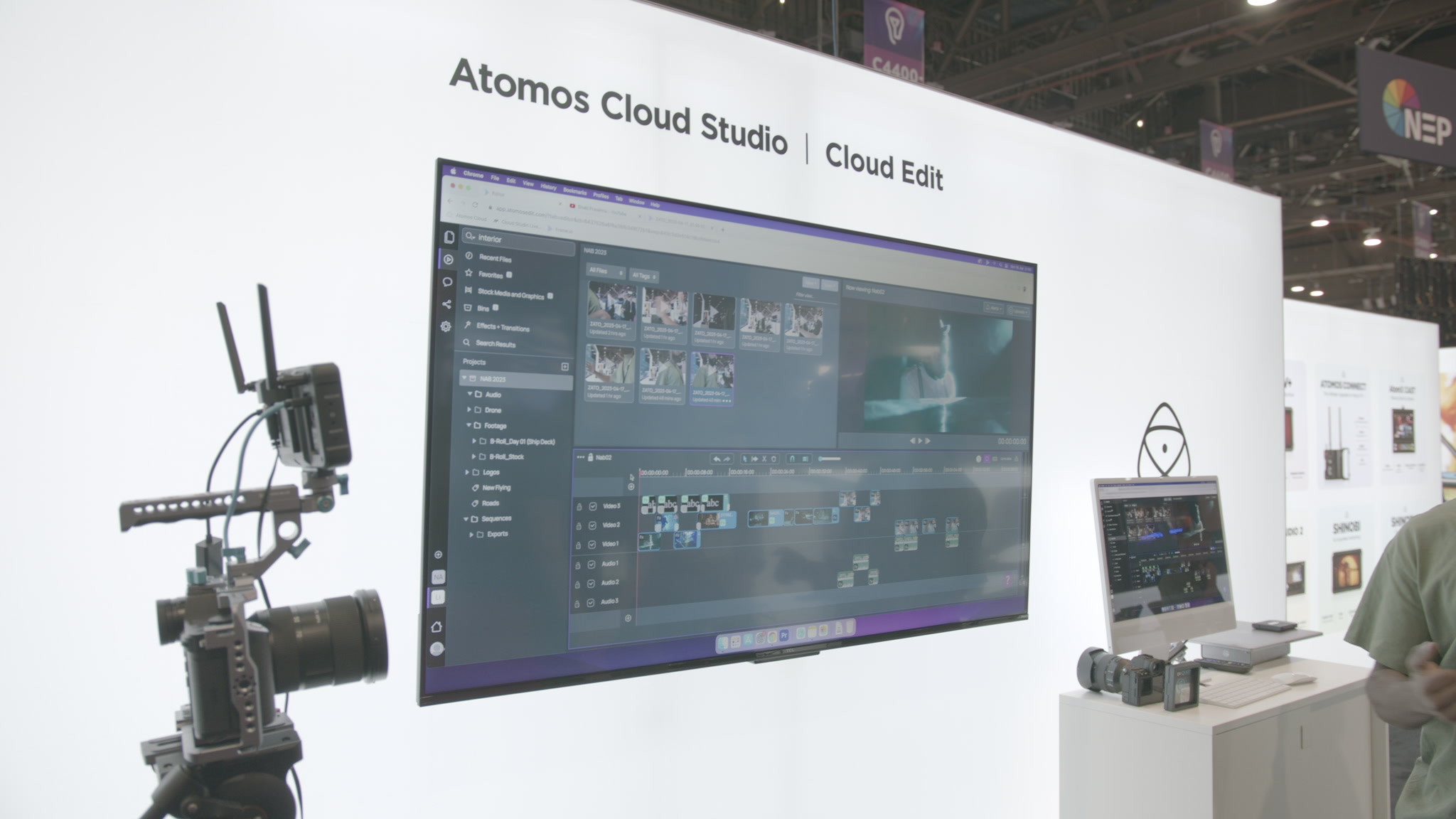 From uploading to the cloud to editing in the cloud to collaborating across the cloud, there was no shortage of new tools and workflow ideas at NAB to help shoot and edit quicker regardless of where your team is located across the globe.
Let's dive into a few of the most interesting updates, from remotely collaborating to remotely working.
Camera to Cloud
First up, let's talk about camera-to-cloud workflows. 
The biggest update from Frame.io was the extension of the C2C workflow to still photos. 
Now, unlike video where you can use an external device from Atomos or Teradek to add C2C to just about any video camera, for still photos this integration needs to be built into the camera. Currently, just the RED V-Raptor and Fujifilm's new X-H2 and X-H2s have this built-in (in addition to still photos they also support proxy video uploads). 
For a more expansive conversation on Adobe's future with Firefly and AI, check out our discussion with Michael Cioni, Adobe's Senior Director of Global Innovation.
Teradek rolled out the Link AX, a rugged wi-fi router and access point that you can set up on set to create a local network to connect all Teradek devices/cameras and monitor on tablets and laptops. If available, you can connect the router to the internet to tap into Teradek Core, their cloud platform, which would let anyone with access monitor any of the video feeds. 
Or if you're on location, you can connect the router to the Teradek Node for 4G or 5G access and use Teradek Data. You can also use your own SIM card, but the advantage of Teradek Data is that there's no data throttling and it works across multiple carriers, using the one that has the best signal for your location.
For a more self-contained setup to stream from a single camera to either Teradek Core or send proxies to Frame.io, there's the Prism Mobile which will transcode the video signal and upload via wifi or cellular (it has four SIM card slots). 
Atomos had some cool updates to Cloud Studio, their online portal that can connect to their wi-fi enabled monitors, like the Zato or Shogun Connect or the Ninja V with the Connect attachment. Cloud Studio is the portal to connect your Atomos device to Frame.io's C2C. Now they added support to connect to Sony Ci. Also, you can now edit videos in Cloud Studio.
So the camera streams to your Atomos device, Atomos encodes and uploads lower res files to Cloud Studio, and multiple users can work and edit in an online timeline and leave notes and feedback. Then you can publish directly to YouTube or Vimeo or download an XML to send to your editing app of choice to fine-tune the edit and relink to the original media.
In a chat with Senior VP of Product Paul Scurrell, we discussed some new workflows he was seeing that could warrant a new name for a mid-range file that's better than a proxy but a lower bitrate than the original media. The Atomos monitors are capable of encoding and streaming H265 files at 30 Mb/s, which is high-quality when publishing to the web. He's seen workflows that go straight from Cloud Studio to YouTube and never need to relink back to the original media.
Also in Cloud Studio is the ability to live stream and mix from multiple cameras anywhere in the world and send an RTMP live stream to whatever platform you like.
If you're interested in creating live streams and mixing up to 8 sources, either from cameras, phones, or remote guests via Zoom, Cinamaker had an impressive demo that easily put this all together in a simple-to-use and well-presented live stream broadcast. 
Remote Collaboration
Now let's cover some updates for remote editing and collaboration.
Alteon is a fairly new content management system with a slick interface. Designed to be a complete media hub, housing all your project's media, it has three different storage tiers to make keeping all your media in the cloud more budget-friendly, with tiers for online, nearline and archival storage.
Some of its other unique features are integration with IBM Aspera, which is designed to upload large files fast. There's Premiere and Final Cut integration (more NLEs coming soon), the ability to send review links for commenting, and the ability to send an upload link to receive files from say a freelance videographer. 
For a more flexible file-sharing setup there's LucidLink. LucidLink mounts on your computer and appears as any other hard drive, but the media files are streaming in real-time so you don't have to deal with caching or local downloads like you would with traditional file-sharing systems. I've used LucidLink through PostLab's integration with them and it's like a magical hard drive of infinite size that plays back media seamlessly (network speed is a factor but you don't need anything crazy fast).
Using LucidLink directly you'll have fine-tuned control over who has access to what files and folders on your drive and any OS can mount to LucidLink, unlike PostLab which is Mac only.
And then there's Backlight's Iconik, which is a Swiss army knife of digital asset management. Iconik can map any hard drive on any computer and connect to just about any type of cloud storage (A3, Google, Backblaze, etc). Add your own metadata fields to organize and sort everything, use Rev and Google AI to transcribe and tag videos with objects, share media, send review links, create edit proxies with custom settings, send upload links, and archive media to cheaper deep storage. I use Iconik personally, and it's become the central hub for managing all of our raw media, work-in-progress edits and final delivery. It also has Premiere integration, with Final Cut and Resolve rolling out later this year.
Reviewing Videos & Edits
Working with a distributed team means you need other ways to leave feedback, either asynchronously or in real time. While most of the previously mentioned tools have some form of video review (Frame.io, Iconik, Alteon) there are a few other tools worth mentioning that tackle specific use cases.
Louper is a new platform that creates a 4K live session to review cuts in real time, along with a live video chat for clients and coworkers to give feedback.
From Backlight there's ftrack Review, which is a separate product from Iconik and more of a standalone review platform. While it has a lot of similar functions to the review tools in Iconik, one of the standout features is the ability to sync a session with multiple users at the same time, so playback is in sync for everyone watching, no matter where they are. Now this doesn't have built-in video or audio chat like Louper, so you'd need to be communicating on another platform, like Zoom or Slack Huddle. 
Also from ftack is CineSync. CineSync does integrate with Iconik, with the ability to roundtrip files and notes to and from Iconik. But what makes CineSync different from all the other review platforms is it downloads the original, uncompressed file and loads a dedicated media player on your computer.
This is ideal for color and VFX shots for when you need to look at the original, high-res footage and not a proxy file. CineSync also has the ability to synchronize playback for everyone on the session and you can set a playlist so it runs through multiple files in one go. Also, there are security features that decrypt the files only when they're being played back in the CineSync player for review and then delete them. 
Mobile Workflows
And, lastly, not exactly remote workflows but what if you personally want to have a more flexible editing workstation on the go? Or you're dealing with mobile video recording. There were a few updates in that domain.
LumaFusion, the most powerful multitrack video editing app designed specifically for tablet editing, now supports Android and Chromebooks. They also released multicam editing in the app as a paid add-on. The UI for switching between angles on a touchscreen is pretty clever. 
If an iPad Pro is going to be your workstation of choice, the Thunderbolt Go Dock hub from OWC allows you to power your iPad Pro and connect an HDMI monitor, multiple hard drives, and USB drives to fully turn your tablet into a quicker-to-operate editing station.
For mobile recording, especially if you're trying to upload a video shot on a mobile phone and not have the phone compress it when it sends it, there's MiMojo. 
Aimed at mobile journalists but useful for anyone that deals with mobile phone recording, or agencies that handle a lot of user-generated content, it's a fast and direct upload to get uncompressed original video files off a phone. It also has a clever web interface that can direct where the uploaded media goes and it can do compression in the cloud so you can download the files in a format and size that you want.
Previously mentioned Alteon also has a native iPhone app that lets you upload videos directly to an Alteon project.
Joey Daoud is a media producer and founder of the agency  New Territory Media . He is also an award-winning documentary filmmaker, with past work streaming on Netflix, The New York Times, and National Geographic. You can follow him on Twitter and YouTube, where he posts videos about gear, content, and marketing.