Back to selection
CHERIE SAULTER'S "NO MATTER WHAT"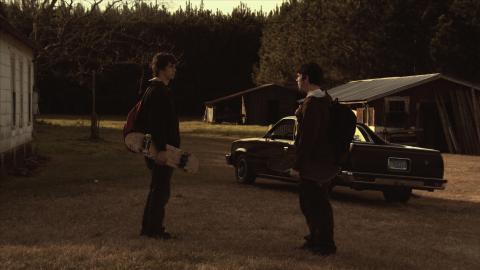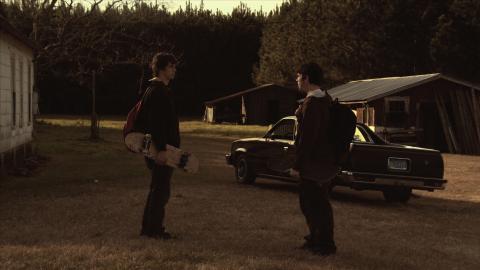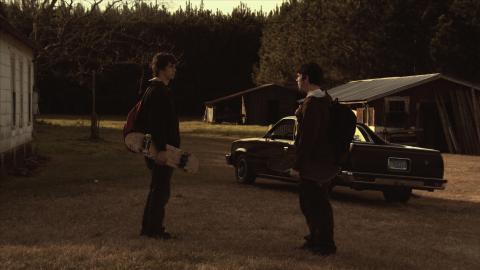 Screening Times: Sunday March 13th, 4:15pm (Alamo Ritz 1), Monday march 14th, 4:30pm (Rollins Theatre), Wednesday March 16th, 9:00pm (Alamo Lamar B)
When 15-year-old Joey's mother goes missing in the rural, economically depressed corner of northern Florida that he and his best friend Nick call home, they go searching for her through increasingly dangerous territory in No Matter What, a harrowing drama from first-time director Cherie Saulter.
Filmmaker: You grew up in Northern Florida and your film is set there. What did you draw upon from your personal experience growing up there for this film?
Saulter: None of the things that happen in No Matter What are things that happened to me personally. However, the film is set in the small town in Northern Florida that I grew up in, and everything about the way that part of the world feels has influenced who I am. The film is about Joey and Nick, two teenaged boys who are skateboarders and sometimes feel like outsiders in their rural hometown. Those characters are largely inspired by guys that I hung out with when I was their age. And while none of the things in the film are things that actually happened to people I knew, the characters react to their situations in the way that I think my friends would have reacted.This story is one that I've wanted to tell for a long time because the characters mean so much to me. They're not characters that I feel like I've seen in a lot of movies. They're not immediately likable and they don't always do the right thing, but I wanted to make the movie because I want people to see that they're still funny and sincere and are trying really hard to figure things out. I feel very attached to those characters, and I want other people to care about them, too.
Filmmaker: How long did you spend getting to your performers acclimated to the region before you began filming them?
Saulter: With the exception of Amy Seimetz, all of the actors in the film were cast locally, and a large percentage of them had never acted before. Because we were trying to really accurately depict the region it felt more authentic to cast people who were familiar with the area and the culture there. Matt Webb and Waylan Gross, who play Joey and Nick in the film, both grew up in the town that we filmed in and this was the first acting experience for them both.
Filmmaker: What were your biggest challenges when constructing the film in post-production?
Saulter: Aside from the boring technical problems that we ran into when we tried to put RED footage and Canon 7D footage on the same timeline, our post-production process was pretty uneventful. My editor, Andrew Hevia, is probably the only person on the crew, besides me, who has read every draft of the script and even the outlines I made before I started writing. He's one of my closest friends from film school and he's been involved in the project since its inception, so I feel like he really understood the story I wanted to tell. Also, Andrew was on set for the shoot assembling things as we shot. It was helpful to be able to see how the story was coming together as we went along to make sure we weren't missing things.The only thing that sticks out in my mind as a challenge in the construction of the film was the decision to cut one of my favorite scenes from the movie. It wasn't even a challenge, I just wasn't very happy about it. We cut about ten minutes from the middle of the movie because the pace of the film started to really lag. I knew it needed to happen from the first time I watched it, but I kept stalling because the boys' performances were so great and I didn't want to lose that moment. I'm hopeful that at some point we'll have the opportunity to show deleted scenes somewhere, because I still love those scenes, they just didn't belong in the film.
Filmmaker: Where were you and how did you react when you were told you'd been accepted to SXSW?
Saulter: I was at my house in Los Angeles when I got a phone call from a number I didn't recognize. So I answered, which I don't normally do, and Janet said, "Hi, this is Janet Pierson from South by Southwest." I'm pretty sure my first thought was, "Well she probably wouldn't call me to tell me she hates it." After that I was kind of too excited to remember much of what she said and at some point I should probably apologize to her for whatever unintelligible babbling I responded with. When I got off the phone I called my parents and most of the crew to tell them. All along I had hoped we could premiere at SXSW so I think I didn't stop smiling for a week when I found out.
Filmmaker: Are you planning to do any DIY promotion or distribution with the film?
Saulter: While I have infinite respect for people who choose DIY distribution for their films, I also think that there are people who work in distribution for a reason. They're better at it than I am. And while I'm sure I could learn enough and put enough effort in to not be a complete failure, I'm so beyond ready to move on. I'm really happy with my film and I've loved the experience of making it, but it's been a long process. I started the first outline of the script over four years ago. The idea of spending another year or two years working on it when I could be making other things is kind of overwhelming.
Filmmaker: Any other projects in the pipeline?
Saulter: I'm producing a film for Chad Hartigan called This is Martin Bonner (http://martinbonner.com) which we're hoping to shoot in Reno, Nevada in the fall. Also, I just finished a first draft of a script I've been adapting from a short story called "The Boneston Royal", written by Lauren Shows. It's a film that I'd like to direct when I have a little more money than we had making No Matter What.