Back to selection
Leitner's Mondo NAB, Part 1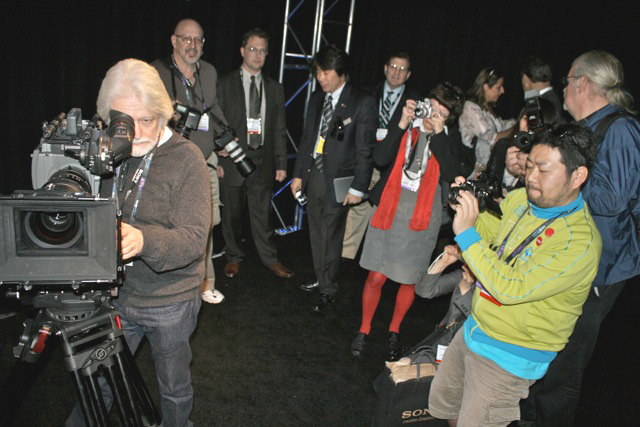 Cinematographer Curtis Clark, ASC, director of short film screened at Sony booth to demonstrate new Sony F65 (above) with 8K Super35-sized sensor.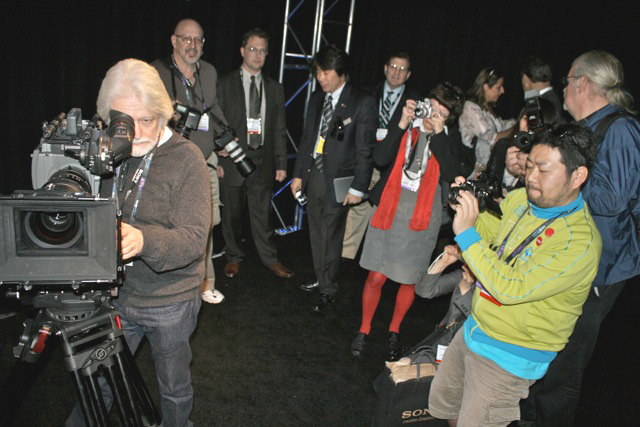 Originally posted April 2011.
The big NAB show in Las Vegas opened Monday, and I'll be filing reports for Filmmaker's readers at the end of every day through Thursday, when the show floor closes.
For those unfamiliar with NAB, it stands for National Association of Broadcasters, a powerful trade association and influential Washington lobby, no bastion of progressive politics.
But for filmmakers and indie producers, it also stands for the huge annual April trade show in Vegas, where the latest in cameras, lenses, recorders, lighting, audio, and all manner of production gear are introduced.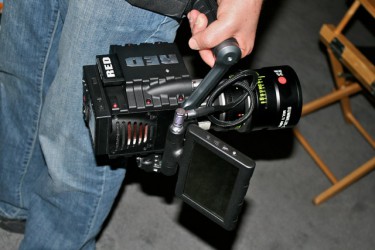 TV execs, techies, DPs, and crew fly in from all over the world, filling several large halls at the Las Vegas Convention Center, the site of the massive Consumer Electronics Show only a few months earlier.
For the 100,000+ attendees, this is Sundance, Cannes, and SXSW rolled into one. The keynote address Monday morning, for instance, was delivered by James Cameron and Vince Pace, Cameron's design partner in 3D camera systems. They came to preach, you guessed it, the gospel of 3D.
Pronounced "N-A-B" instead of like something you'd hail on a New York street, the NAB convention is a four-day whirlwind of talks, meetings, seminars, dinners, parties, and serendipity. Every manufacturer is here and eager to discuss what they make and how they can make it better.
For this reason NAB is one-stop shopping. Every new piece of gear that will arrive over the next year can be seen and touched at this show. Like Sundance, I never miss NAB. This is my 20th.
If you want to follow breaking news from NAB, there are dozens of breathless blogs and anxious tweets and Google will serve up a flood of coverage. I intend to mention as many new products as possible, but always from the unique perspective of indie production.
Speaking of perspective, I see several strong trends here. This NAB will be remembered as the year of large-sensor cameras, PL-mount lenses, and 4K, which I'll explain when we get to it. There is also growing emphasis on solid-state recording and its concomitant issue, archival storage of file-based media.
Oh, yes, there's 3D. Although I'm not yet sure what the indie take-away will be. We'll get to that, too.
At separate pre-NAB Sunday press conferences, Sony went big and Panasonic went small. I'm speaking sensor size. Sony unveiled a line-up of new cameras with Super35mm-size CMOS sensors, from an affordable AVCHD camcorder, the NEX-FS100 ($6K), to a PL-mount PMW-F3 camcorder ($13.5K), to a prototype 8K-sensor F65 camera, price TBD, which will, per Sony, be the first camera to deliver true 4K images. (Again, I'll explain 4K in a subsequent blog.)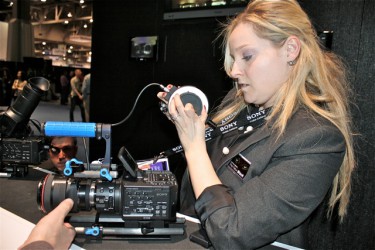 Panasonic, too, has a new large-sensor camera, the AG-AF100, available since last fall, but they elected on Sunday to emphasize new products with 1/3-in. sensors. (The AG-H100's sensor, incidentally, is considerably smaller than Super 35mm and conforms to a DSLR standard called Four Thirds. Look it up in Wikipedia.)
For example, Panasonic introduced two new AVCCAM (AVCHD) camcorders, the AG-AC160 and AG-AC130, each with a trio of 1920×1080 1/3-in. CMOS sensors, as well as a new high-end P2 handheld, the AG-HPX250, with similar 1/3-in. 3-CMOS sensors, which records 100Mbps DVCPRO HD and offers variable frame rates for 1080p/30 and 720p/60.
Panasonic also unveiled a twin-lens, shoulder-mount 3D camcorder, the AG-3DP1, with twin sets of three 1/3-in. CMOS sensors. It records 10-bit AVC-Intra to P2.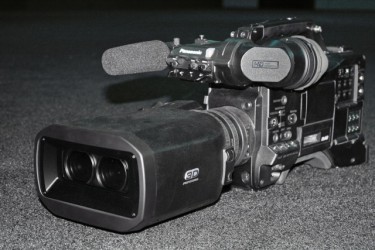 These divergent Sony/Panasonic paths expose a schism in the broadcast industry that will play out in coming years. Broadcasters pinched by a sour economy yet expected to produce local news in HD are increasingly embracing cheaper, lighter 1/3-in. HD camcorders from JVC and Panasonic, the same type of affordable camcorders indie filmmakers have relied on for the past decade.
At the same time, there has been an explosion of interest in large-sensor cameras, sparked by RED, fueled by cheap HDSLRs, and now endorsed by Sony, a major broadcast camera manufacturer. Sony's inexpensive NEX-FS100 "NXCAM Super35" arrives with third-party adapters for Nikon, Canon, Zeiss, Leica, Sony E-mount, Sony Alpha, even PL-mount lenses.
Where does this leave conventional 2/3-in. HD camcorders? The bloom is certainly off that rose.
Try to rent or buy PL-mount lenses. It's been a challenge over the past year. I'll write more about new lens introductions as NAB progresses. Meanwhile, check out the cyberpunk Red Rock Micro gear adapter for a Nikon lens, intended for a Sony FS100 with rods and focus knob. In this new chapter of large-sensor indie production, cheap SLR lenses are game too.
Band Pro, with offices in Burbank, New York, Munich, and Tel Aviv, this morning announced an important distribution deal with RED, which includes camera servicing for RED's upcoming 5K Epic camera. Band Pro is well known for distribution and support of top-shelf Sony cameras like the F23 and F35 and was responsible for bringing Zeiss DigiPrimes to market several years ago. Band Pro will market an initial Epic package including five Leica Summilux-C prime lenses, all T 1.4, which Band Pro also distributes.
RED until now has gone it alone. With increased RED support in New York and L.A., indie producers who are not celebrities like Peter Jackson (current filming The Hobbit with dozens of Epics in New Zealand) will feel more comfortable relying on RED cameras for productions with unforgiving schedules and tight budgets where failure is not an option.
Photos by David Leitner.