Back to selection
Leitner's Mondo NAB, Part 3: SSD, Tapes and Storage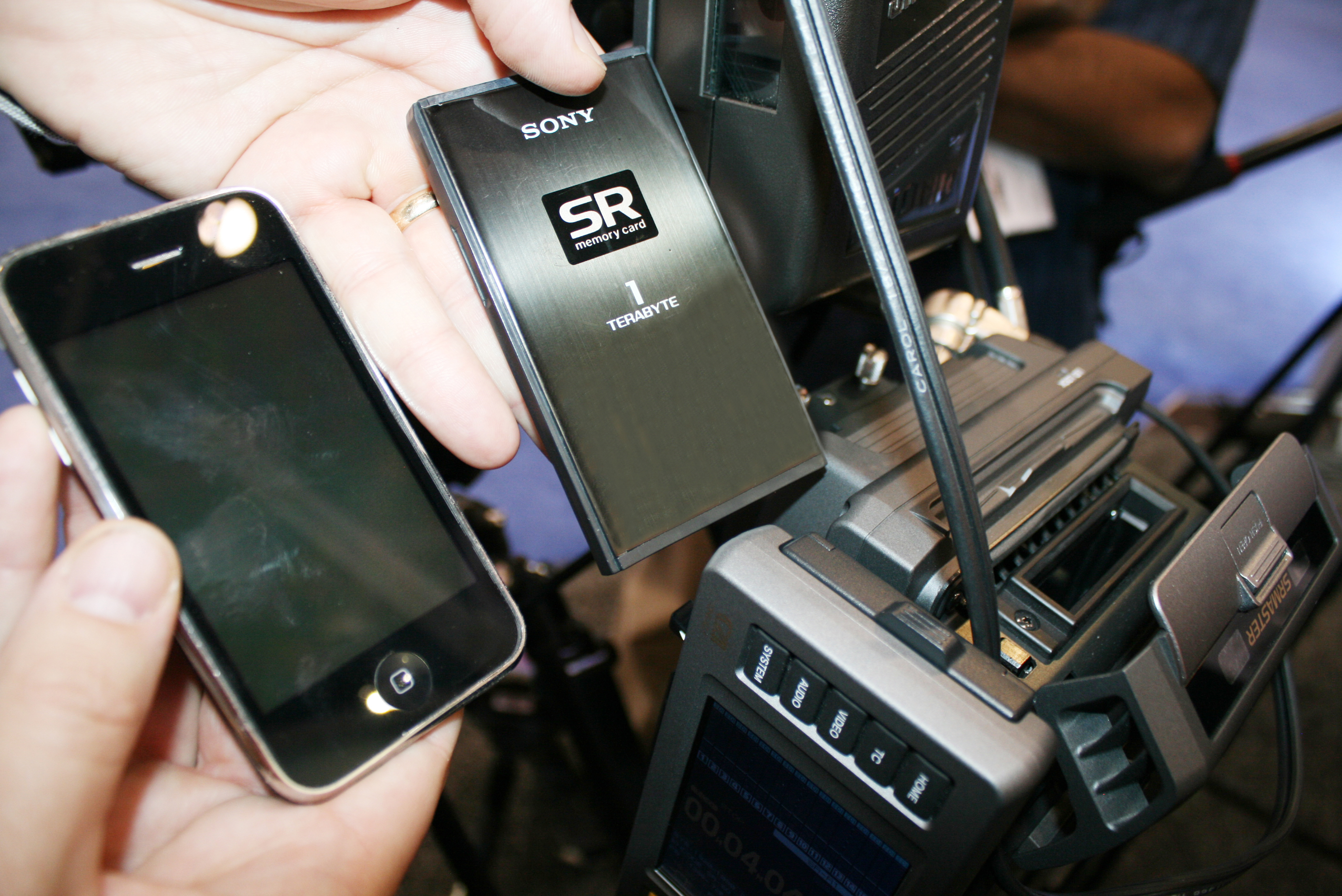 Sony 1TB SRMemory card compared to iPhone. At right is SRMemory companion recorder for Sony PMW-F3.
Originally posted April 2011.
At back-to-back press conferences prior to the opening of NAB's show floor, both Panasonic and Sony acknowledged the still-unfolding natural disaster in Japan and asked that our thoughts be with the Japanese people. Sony added that despite critical damage to its media plant in Sendai, supplies of HDCAM-SR tape would return to normal by June.
Sony's Sendai Technology Center (which I've visited) practically invented the high-performance tapes necessary to DV and HDV (metal evaporated) and HDCAM-SR (metal particle), and still manufactures a preponderance of them.
Having persuaded both film and television industries to adopt HDCAM-SR as their mastering format, Sony is now caught in a nightmare. When I left New York for NAB last week, there wasn't a fresh HDCAM-SR tape to be had in all of Manhattan, including Maxell and Fuji brands.
A savvy New York rental house exec told me poolside that for his business, this NAB had been "pivotal." Not only had large-sensor cameras exploded, he said, but decks are "dead." By which he meant the future of renting videotape decks for production. Sendai was clearly the subtext.
Perhaps this unforeseen if temporary shortfall will do to videotape what the Writers' Strike did to scripted television: provide the opening for an aggressive new form to take off, much as reality TV, unfettered by Guild contracts, did.
At NAB this year, 128GB solid-state drives (SSD) based on nonvolatile flash memory popped up everywhere, like weeds.
SSDs are consumer technology that can be sourced from multiple directions. Created to replace tiny 1.8-in. and 2.5-in. hard disk drives in netbooks and laptops (I'm saving this blog to an Intel 80GB SSD as I write), they're hardly larger than a credit card, with distinct advantages of lower power consumption, no moving parts, no fragmentation, and invulnerability to shock and vibration. Think of them as ready-made video cartridges.
They're also blazing fast, fast enough to capture uncompressed HD and even 4K. Slo-mo and time-lapse are a snap too, since unlike film or videotape which travel in a linear path at a fixed speed, SSDs record picture data non-linearly.
Videotape, let's be clear, can't and won't disappear overnight. It remains considerably cheaper per gigabyte than SSDs (for the moment… see Moore's Law) and archival in the short term. But it's been seven years since Panasonic introduced 4GB P2 flash memory cards at NAB. File-based recording, exotic at first, is now a commonplace in today's production environment.
Did I mention, they fit in your shirt pocket? An HDCAM-SR cassette can't do that. As we move into 2K and 4K production, the economies of SSDs will prove a godsend to low-budget indie workflows at every budget level.
Cameras featuring SSDs at NAB included Sony's NXCAM Super35 NEX-FS100, a $6K large-sensor AVCHD camcorder. Its FMU128 (Flash Memory Unit 128GB) is the size of a MiniDV cassette case and slides into a slot under the handgrip. (The FMU128 actually debuted on Sony's HXR-NX5U AVCHD handheld in late 2009, but not many took notice at the time. This go-around, they will.) The FMU128 records 10 hrs. of 1080p/30 and 12 hrs. of 1080p/24 at the FS100's highest AVCHD setting. Contents are offloaded using a common USB 2.0 connection.
Over at RED's booth, compact Epic cameras featured a 1.8-in. SSD in the side slot where Compact Flash cards formerly resided. RED offers 64GB, 128GB, and 256GB SSDs, plus an SSD module to bring SSD recording to RED One.
I'll cover Aaton's Delta Penelope with its Super35 Dalsa CCD sensor in a subsequent blog, but let's note here that its 1 Terabyte DeltaPack, a couple of packs of Gitanes Brunes in thickness, is made of four 256GB SSDs and slips into the rear of Penelope's digital back to enable 40 minutes of uncompressed 4K RAW recording.
There were rumors of SSD recording coming to ARRI's modular Alexa, perhaps as an alternative to SxS, sourced from a large Japanese company that is not Sony. Even if spurious, this NAB rumor had resonance this year.
Which brings us back to Sony, whose HDCAM-SR woes we began with. Sony introduced a portable HDCAM-SR recorder, the SRW-1, back in 2004, which subsequently became an on-camera recorder to its F23 and F35 cameras. Docked on top, or at the rear, of those cameras, the SRW-1 looked like a fat 65mm film mag. Cumbersome and expensive.
At NAB Sony introduced an SSD alternative: 256GB, 512GB, and 1 Terabyte SRMemory cards the size of an iPhone. (See photo at top.)  They're intended for uncompressed file-based acquisition from F23 and F35 cameras using the SR codec at 220Mbps and 440Mbps, or for 10-bit and 12-bit uncompressed recording from the new economical large-sensor PMW-F3 camera in either single or dual-stream (3D) mode, or for 16-bit RAW recording from the upcoming F65 4K camera. Also introduced was an SRMemory Portable Field Recorder, SR-R1,  featured as a "companion" to the F3 at several booths.
Ikegami, a pioneer of tapeless recording, rolled out an entire new "GF" family of flash memory-based multi-format HD cameras and decks, including a 2/3-in. HDS-V10 ENG-style flash memory camcorder and SSD cartridges in sizes of 16GB, 32GB, 64GB, and 128GB. The 128GB "GFPAK" records up to four hours of compressed 50Mbps HD. While Ikegami resides more in the broadcast space than indie production these days, it is always a bellwether worth watching.
Two of the biggest newsflashes (pun intended) at NAB concerned SSD products from Convergent Design and Blackmagic Design.
Convergent has made a name for itself with the runaway success of its nanoFlash, a small box that fits in your palm and records uncompressed SD or HD to Compact Flash using Sony XDCAM 4:2:2 compression. This is the same compression used in $40K Sony PDW-800 disc camcorders, but Convergent has emancipated it from Sony's 50Mbps ceiling and created far-less-compressed bit rates up to 280Mbps.
At NAB Convergent took the wraps off Gemini 4:4:4, an uncompressed SSD recorder the size of an onboard 5-in. monitor—which it incorporates as well. All HD formats and 2K are supported, in both 4:2:2 and 4:4:4, via HD-SDI, Dual Link, and Dual Link's future replacement, 3G-SDI. (No HDMI input.) When used as a monitor, a Sony S-Log look-up table is provided for Sony's new PMW-F3 (all LUTs user-customizable). A pixel-to-pixel viewing mode facilitates critical focusing.
Twin 1.8-in. SSD slots on top permit a maximum of 1 Terabyte when two 512GB SSDs are inserted. Dual SSDs can be used also for mirroring, also called "dual recording," during which identical data is written to both SSDs at the same time for instant backup. A hit at NAB, Gemini 4:4:4 won four show-wide awards. Available August, price $6K.
For those for whom HDMI is a must, Atomos showcased its palm-sized Ninja 10-bit ProRes recorder ($995, available now), with a 4.3-in. viewing screen and single slot for a 2.5-in. SDD or hard disk drive. A slightly larger HD-SDI version, Samurai ($1495), with 5-in. viewing screen, arrives this summer.
Blackmagic Design, not to be outdone, introduced a blockbuster, a $345 battery-powered SSD player/recorder called HyperDeck Shuttle (available in May) that will record 10-bit uncompressed HDMI or HD-SDI to a single 2.5-in. SSD. Machined from a solid block of aluminum, it is hardly larger than the SSD itself, with video shuttle controls along one edge. Blackmagic also announced a rack-mounted, 2-slot version called HyperDeck Studio ($995), plus another first: videotape cassette-like plastic cases for SSDs, with conventional reversible paper labels.
I'm sure there are other worthy SSD products I missed at NAB (Google Cinedeck), but you get the idea: SSDs are this year's breakthrough. They will someday make professional videotapes look as quaint as VHS cassettes do today.
Next up from NAB: 3D, 4K, and large-sensor cameras.
Photos by David Leitner.