Back to selection
Joe Swanberg, Factory 25 Announce New DVD Subscription Series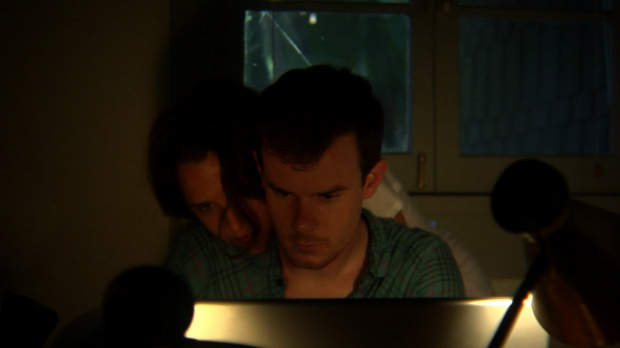 Prolific independent director Joe Swanberg announced today a new distribution plan for his next four films. Partnered with Factory 25, Swanberg is offering fans a four-film, one-year subscription to his work. For $99.95 subscribers will receive a box that will fill up each quarter with not only DVDs but also bonus material, including 45rpm records, photo books and posters. "I'm in the nice position right now of having so many [completed] films I'm trying to get out into the world, so I'm taking the plunge and doing something interesting," says Swanberg.The four films are Silver Bullets and Art History (both of which premiered in Berlin), The Zone, and Privacy Settings. In the latter new film, scheduled to be released Fall, 2012, Frank V. Ross plays a peeping tom "who stumbles into a mutually beneficial relationship with an exhibitionist."
Collector's edition subscriptions are not new, and filmmakers like Gary Hustwit have been releasing deluxe editions of their features for years. But Swanberg says he was motivated not by media artists but by independent and artisanal food producers. "I've been inspired by my wife," says Swanberg. "She owns a craft ice cream company in Chicago and does four flavors each season. And [Factory 25 founder] Matt [Grady]'s wife is a food writer, so I've been paying attention to these seasonal food and beer releases. Once [the products] are gone, they're gone. I said to Matt, 'Why don't we do something like this with the movies? Release them once via subscription and never release them again?'"
The box set will only be available mail order through Factory 25. All DVDs will be region free, meaning anyone in the world can order them, and Swanberg and Grady hope to create a direct-to-fan experience that redefines independent film physical media in a time of torrents, streaming and bargain-bin discs. "I look at my own DVD shelf and there are 300 DVDs there," says Swanberg. "But I haven't bought a new DVD in two years. Physical DVDs — there's nothing sexy about them anymore. They are generic silver plates. When I first talked to Matt about this, I said, 'Let's pretend the movies are free — they're the giveaway. Everything gets pirated today anyway. It's about all the other stuff, the records and books. That's what I'll still spend money on — products I can have a tactile experience with. And that's where this set is going to differentiate itself, and that's where the food analogy comes in. There will be cool photo books printed on good quality paper that will feel great to hold in your hand. As soon as we mail the films out, someone will put them online, but you can't put the experience of holding the photo book or 45 online."
Specifically, Swanberg says Silver Bulletswill arrive with a 45rpm vinyl record containing original music from the film. There will be a book of photographs by Jane Adams taken during an earlier, "first incarnation" of the production. On the disk will also be a separate half-hour short created from this earlier footage starring Adams, Larry Fessenden and Rufus Wainwright. As for other items, Swanberg says, "We're still figuring it out. We're waiting for feedback from subscribers, and we have three months between releases to hear what people think and do cool stuff."
For Swanberg, the new venture is a response to the current independent film releasing environment. "Real 'art filmmaking,' the European model that got me interested in film in the first place, doesn't fit into 'VOD windows,' and it hardly fits into festivals," he says. "It seems like there's a small group of people interested in seeing something that's going to challenge them." For Swanberg, that small group is 1,000 people — the limit on the first year's edition of the box set.
"IFC offered to buy Silver Bullets and Art History," he continues, "and they were okay deals. But they were the same kind of deals I've been doing with them for a while. There is not a lot of wiggle-room in their structure to do things like a box-set of DVDs. These [four] movies felt so personal to me and small that I wanted to give them special treatment." He adds, though, "Other movies of mine will fit perfectly in the IFC model, and I hope they'll continue to release them."
Swanberg says his films will typically do 20,000 orders on VOD but, like the rest of the industry, his DVD sales "have fallen off a cliff." He says he hasn't decided whether films in the box set will be available through conventional DVD and VOD outlets. "Silver Bullets will probably come out [outside the box]," he says, "but Art History and The Zone are sexually explicit so they are already limited." The fourth film in the set will be available only to subscribers.
If successful, the 1,000-copy run will establish a new model for Swanberg's production financing. "If I can find 1,000 people to pay $100 a year for four of my movies, I can keep making movies," he says. "This can be a sustainable way to make small challenging movies that don't have to get into festivals and don't need distributors." Swanberg says the fan-financing will also be liberating for him as a filmmaker, even as the structure necessarily limits the critical attention he'd get from a festival or theatrical premiere. "Part of what's appealing to me is the removal of that critical infrastructure," he says. "I would say I've done an okay job battling self censorship and imagining the future of a movie before I make it. But sometimes I find myself going, if I do 'this' I'll be shooting myself in the foot. Let's say [this releasing venture] goes well and we do this again next year knowing ahead of time that [we will pre-sell] 1,000 copies to people who like my movies — that will totally liberate me to do something without commercial thoughts in my head. The removal of the press attention and critical infrastucture is something I'm looking forward to."
Joe Swanberg: Collected Films is available now at Factory 25.
Joe Swanberg: Collected Films 2011 from factory twenty five on Vimeo.