Back to selection
See Videos From Canon's New EOS C300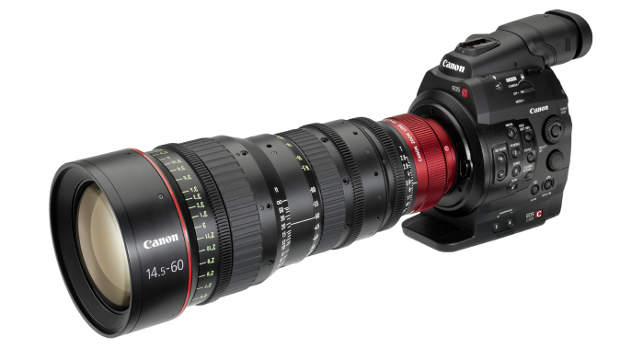 At a press event in Los Angeles tonight, Canon announced two new digital cinema cameras aimed at filmmakers, the EOS C300 and the C300 PL (the latter differing by way of a PL mount). Canon CEO Fujio Mitarai said that the company wanted to "leave no story untold" as he unveiled a camera with a small form factor, an 8.3MP 2160 x 3840 Super 35 CMOS sensor with 4K resolution, and new lenses that resolve to this higher resolution. Martin Scorsese was on hand at the event to hail digital cinema and extoll the promise of the cameras. This promise includes accurate color reproduction and superior performance in low and natural light.
Vincent Laforet was also at the event, screening a short film, Mobius, shot with the camera. From Engadget:
A New York Times photojournalist turned Hollywood director, Vincent Laforet has become synonymous with DSLR video, after his short film Reverie helped catapult Canon's 5D Mark II into the world of digital filmmaking. And after playing such a significant role in launching that camera, we certainly weren't surprised to see Laforet make an appearance at today's Canon Cinema event, with his short film Mobius getting some time on the big screen. The film follows a photojournalist who stumbles upon a Cartel execution, but it also tells the story of Canon's tightly-veiled C300 cinema camera, which the company launched just moments ago. Laforet used a pre-production C300 (note the green tape button labels) to shoot Mobius in the Mojave Desert under a variety of harsh conditions, including powerful sunlight and near-darkness, in both extremely hot and chilly temperatures — the camera appears to have performed extremely well, given both the remote shooting environment and tight production schedule.
And that short film is here:
Mobius – 1080p HQ from Vincent Laforet on Vimeo.
Here's a short behind-the-scenes showing the camera in action.
Mobius :: Behind The Scenes from Blake Whitman on Vimeo.
Surprisingly, there are no automatic controls in this camera. Writes Chris Hurd at DVInfo:
It's very interesting to note the features that are not included in the C300… namely, the complete absence of any automatic controls. Focus and exposure are completely manual; there is no AF or AE mode on the C300 or C300 PL. Nor are there any semi-automatic program modes such Aperture Priority (Av) or Shutter Priority (Tv), commonly found on all Canon camcorders and photo cameras. The C300 is therefore clearly intended almost exclusively for filmmakers and television production, for which the vast majority of shooting situations dictate very fine — and therefore manual — control of focus, exposure, and other image parameters (including white balance — there is no AWB on this camera).

That's perfect for filmmakers, who have long demanded manual control of everything. And it's perfect for any sort of controlled production, whether it's for television, or corporate, or some levels of the government and education markets where skilled cinematographers are operating in carefully controlled environments. However, one can't help but wonder if Canon is painting itself into a corner (although the filmmaking / television production corner certainly has plenty of room) by the intentional exclusion of AF, AE and other automatic controls. After all, there is a very broad range of applications for which the C300 would be completely unsuitable… such as non-repeatable event videography, chief among this field being sports, but also weddings other types of live events as well. You could say that the filmmaking / television production industry is the only market Canon has in mind for this camera.
The camera will be available in January with a list price of $20,000. We'll have more info on this camera in the coming days. In the meantime, here is a video shot from the audience at the event.
Canon Cinema EOS Announcement Video. Audience Shot. from jared abrams on Vimeo.