Back to selection
A Beacon of Democracy?: Distributing Lovely By Surprise
As I settle back in from a wonderful July 4th get-away, I am reminded of a mantra we used to chant at InDigEnt all the time (we were a spiritual bunch). It was about how the digital revolution in filmmaking truly is a democratizing factor in production and distribution. I believed it then and I believe it now. While that phrase has been thrown around to mean all kinds of things, what it really means to me is that technology is reducing the barriers to entry for the making of films and subsequently for the dissemination of those films to audiences. Doesn't democracy feel great? While experimenting with digital production tools was the raison d'être at InDigEnt, distribution was always via traditional channels. Thus, a foray into alternative distribution is a first for me.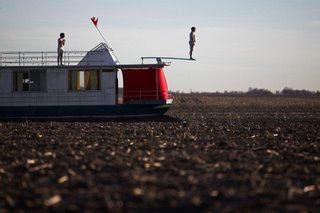 I did flirt with alternative distribution, or what's now known as self- or DIY- distribution, on one occasion at InDigEnt. Puccini For Beginners had received only mild distributor interest after playing Sundance in 2006 and I thought it might be the time to experiment with a self-release. Ultimately, after scrutinizing the numbers and work involved, we decided to go the traditional route. The internet and blogosphere had not yet developed to the point it has today and the traditional distribution models hadn't fully collapsed. Sure was nice to have options.
Fast forward to 2009. I'm fortunate to be a producer of Lovely By Surprise, the feature debut of the insanely talented Kirt Gunn. It's a magnificent film with a serious marketing challenge. It doesn't have big stars; it has gifted film and stage actors. It doesn't have a high-concept plot line; it has a nuanced, multi-layered story with a big but complex payoff. It defies genre conventions. It has won numerous awards, but not Sundance.
After playing the festival circuit, we racked up some great awards but no distribution. After receiving some offers that were not really offers, it got to a point where waiting for another offer without a minimum guarantee was punishing on Kirt and myself. With no other brilliant ideas at our fingertips, we decided to dive into the deep waters of DIY-distribution. In our case, it hasn't been fully DIY as we've hitched our wagon to Indigenous Film Works, a small outfit in Dallas, Texas run by Brandon Jones and Marc Stephens. I was introduced to Brandon through a film festival programmer. Indigenous has been able to put up some limited P&A support and give us very favorable terms, including non-exclusivity. They are also handling manufacturing of the DVD, shipping and returns. This is no small task. Their biggest asset is Brandon's relationship with wholesalers and his understanding of the DVD market, which I discuss later. He has a bit of experience releasing genre films, but it's his first time doing anything like we're attempting with this film, making it a learning process for all of us. We also have the lovely Nevette Previd (who I knew from my time working with IFC) and Kelly Kitchens on board for some press/PR and outreach support. Rounding out the crew are Greg Lofaro and Graeme Jamieson, two tireless humans who work with me at Dandelion.
Our first task, and our most important, has been to decide what will best resonate with the public in trying to promote the film. Without the typical marketing angles and publicity machines I'm used to, we have both a challenge and an opportunity. Additionally, with no money to advertise the film, we've had to rely on human and earned media to get the word out. Those are the terms we use at Dandelion to define word-of-mouth publicity (via humans) and mentions in the press, blogs and other publications (advertising you can't buy). We made the bold decision to actually respect potential viewers of the film by using a simple marketing strategy to expose it to the world… we decided to market the film itself. Not a genre, not an actor, not a controversy, not "inspired by a true story." We believe in the film, both as art and entertainment. It tends to strike up hearty discussion among audiences and people tell us they continue to think about the film long after seeing it. Others have really disliked the film, and passionately so, though that's a small minority. So, we know we have a film that resonates, to the point of polarizing audiences. If we can just get the film in front of a critical mass of people, we have a chance to start a larger conversation about the film and can attempt to build on that. That's the challenge we've put in front of ourselves. Let's go find the people who will see Lovely By Surprise as either art, entertainment or both.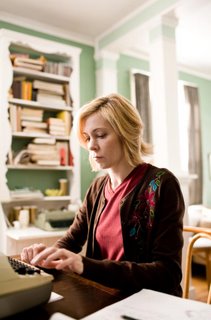 We've started by reaching out to every cranny of the real and virtual world in an attempt to identify potential lovers of LBS. Given that we have limited people-power, we are trying to concentrate our efforts around the most likely places. On the 'net, that includes fan sites of the actors, literary sites, indie film sites, music sites (the film includes songs by Stephin Merritt and Tom Waits) and the like. In the real world, we have been holding word-of-mouth screenings in selected cities. These screenings are always held in conjunction with film festivals, film clubs, professional film societies, local arts magazines and other relevant organizations that like to be associated with quality projects and have a large member base that they can promote the film to. They like being able to invite their people to a sneak preview screening of an upcoming release. It's important to pick your partners for these events carefully. Pairing yourself with the wrong sponsor can make for some very awkward screenings. We have learned this from experience.
We have been diligent in trying to use relationships that were established during the festival run. That comes in the form of competition judges and festival staff that were enthusiastic about the film. In just the few festivals and other screenings we played, we garnered fantastic comments or reviews from the likes of Scott Foundas, Godfrey Cheshire, and Nick Dawson. We have also reached out to people that couldn't attend screenings and sent screeners to those interested in reviewing the film. If there's one thing I underestimated, it's the readership of some of the popular film blogs and the ways in which some of these writers have embraced the film. Not only have there been some great reviews, but some fascinating discussions in the feedback sections of these pages as well. The strong reactions we predicted have borne out, and that conversation has continued online. What more could we ask for in trying to promote this film? As an example, see Craig Kennedy's 4-star review of the film from this weekend. Not only is it a great review from someone one who actually understood the film and took some time to think and write about it (sad to have to highlight that…), but take a look at the comments. Exactly what we'd hoped for. Also, if you Google the film, after the requisite IMDB link and the link to the official film site, there is review after review from bloggers all over the world. That happened through outreach by our diligent team and it seems to be a great tool for spreading the word about Lovely By Surprise. The team has also posted video clips that serve as sneak previews. The thinking here has been that, while the trailer is the traditional promotional tool, it doesn't really give a sense of the pace and tone of the film. These clips do a much better job of that and we believe that the audience for this film will appreciate that. Lastly, we are making sure to keep the social media cylinders firing at all times with a Twitter feed (@LovelyBySrprise) that has great trivia and factoids about the film, its actors and other fun stuff (you'll have to subscribe to find out!), a Facebook fan page, MySpace page and the other requisite social networking must-haves.
The flip side of this experiment is making sure the film is available for rental and purchase on the release date, July 7th. We decided on a "day-and-date" release for two reasons. One, we're a tiny group and can only sustain this level of attention for so long. Two, as momentum has grown over the past few months of promotion, we think its time to get the film out there while awareness is still high and let people consume the film in any way they want. Unfortunately, this meant that we've had to pass on some deals that required exclusivity.
For example, the IFC FestivalDirect VOD deal requires that the DVD release be held back ninety days from the VOD release date due to deals with the cable operators (they don't want to compete with Netflix). With the lengthy backlog to get on the service, we were looking at a DVD release as late June 2010. While I love IFC and was excited that they liked the film, there was no way we wanted to suspend our entire operation just so the film could be carried on a consignment basis through cable monopolies starting sometime next year.
Another challenging outlet has been theatrical distribution. The film was shot on 35mm and finished as a cut negative. There's no IP and the prints look fantastic. Unfortunately, outside of festivals and special screenings, getting on traditional screens is a giant challenge without the support of the traditional distributors. The film has had enough buzz in certain markets that we are doing some very limited theatrical. Seattle is a good example. We're playing the Firehouse Theater there. It's a new art-house cinema and Seattle is where LBS world premiered and won the Special Jury Prize. It made sense and we were thrilled to be contacted by them. We will probably do some other special engagements like that but without ad money and movie stars, that route is pretty limited.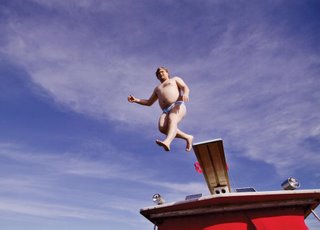 That leaves us with the workhorses of the DIY route: DVD and digital. We've been working with Indigenous to ensure the film is available in as many places as possible and can be consumed however anyone wants. We started months ago with the biggest buyers and worked our way down from there. Believe it or not, Blockbuster Video is still considered the biggest retailer out there and they were very interested in the film. The quality and scope of our indie marketing plan initially attracted them. They even told us they were going to buy thousands of units and had us work on artwork for them. But right before the deal was struck, their buyers were all fired and our deal was in jeopardy. On top of that, we heard from some smaller distributors that they've been owed payments from Blockbuster for many months and are concerned they may never get paid. Being the little guy on Blockbuster's accounts payable list is a terrible position to be in. (Analysts in recent months were speculating that the company may be on verge of bankruptcy; their share price is currently $0.63/share). We decided to let it go. With that fiasco behind us, we worked with Indigenous to make sure that every possible outlet, both retail and online, would carry the film. They set up Netflix, Blockbuster Online, Amazon.com, iTunes and all those other online rental and purchase sites. Also, as they are set up as a vendor with all the wholesalers that distribute to retail rental stores and purchasers like Target, K-Mart, etc., we have orders coming in from those guys as well. This detail can't be overlooked. Working with an approved vendor is a key step to getting your DVD in rental stores all over the U.S. (yes, they still exist). Don't wait until your DVD is pressed to do this. It takes months to get all of this set up properly. The consequence of delaying this process is severe, as your film will not be available everywhere you want it to be when your marketing push is on and potential viewers won't be able to access it.
Our release date is today, July 7th. It feels different than opening days in the past. No premiere party, no box office reports. The effects of our plan will begin to appear over the next few weeks as we see how well the promotion has worked. Yet, our job is far from over. We will continue to actively promote the film for at least the next six months, far longer than I've ever worked on a film when it was being marketed through a traditional distributor.
So here I am, now a member of this fledgling democracy. I can proudly say July 7th is truly Independence Day for Lovely By Surprise. I'll be sure to let you know how it develops.
Jake Abraham is an NYC-based producer and former partner in InDigEnt. He is currently executive producer at Dandelion, a company created in partnership with Epoch Films. It is dedicated to creating programming and entertainment sponsored by brands. Dandelion is platform agnostic, having created feature films, web series and Xbox games. It has exclusive relationships with writers from SNL, 30 Rock, The Colbert Report, The Onion, This American Life and many other cool spots.