Back to selection
Five Questions with Backwards Writer/Actress Sarah Megan Thomas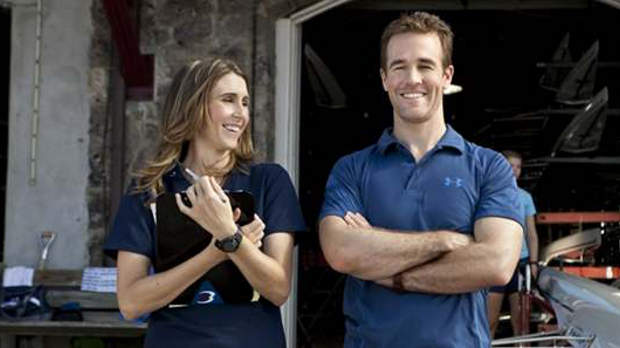 Sarah Megan Thomas recently returned to her hometown of Haverford, Pennsylvania, with a script and a camera crew in tow, to shoot her screenwriting debut Backwards, which she also produced and stars in. Thomas plays competitive rower Abi Brooks who, after she fails to win a seat on the US Olympic boat, must steer her life in a new direction, ultimately landing a coaching job for the rowing team at her old high school. Just as in rowing, Abi has to look backwards — to old places and ex-boyfriends — in order to move forward, with her sport and her life. This inspiring story features a talented supporting cast including James Van Der Beek and Margaret Colin, and was directed by Ben Hickernell. Thomas spoke to Filmmaker about Backwards (which opens on September 21), its parallels to her own life, and moving from an actress to a multi-hyphenate.
Filmmaker: You've had experience with competitive rowing, and so were familiar with the pressure to win and the strain that rowing may put on someone's lifestyle. To what extent was Abi Brooks a reflection of your own story as a rower at Williams College?

Thomas: As a rower at Shipley School, and later at Williams College, I experienced many thrilling victories (including winning the largest high school regatta in the country by 3 one hundredths of a second), and many difficult defeats. I also experienced all the hard work and discipline required to be a rower — waking up at 5:30 in the morning to get on the water, rowing in extreme temperatures (the weather up at Williams can get pretty cold!), not being able to go out and drink or party as a freshman in college (I think I went out twice all of freshman year).
That said, while competitive, I was not an Olympic level athlete, so Abi's storyline is not specifically a reflection of my own story as a rower. Of course, there were tidbits from my personal life that I included in Abi's storyline. I was never very flexible and my erg/rowing machine scores were never as good as my performance on the water.Also, in the high school storyline, a few moments were drawn specifically from my experiences as a rower. My high school coach did have us "sleep with our oars" before a big race. We found it a bizarre request, but we won that race!
Filmmaker: What was it like to develop the script and Abi's character with your own acting in mind? Did you assist with the remainder of the casting?
Thomas: I made Abi a strong female character. Someone with flaws, but someone intelligent and driven. I tend to play strong characters and am an athlete, so I felt that Abi was a character I could play. While writing, I included in the script small personality traits I have that I thought would work well for Abi's character. For example, any close friends can tell you I can be a bit of a klutz. I think focused individuals can often be so focused on one big thing that they sometimes don't pay attention to the little things — like the drink on the counter that gets knocked over.
I did assist with the casting. Stephanie Holbrook was our casting director and Allison Shomer was our casting assistant for the principal roles. They did a fantastic job in bringing in many talented actors. Casting is very important to me, as I believe finding the right ensemble can make or break a film.
The biggest hurdle was casting the two lead high school girl rowers who compete as a double. They needed to know both how to row and how to act. Casting auditions didn't reveal anyone with this combination of skills. Our solution was to select an actress who had athletic ability and give her a crash course in rowing and to choose a serious rower and give her a crash course in acting. In advance of principal photography, the actress took the bus from NYC to Philly for early morning rowing lessons from a high school coach.
Filmmaker: Was your intention to feed off of the Olympic spirit by releasing  the film shortly after the games in London?
Thomas: Yes. Given our Olympic theme, I wanted Backwards to open while people still had the 2012 Olympics fresh in their minds. When we shot the film last summer, I had high hopes for releasing the film immediately after the 2012 Summer Olympics. We are very lucky it worked out!
Filmmaker:  Your previous experience in film was exclusively as an actress. Was it difficult taking on the duties of both a writer and producer in addition to being the film's lead?
Thomas: Balancing everything was quite challenging, I had produced theater before but never film, and I had never written a screenplay before Backwards.
I had the most difficulty balancing the producing with the acting while on set. Producing takes so much time and involves multitasking, where as acting requires a very specific focus. I had to try and stay focused as "Abi" before my takes, but then during breaks, put on my "producer hat" and solve any daily problems. After a long 14-hour day on set, I would go home and instead of resting or going over my lines for the next day, I literally had to continue fundraising so that we could keep the shoot going. Then I would have to write any script changes needed for the next day. Towards the end, I was incredibly exhausted!
Filmmaker: One thing I admired about Backwards was its twist on that overdone tale where an athlete gets to live her dream because of her strength and determination. Instead, Abi Brooks must accept that her best effort didn't make the cut for the Olympic team, and she has to start anew in the "real" world with a coaching job. What message would you like people to take from Abi's transformation?
Thomas: Many of us have experienced personal setbacks in one way or another when "the big dream" doesn't work out and with this film, I wanted to explore how that must feel at the Olympic level, where someone has sacrificed so much to reach a possibly elusive goal.
Ultimately, Backwards is a film about choices. First and foremost, I hope people enjoy the film. But I also hope that from Abi's transformation, people also see that often unforeseen paths can lead us to personal and professional fulfillment in ways we could not have imagined. In Abi's case, she never thought she wanted to be a coach, but ultimately found more fulfillment and happiness through coaching than through competing herself.