Back to selection
Actress Nathalia Acevedo on Post Tenebras Lux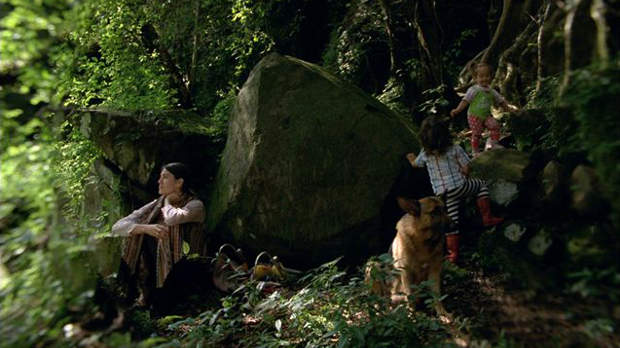 Post Tenebras Lux, the film that won Mexican auteur Carlos Reygadas the Best Director award at the 2012 Cannes Film Festival, has a story. But what it's really about, first and foremost, isn't narrative but texture: The grainy wetness of mud in an open field. The harsh bristle of matted dog fur. The wet steam of a tiled sauna. It's also about sound, from the giggle of a boy being tickled by his father to the thunder of rugby cleats on a hard floor.
Shot in a box-y 4:3 aspect ratio with intermittently hazy edges, Post Tenebras Lux (the title translates as After Darkness, Light) unfolds in a fragile twilight where the intensity of texture and sound is bracing, even intoxicating. It's a film that ought be projected, large and loud, in a richly dark room — and if that's not handy, then skip it, don't bother. This is work that does not translate to the small screen, or the medium screen, or consumer-grade speakers.  It's qualities do not come through when watching its trailer. It should never be released on DVD.
The film is also about a woman and mother, played by Nathalia Acevedo. As Reygadas traces the shadows and ripples of one wealthy family's possible lives, Acevedo is the heart and anchor both of the movie and the quartet at its core. In a lush, verdant Mexican jungle, she presides over their modern yet organic home with poise and sophistication, at once vulnerable and protected.
Edited by and dedicated to Reygadas's wife, the similarly named Natalia López, and featuring performances by his children, Rut and Eleazar Reygadas, Post Tenebras Lux has been called the director's most personal work. Acevedo disagrees. "This one may be more autobiographical," she corrects. "But I believe that all of Carlos's films are equally personal." In this conversation, which took place in transit, she describes her remarkable experience making the film and offers rare insight into Reygadas's notoriously private filmmaking process.
Filmmaker: Here we are in an airport! I'm leaving Toronto and flying to New York. Where are you arriving from?
Nathalia Acevedo: I flew in from from Paris; I live between there and Mexico. I grew up in Peru, where my mother is from, as well as Switzerland and Europe, where I studied. But my dad is from Mexico, and that's where I've spent the most time. Post Tenebras Lux is the first Mexican movie I've seen that captures the divide between social classes that you experience there every day. Carlos showed the way it affects personal life. Usually people are a bit little blind to it; they don't want to see that two very different societies live in Mexico. It's the same way throughout Latin America, particularly the northern countries. In Latino culture, the division between class circles is clear.
Filmmaker: Carlos Reygadas is known for working with non-professional actors; had you acted before?
Acevedo: This was my first experience acting. When I met Carlos, I had been directing and working in production for a couple of years. We became friends. I said, "Next time you make a film, I would love to work with you…" I thought I might be able to help in production or as an assistant. One day, he called me and said they were thinking about me — for the leading role. I love his work and trust him completely, so whatever he was planning, I knew would be good.
Filmmaker: How did you prepare to act for the first time?
Acevedo: Carlos is very organized in production. He didn't give me a copy of the script until we had already started shooting. Instead, he described the story to me clearly: A family in the countryside confronting this "other Mexico." Surviving. Living. A mother. Laughter. It is about family, about love, about life — very universal concepts. He explained it very simply. During shooting he was detailed: "Now the mom is having this discussion. You have to say this, and this, and this." But he didn't try to explain what the film was trying to say. He never does that. He wants to make you respond, to make you feel. The first time I saw the film, in Cannes, it took me a couple of days to digest it. But there's not much to understand; it's what you feel. Either you feel something or you do not.
I arrived several weeks in advance and lived with Carlos and his family. Their house is a character…a person, actually. Carlos built it with his own hands. You are very isolated and deeply involved in that world when you are there. There is no Internet or telephones; you are kind of incommunicado. When you are living in a bubble that way, the acting is not difficult. [smiles] It was a beautiful time.
Filmmaker: Did you discover any tricks to establish a rapport with Carlos Reygadas's children, Rut and Eleazar, who appear as your children in the film?
Acevedo: The idea was to make the kids become comfortable. It's very hard to direct children who can't yet talk and who are so young — about one and a half and three years old. But at that age, the emotions you show are those that come naturally. Although the kids were different from one another, we became very close. I fell in love with them, and they did become comfortable.
The rest of the crew, about 15 people, were staying in the surrounding area. Adolfo Jiménez Castro, the main actor, was renting another house so he had his own space. I was the only one who was really living with the family. I was with them all day long. We had our meals together; I even changed diapers. I learned many of the things that you learn when you become a mother and, in a way, they really became my family. I miss them all the time.
Filmmaker: You are also the center of the film's only sex scene. It unfolds in a French sex club where rooms have names like "Hegel" and "Duchamp," but the scene is not just intellectual, it's also emotional and powerful. What was filming that like?
Acevedo: I knew the sex scene was coming from the beginning. I was very nervous anticipating it, but when it happened, I thought: "That was it?" Putting yourself in a extreme situation can be enjoyable — challenging yet, at the same time, exciting. Everyone in the crew and cast was amazingly supportive and when we finished, I felt really good about it. Valerie Czech, the woman who was with me in that scene, was amazing, too. She made sure nothing happened to me. It wasn't just about sex, it was very maternal.
I had initially pictured something extremely different; something raw and explicit like the sex scene in Battle in Heaven. That was intense. [laughter] But when I saw this on screen, it was elegant. I hadn't expected that and was quite pleased.
Filmmaker: What surprised most you about making Post Tenebras Lux?
Acevedo: When I started the project, my interest was directing. I didn't think that, when the film was over, I would continue acting or that that would ever be something I wanted. But, surprisingly, I didn't learn much about technique during the making of the film; I just didn't really pay attention to that. I was focused on learning about the human elements. The film's technicians were magicians. You spend a lot of time by yourself in this amazing place doing very introspective amazing work and they enable it to be shared.
I still want to continue directing and producing… and yes, if another director wants me for something of this kind then I will continue acting as well. After working on this film, I almost feel like I'm a a different person — so many new things have come into my life. The experience was a gift.
Livia Bloom is a film curator and the Director of Exhibition and Broadcast at Icarus Films.
Special thanks to Blanca Granados.