Back to selection
A Funny Thing Happened on the Way to Independent Film Week…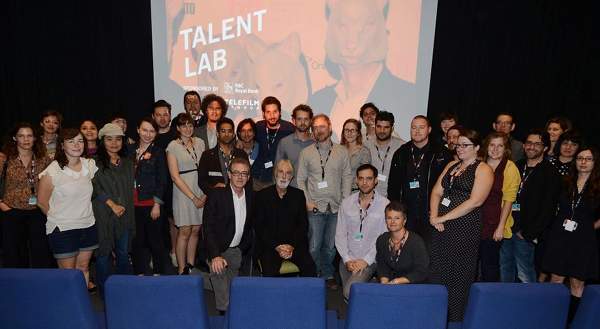 As excited as I am about coming to New York for IFP's Independent Film Week, this story starts somewhere else….
For the last eight days, I have been fortunate enough to be in Toronto, attending TIFF as a 2012 Talent Lab Fellow alongside 24 very talented filmmakers from around the world. Produced this year by the indomitable Helen DuToit (who also serves as the Artistic Director of the Palm Springs International Film Festival), the Talent Lab was led by a core group of fantastic filmmakers – documentarian Jennifer Baichwal (Manufactured Landscapes), producer Stephen Woolley (presenting both Byzantium and Great Expectations), and directors David Siegel and Scott McGehee (showing What Maisie Knew) – and featured four full days of intense conversation with an amazing list of festival attendees [including Michael Haneke, above center] and participants. For a filmmaker ready to launch the next phase of his career, and who often has trouble finding the space to focus purely on professional development around life's other responsibilities, it was nothing short of heaven.
Of course, one of the questions that dominated conversation amongst participants of the lab was "What next?" For many, it was looking to get that first feature off the ground. For some, it was about continuing their established work in short film and pushing themselves in exciting new ways. And for a few of us with a feature already under our belt, it was that unique combination of believing in the strength of the next project and the anxiety of wondering if the pieces will ever come together again. With Independent Film Week on the horizon, and with a script (Invisible Son) included in the Emerging Narrative section, the question of "What next?" was a little easier for me to answer this time, and I found myself believing more and more not only in the project, but in myself as a filmmaker.
I think for many of us, one of the amazing things about a first feature is the willful naïveté with which it is undertaken. In my case, shooting an out-of-pocket indigenous language genre film in West Africa certainly was the triumph of will over circumstance. And I was lucky – because whenever I ask myself, "What more could have gone wrong?" I must also acknowledge that given the circumstances, we may have actually had nearly the best of all possible outcomes. But could I do it again? In the same way? My stomach is in knots simply at the thought. But as a filmmaker, I know I'm ready. I know that the sacrifices, mistakes, and successes of the work that has been done will pay dividends in the work yet to come.
So charged by the Lab, I then had the extra pleasure of being joined for the next few days of the festival by cameraman Aaron Bowen – a cinematographer of great talent and patience – and as we took in the films and parties, the energy built. It wasn't a question if we would ever get the chance to make another film together, but when. And as I head into Independent Film Week, that belief has never been stronger.
So to Helen and her staff, and to all the extraordinarily kind folks at TIFF; to new friends and peers from Toronto, Canada and around the world – thank you for becoming part of my journey. I can't wait to see you again, share new work, and live together in this really fantastic world of cinema. For the friends and colleagues to come in New York – I can't wait to meet you. See you on Sunday!