Back to selection
Canon to Bring Uncompressed HDMI Output to 5D Mark III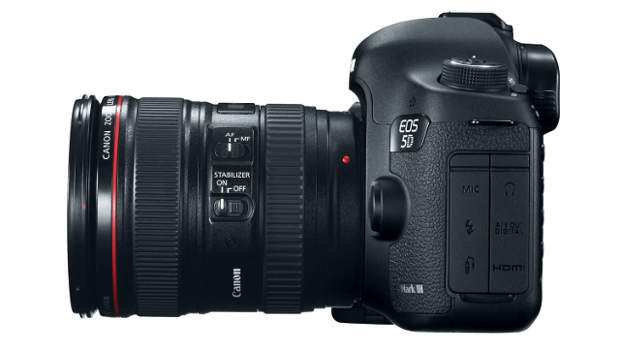 Canon has announced a firmware update for the 5D Mark III which will bring a long awaited feature to one of their DSLRs; uncompressed HDMI output. Unfortunately, the update won't be available until April 2013.
The update promises 4:2:2 8-bit video output, which may translate into slightly better video when used with an external recorder. Just as importantly, for those working in studio locations, or with an EVF, the HDMI output will improve the quality of monitoring.
The update also includes an improvement to Auto Focus, with the camera's central cross-type points now working to a maximum aperture of f/8 (previously the maximum was f/5.6)
It's important to note that Canon has seemed to resist adding "clean" HDMI output to their DSLRs up until now, even though it's been requested since the 5D Mark II. The 5D Mark II outputs 480p when recording, and the 7D and other models have offered higher resolution output, but with a record graphic or other limitations.
When the 5D Mark II – the precursor to the Mark III – first appeared, it had full auto exposure only, recorded only at 30 frames per second, and had no audio gain control. While a lot of people complained about this, it was the use of the camera in some major movies that prompted Canon to fix these problems.
The movie Terminator Salvation used the 5D Mark II, but they used Nikon lenses to get around the problem of auto aperture control. The producers of Ironman II wrote that they really liked the camera, but they didn't want to downsample to 24. Reportedly, as soon as their email was shown to the engineers, the company had firmware people working on fixing this problem. Ultimately, it's about "the right people" asking for a feature that results in a fix. Just look to the Canon 7D, which waited almost three years for a fix to add manual audio gain control.
At a presentation I attended two years ago, a Canon rep gave this answer about why Canon didn't update their firmware more frequently:
There's only so many guys in Japan that actually write our firmware. So it's not like there's a team of 200 people and we just send them a request and they say "Oh, no problem, we'll have that to you tomorrow."

When we send a request they say "Okay, well do you want the 1D Mark IV or do you want the firmware update for this?" and we said "mmm wow. Really? That's what it's gonna be like?"
Canon: New Firmware Update For Canon EOS 5D Mark III Digital SLR Camera Provides Uncompressed HDMI Output Support And Improved AF Performance