Back to selection
Locarno Film Festival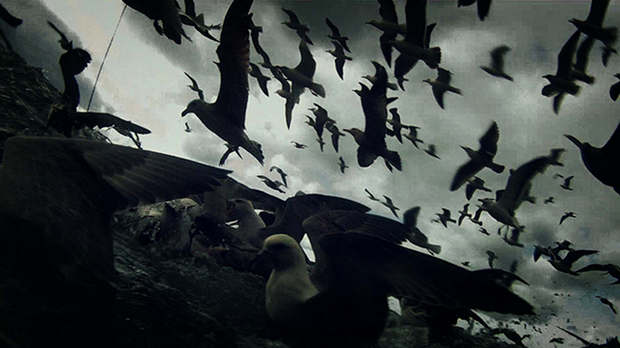 Véréna Paravel and Lucien Castaing-Taylor's Leviathan
What to say of a film festival at which the most highly anticipated — and, as it turns out, best — entry is an 83-minute-long documentary about fishermen with no real dialogue or narration that was shot on a dozen GoPro cameras, many of them tethered to a commercial fishing boat? A number of things come to mind, all of them complimentary, but what first bears mention is how well matched the 65th Festival del Film Locarno and Leviathan were for one another. Had it premiered at Cannes or Toronto, Véréna Paravel and Lucien Castaing-Taylor's film would likely have been overshadowed by the likes of Kiarostami and Haneke. But in Italian-speaking Switzerland, it was the toast of the town.
It nevertheless comes as little surprise that Leviathan left the awards ceremony empty-handed. Visionary films often do. Still, this is a daring, immersive work that may actually be advancing the medium in some small way — if those traits do not an award-winner make, I'm not sure what does. Jean-Claude Brisseau's Golden Leopard-winning The Girl from Nowhere, a decent but undistinguished tale of a semi-mystical young thing reinvigorating an aging widower (Brisseau himself), did not inspire a strong reaction from me or anyone I spoke to. In short, it screams consensus: Leviathan would have been too divisive, whereas something like the exceptionally well-received Starlet already took home prizes at South by Southwest. (I also have it on good authority that jury head Apichatpong Weerasethakul connected strongly to neither.)
More surprising still was the Special Jury prize awarded to Bob Byington's Somebody Up There Likes Me, another SXSW premiere that, not unlike Nowhere, never comes across as being invested enough in its own characters for viewers to be either. The Silver Leopards for Best Actress and Best Director, meanwhile, went to Ying Liang's very deserving When Night Falls; Walter Saabel's Best Actor prize for The Shine of Day was similarly well earned. Unfairly left out, meanwhile, were Jem Cohen's Museum Hours and Edoardo Gabbriellini's Padroni di Casa.
If this sounds like harping, it's only because the prizes given out at Locarno matter more than they might at Venice or Berlin. Their reputations are already sterling, whereas Locarno — though admired by all who know it — remains fairly obscure outside of Europe. Should The Girl from Nowhere fail to make much of an impact upon its theatrical release, its status as a Golden Leopard winner is unlikely to draw much positive attention to the festival. Whereas Leviathan, which is already headed to New York and Toronto, could serve as shorthand for the kind of vital works that Locarno has made a habit of introducing year after year.
But perhaps that won't matter much. This is an event that, even more than most other festivals, must be directly experienced in order to be understood. It's both avant-garde and inclusive, prestigious and laidback; rarely does one need to show up more than 15 minutes early for a screening, and yet most are either well-attended or sold out. (Its flagship venue, the 8,000-seat, open-air Piazza Grande, is especially awe inducing.)
Often preceded by 30-minute presentations on this and that — among this year's lifetime achievement awardees were Charlotte Rampling and Leos Carax — the Piazza screenings ultimately became something I admired from a distance rather than actively sought out, not only in order to avoid the pomp and circumstance of the proceedings but also because the seats are fairly uncomfortable. More often than not, I simply went to the film in question's press screening the night before, as these took place in a quiet, air-conditioned theater a stone's throw from the Piazza. There's something about emerging from one of these screenings at 11 p.m. and strolling past thousands of people watching a movie under the stars that, even if I could accurately describe it, I might selfishly choose not to in order to preserve the feeling for myself.
A few months ago, filmmaker Alex Ross Perry referred to Locarno as the greatest film festival in the world. Even as someone who was thrilled to be attending for the first time, I was a little incredulous. What I learned while there is that it isn't just about the movies themselves, but a certain sense of wonder and excitement that accompanies nearly every event in those early August days. Locarno is welcoming, but it's also something you need to occasionally step back from in order to fully absorb. That most attempts to do so are unsuccessful is part of what makes Perry's claim so hard to dispute.