Back to selection
VOD for Indies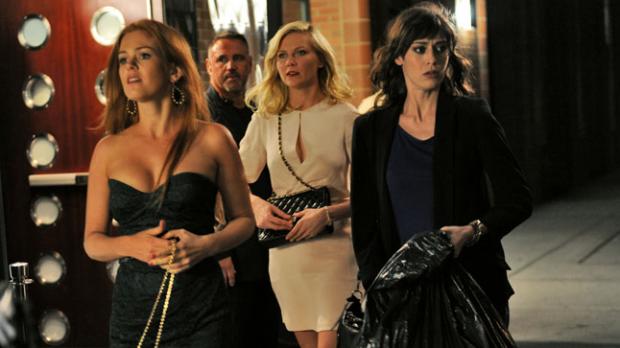 Bachelorette
As indie makers know all too well, movie distribution is undergoing a major restructuring. The shift from analog media to digital production, post-production and distribution technologies not only changes how movies are made and distributed, but how people view them.
Theatrical moviegoing is declining; since 2002, ticket sales have declined by nearly 20 percent. Making matters worse, DVD sales are shrinking. And video streaming revenues, while growing, are doing so at a rate insufficient to make up the difference.
Readers of Filmmaker are urged to check out a recent article in the Los Angeles Times, "Now playing at a living room near you." Its thesis is simple: "Indie films, finding it harder to compete at the box office, are turning to video on demand. Bachelorette made $418,000 in theaters, $5.5 million in VOD rentals."
The article discusses a couple of recent indie releases, including Bachelorette, Arbitrage, Margin Call and Sleepwalk With Me. Its anecdotal findings are suggestive as to new options for indies and, more telling, where indie film distribution may be going.
Kevin Iwashina, managing partner of the LA film production and sales company Preferred Content, speaks with authority when he acknowledges, "It has become harder to generate revenue from independent movies [in theaters] and VOD is our next best option."
A recent report by IHS Screen Digest adds detail to the Times story. It notes that "paid consumption of movies online in the United States will reach 3.4 billion views or transactions in 2012, approximately 1.0 billion units higher than the 2.4 billion for physical video for this year."
IHS distinguishes between physical and online distribution. The former consists of the sales and rentals of VHS, DVD and Blu-ray discs; online includes electronic sell-through (EST), Internet video on demand (iVOD) and subscription video on demand (SVOD).
The company attributes this shift to the rise of broadband and the appeal of what they call "all-you-can-eat subscription services such as Netflix and Amazon Prime." These services offer unlimited on-demand movies for a flat monthly or annual fee.
Most instructive, IHS calculations reveal how the old pricing structure established by the major distribution companies seems to be holding back the shift to streaming video. It notes: "… consumers will pay an average of 51 cents for every movie consumed online, compared to $4.72 for physical video." More troubling, it argues that this "pattern will likely remain unchanged even by 2016, with online accounting for 17 percent of revenue, compared to 75 percent for physical video, and pay-TV on demand taking the remaining 8 percent."
Thus, the shift to online VOD will be slow and incremental. The entry of new, major players like Facebook's Flicklaunch, will help the transition. Certain genres, like porn and horror, may draw more initial orders that other genres.
No matter how things play out, indie makers will need to carefully think through a multiple media release plan. First, a theatrical release still matters (if you are lucky to get one) and so too, at least for the time being, does DVD sales. A VOD release should complement not compromise other platforms. And second, at the end of the day it is still all about the financial return. Makers must made sure no matter whether it's a ticket sale, a DVD purchase or a VOD click-through, honest and accurate (and auditable!) accounting matters.
* * *
David Rosen is a writer and business-development consultant. He is author of the indie classic Off-Hollywood: The Making & Marketing of Independent Films (Grove), originally commissioned by the Sundance Institute and the Independent Feature Project. He can be reached at drosennyc@verizon.net. For more information, check out www.DavidRosenWrites.com and www.DavidRosenConsultants.com.