Back to selection
Factory 25 Acquires Caveh Zahedi's The Sheik and I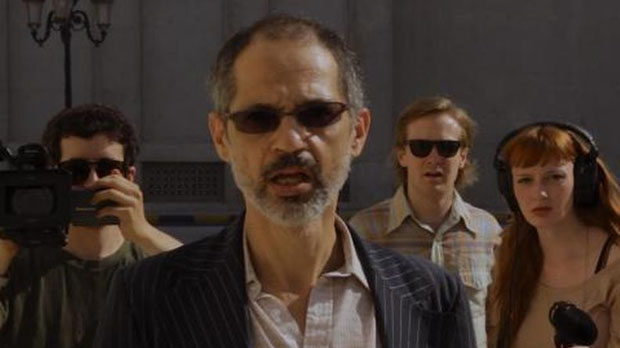 Caveh Zahedi's The Sheik and I, the filmmaker's uber-controversial follow-up to his Gotham Award-winning I Am a Sex Addict, was today picked up by Factory 25. Matt Grady's Brooklyn-based boutique distribution company will give the film a simultaneous digital and theatrical release in December, which will qualify the doc for awards consideration. The film, in which Zahedi gleefully pokes fun at the Middle Eastern benefactor who is bankrolling his movie, had its world premiere at SXSW earlier this year — and has been banned in the United Arab Emirates for blasphemy.
From today's press release:
Brooklyn, NY (November 6, 2012) – Factory 25 announced today that it has acquired world rights to Caveh Zahedi's The Sheik and I which premiered at SXSW. Commissioned by a Middle Eastern Biennial to make a film on the theme of "art as a subversive act," independent filmmaker Caveh Zahedi (I Am a Sex Addict) goes overboard. Told that he can do whatever he wants except make fun of the Sheik, who rules the country and finances the Biennial, Zahedi decides to do just that. He turns his camera on the Biennial itself and gleefully presses every culturally sensitive button he can find. But his court jester antics fails to amuse. Zahedi's film is banned for blasphemy and he is threatened with a fatwa. The film premieres theatrically in New York on December 7th for a week run at Brooklyn's new Videology theater along with screenings across the country including Chicago's Siskel Center with week runs at Seattle's Northwest Film Forum and Portland Oregon's Clinton Street Theater. Factory 25 is partnering with Fandor to release the film digitally on December 7th. Fandor is an online cinema that specializes in showing great independent films and uses their subscription fees to support filmmakers. Factory 25 will also be releasing the film digitally on December 7th via TV VOD, iTunes, Amazon and other digital outlets with a DVD release in spring 2013.
The Sheik and I trailer from factory twenty five on Vimeo.