Back to selection
A River Changes Course | Director Kalyanee Mam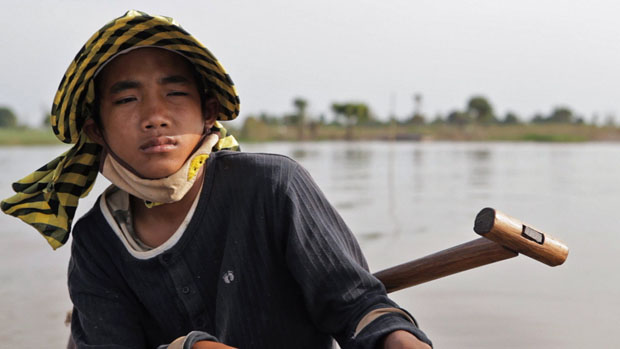 [PREMIERE SCREENING: Monday, Jan. 21, 9:00pm — Yarrow Hotel Theatre, Park City]
I've encountered many challenges in making this film. First and foremost was struggling to survive on very little income, especially with law school loans I still needed to pay off. At times, it was very difficult for my family to understand why I would sacrifice financial security to make films. My mother has often asked me why I can't use my law degree to practice law, make money, and have a house and a family like everybody else.
Filming in extreme hot and humid conditions in Cambodia was also physically demanding. In the Northeast, we hired and packed nine motorcycles with our equipment, food, water, and a small generator to provide power for the computer and hard drives. We placed the motorcycles on boats, crossed a tributary of the Mekong River, and climbed nine mountains to reach Sav Samourn and her family living in the deep jungles. There, we trekked through thick forests, bathed in the streams, and slept in a small hut where the family stored their rice grains and chickens. Our mornings began at 4, when the cocks crowed and we headed to bed around 7, when only the light of the stars shone in the sky.
Filming on the river was also tough mainly because the hot sun beat on us every day on the water. We bathed in the river and during the dry season, when the water was thick with fish bones and carcasses, we cleaned ourselves as best we could with the water we brought with us. Bathrooms were another challenge as everyone sought relief in the river. The only respite we got from the heat, was when the café boat floated by, bearing iced coffee sweetened with condensed milk.
Probably the most painful part of the entire process was being away from loved ones, sometimes for five months at a time. This was not only difficult for me, but also for my family waiting at home.
But I never considered any of the challenges as acts of sacrifice. At worst, they were inconveniences. At best, they were experiences that emboldened and strengthened me. And while I struggled through various hardships to make the film, I never struggled alone. There were always many friends and colleagues along the way who helped to make the struggle a beautiful and meaningful process. This film could not have been possible without the contribution of so many  wonderful and gracious people. This film could also not be what it is, without Sari, Khieu, Sav Samourn and their families opening up their lives and their hearts to us.