Back to selection
Five Questions with The Spectacular Now Director James Ponsoldt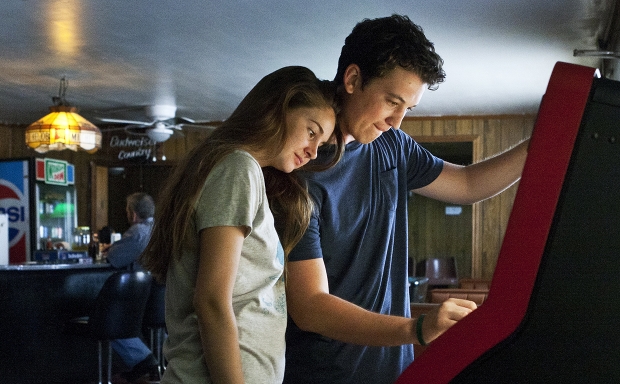 James Ponsoldt is no stranger to the Sundance Film Festival. His last two feature films, Smashed and Off the Black, both premiered in Park City, with Smashed winning a Special Jury Prize in 2012. The Spectacular Now, Ponsoldt's third film, premieres today. Working from the novel by Tim Tharp of the same name, (500) Days of Summer's screenwriters Scott Neustadter and Michael H. Weber adapted the story about a popular high school boy with an emerging drinking problem who finds himself drawn to a girl of a lesser social status. Miles Teller (Project X) and Shailene Woodley (The Descendants) star as the movie's lead actors, along with Mary Elizabeth Winstead (who received an Independent Spirit Award nomination for Smashed), Kyle Chandler ("Friday Night Lights"), and Brie Larson (21 Jump Street).
Filmmaker: This is your third feature film at Sundance, how do you feel?
Ponsoldt: Excited and nervous, same as ever. To some degree, I sort of know what to expect at the festival. And I'm definitely proud of how "The Spectacular Now" turned out. I'm really curious to see how people respond to the film. At this point, that's completely out of my control – which is a bit comforting but also somewhat terrifying. I guess I just hope people enjoy the film nearly as much as I do!
Filmmaker: How did you come across the book The Spectacular Now? And what interested you in this story?
Ponsoldt: I read Scott Neustadter and Mike Weber's script before I read Tim Tharp's beautiful novel. I love both the book and the screenplay. The story really blew me away; it's so funny and emotional, so surprising in subtle ways, and it really just feels like…life. I love every single character in the story. It's the most honest depiction of adolescence I've read. In that regard, the story was totally uncomfortable to read — because it felt like someone had written about my own life at age 18.
Filmmaker: You wrote your last two features, but not The Spectacular Now. How was the creative process different this time?
Ponsoldt: It was remarkably easy. There's something great in having some emotional distance from the screenplay, in being able to engage with the material in a way that's divorced from my own ego (which always comes into play when I'm directing something I wrote). And Scott Neustadter and Mike Weber are such generous, tireless collaborators. They stayed heavily involved during every step of the process and were solely interested in seeing the best film wind up on screen. Scott and Mike were down to revise or re-imagine scenes at the drop of a hat, which is kind of remarkable. Nothing was precious to them. There's a reason they're so successful: they're brilliant, work their asses off, and are just really good guys.
Filmmaker: What was it like filming in your hometown of Athens, Georgia?
Ponsoldt: It was a dream come true. Athens is my favorite town in the whole world, and it's such a creative, supportive community. It's so easy to make art there. Fantastic place to shoot a film. Growing up there was wonderful, because it really is a mecca for creative-types. So many brilliant weirdos from around the country — and certainly the south — move there, perhaps because they aren't accepted in their hometowns. Many of them start bands. A few have become really famous. Athens is a land of perpetual youth, because there's constantly a new flock of 18 year olds arriving in the fall…and nobody ever wants to leave. I love returning to Athens. Best town I know to get a cheap beer, meet nice folks, and hear amazing live music.
Filmmaker: Who were you more like in high school — Sutter or Aimee?
Ponsoldt: Probably Sutter. I was quite a bit like Sutter…unfortunately. When I was a teenager I was kind of an immature, occasionally self-destructive idiot. But I grew up. Sort of.