Back to selection
Torrenters, Six Strikes and You're Out!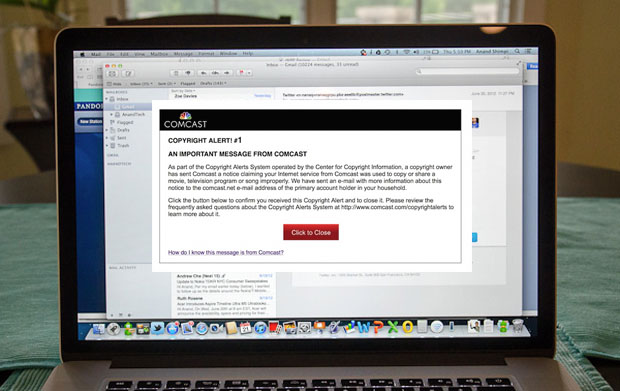 Has a peculiar notice popped up on either your TV set or computer reading: "Copyright Alert! #1"?
This notice is the first of six that digital communications users will receive as part of the Copyright Alert System (CAS). Having failed to get Congress to adopt the SOPA/PIPA legislation last year, the movie and record industry trade associations, the MPAA and RIAA, respectively, have taken a second bite at the apple in their effort to address the problem of illegal downloading of copyrighted entertainment content.
CAS, which went into effect on February 25, ties the major content trade associations to the big Internet Service Providers (ISPs) — Verizon, AT&T, Time Warner, Cablevision and Comcast – to enforce the new program.
The campaign is designed to monitor peer-to-peer (P2P) networks for copyright infringement and is being promoted through an industry front group, Center for Copyright Information (CCI). Online users who allegedly illegally download copyrighted content will be sent a series of six warning, each one raising the stakes for noncompliance.
The ISPs are employing different strategies as enforcers. Verizon, as revealed in a leaked memo, has proposed a staged get-tough program. After receiving alerts #1 and #2, the company will direct the subscriber to a link that details her/his alleged illegal file-sharing activities. After alert #4, it will redirect the subscriber's browsers to a website requiring the user to acknowledge receiving the alerts and watch a short video on copyright issues. With alert #6, the subscriber's data speed will be reduced to that of "dial-up speeds for two or three days." The company also plans to charge $35 to "have an arbitrator review whether they are guilty of Internet piracy." The charge is refunded if the user is found innocent.
Time Warner is taking a different approach. It plans to suspend a subscriber's service until the user contacts a customer service rep and promises to stop downloading copyrighted materials.
In 2003, the RIAA launched its ham-fisted mass litigation campaign to halt the downloading of music. By 2008, when it formally abandoned the program, it had opened legal proceedings against an estimated 35,000 people. Last year, it tried again with SOPA/PIPA.
The CAS alert system may prove just as ineffective. While a nominally voluntary agreement, the Obama Administration's IP czar, Victoria Espinel, apparently brokered the deal to create CAS. One serious consequence, as the Electronic Frontier Foundation (EFF) finds, violates established American legal precedent. "Once a subscriber is accused," it warns, "she must prove her innocence, without many of the legal defenses she'd have in a courtroom." Thus, the content industry is using private policing agencies, the ISPs, as a work-around to avoid challenging in court those it accuses of piracy. The Obama administration is behind this privatization of justice.
Equally alarming, CAS does not provide for "fair use" of copyrighted material, a traditional feature since colonial days. Clips of music, movies, TV shows, novels, medical journals and newspaper reports are public expressions, essential for a free society. Or so thought the Founding Fathers. As the EFF adds, "ISPs will be serving as Hollywood's private enforcement arm, without the checks and balances public enforcement requires."
Watch out for a "Copyright Alert!" notification.
* * *
David Rosen is a writer and business-development consultant. He is author of the indie classic Off-Hollywood: The Making & Marketing of Independent Films (Grove), originally commissioned by the Sundance Institute and the Independent Feature Project. He can be reached at drosennyc@verizon.net. For more information, check out www.DavidRosenWrites.com and www.DavidRosenConsultants.com.