Back to selection
Martha Stephens on Pilgrim Song
In Martha Stephens' lovely, evocative and deceptively simple Pilgrim Song, Timothy Morton (Team Picture) plays James, a newly unemployed elementary school music teacher from Louisville, Kentucky. A gangly fellow with a large red beard, some mean fiddle skills and an unreliable sense of direction, James finds his future hanging in the balance in more ways than one after he's laid off from his teaching gig. Seeking some sort solace following his dismissal and an unspoken trauma that has pushed him apart from his girlfriend Joan (Karrie Crouse, also the film's co-writer), he sets out on a trek across Kentucky's Sheltowee Trace Trail. His episodic encounters with a host of colorful Appalachian characters lends the film a delicate humor and Stephens' storytelling rhythms artfully echo the cadences of life in this stretch of the American South. In a meditative style reminiscent of Kelly Reichardt and Ramin Bahrani, Stephens' film delicately unpacks an aimless young man's resistance to fully embracing his adulthood.
The 29-year-old Stephens went to the North Carolina School of the Arts, home to a film school that has bred indie darlings such as Bahrani, David Gordon Green, Jeff Nichols and Craig Zobel. The Huntington, West Virginia native, who still lives and works in the state, made her feature debut in 2010 with Passenger Pigeons. That film, like Pilgrim Song, is set in a rural Appalachian stretch of Eastern Kentucky and made its debut at South by Southwest. The toast of the southern circuit, Stephens' newest film was a prize winner at both the Little Rock and Indie Memphis Film Festivals, with stops in Nashville, New Orleans, RiverRun, South Alabama, Indie Grits,  Sidewalk and Birmingham along the way. Pilgrim Song opens at the reRun in Brooklyn today.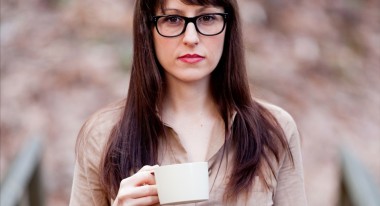 Filmmaker:Where do you work?
Stephens: I've taken over for a lady who's on maternity leave teaching 7th grade, so I'm doing that right now. It's interesting. I can't teach full time because of film stuff but I substitute and do long-term sub positions. In West Virginia there's not a whole lot I can do having a filmmaking degree. I taught full time. I went to grad school for education in Kentucky. I didn't finish. It was right after I got out of film school. I taught full time for two years and I've subbed for three years.
Filmmaker: Did your interest in making a movie about a newly unemployed teacher come from your own experiences working as a teacher?
Stephens: A little bit. After my first year of full time teaching, I was like, "This is definitely not what I want." For a while I was like, "Maybe this is the career path I should try, filmmaking feels really hard right now, I need a way to make money." But I ended up being let go at that job because the state was doing all these cuts and that's when I got the idea for Pilgrim Song. I also went on a three-to-four-week road trip by myself and camped by myself and I found it to be a cathartic way of dealing with teaching a rural school and feeling isolated for a year. I taught before I made the first movie as well.
Passenger Pigeons was an ensemble piece and it was really like writing four or five short scripts and combining them. The reason I did that first was that I was really trying to figure out how to write a feature length script because all I had done in film school was write and direct short films. I never got to write feature scripts in class. I really wanted to write something where I could go and shown really beautiful places in Kentucky such as the mountains and the wilderness. So I devised this story of a guy going on a hike, with a bit of a chip on his shoulder, who's in a luke-warm relationship, a failed teacher, a failed musician — what is he good at? What does it all mean? I think we all go through that.
Filmmaker: I think I'm going through that right now.
Stephens: Really?
Filmmaker: Yeah. It all hit pretty close to home. You'd worked with Timothy before, right? He's compelling in a sort of blank, oafish way.
Stephens: [laughs] Yes, Tim was in my first movie. He's really goofy and funny. Tim's really good at doing a deadpan, improvisatory  thing. I first saw him in Kentucker Audley's film Team Picture. He was hilarious. He's the best thing about that movie. I was thinking that he deserved a leading role in something. He kept playing the lead's sidekick or friend. When my writing partner and I wrote [Pilgrim Song], we wrote it with him in mind. I just enjoy being with him in movies. It's weird, he's funny in it when he's interacting with people, but when he's alone he has this stoic quality that I hadn't anticipated before that's really good. I like him.
Filmmaker: Was the fest circuit success of Passenger Pigeons helpful in getting this film off the ground?
Stephens: Having my first movie play at SXSW helped get our Indiegogo [campaign] for Pilgrim Song off the ground because people were more at ease giving a filmmaker some money when she had done something successful before that, so it definitely helped us raise some money. Nick Case and Ryan Watt, the Paper Moon guys, helped produce Pilgrim Song. They saw Passenger Pigeons at Indie Memphis and came on to help me do this movie, so yes, quite a few people became involved with Pilgrim Song because they had seen Passenger Pigeons. It helped me get into SXSW again obviously, being an alumni, so in general doing it once before helped the process and I hope that that will continue to get easier as I make more movies, but each one is different.
Filmmaker: There's an easy lyricism and a narrative flatness to to your style that is both typical of American independent film in some ways and also taken to a sort of extreme here. Do you have influences cinematically that are very important to you that you drawn from?
Stephens: I hope it's not flat feeling.
Filmmaker: I don't think you should take that in the pejorative sense.
Stephens: Well I'm not one of those people that sit around and watch a lot of movies. I live in West Virginia. The only access I have to movies is Netflix and buying them, there isn't an independent theatre or a film festival here. I'm not a big cinephile, I can't spout off a long list of directors that inspire me. I'm really more influenced by books, novels and short stories mainly. Steinbeck, Flannery O'Connor, a lot of Southern writers. I used to cite cinematic influences a lot, but as a I grow older I find that I'm not as moved by their movies anymore. I love Wild at Heart, but you don't see that in Pilgrim Song. A lot of the movies I really love don't end up influencing me cinematically. Literature is more of an influence for me cinematically. I go to the movies to have fun. Heaven's Gate and Michael Cimino; something like Deliverance perhaps, I don't know. I love being out in nature in films.
Filmmaker: You use zooms like it's 1972 and you're Hal Ashby or Robert Altman. [laughs]
Stephens: If you had asked me 10 years ago, I would have said that Robert Altman and Hal Ashby are my favorite directors of all time but going back now and looking at their work it's hard to say because they have both made equally terrible movies and really great movies. I watched The Slugger's Wife about a year ago and it is one of the worst things I've ever seen in my entire life. I had to ask, "How did Hal Ashby make this?" Harold and Maude is such a fantastic film. Same thing with Robert Altman. I watched A Perfect Couple  a few years ago and thought, "This is abysmal," but on the other hand Three Women is so wonderful. Regardless, it's hard for me to say those guys are my favorites when they've made things that for the life of me I can't understand.
Filmmaker: As you were making the film, what was it that most surprised you about it? How did it deviate most significantly from what you thought you were setting out to make?
Stephens: I think this happens with every director, but when I was shooting it it was very easy to say, "Well, this isn't exactly what I wanted, I want it to be what I was envisioning when I was writing it." I think that that's just everybody's problem. A lot of people have that hang up. Certain scenes don't work like you want them too or sometimes you get surprised and something works much better than you thought it would. I don't know if there is anything specific. I anticipated that it was would be a rough shoot because we were hiking mostly outdoors, carrying the equipment.
Filmmaker: Were there aspects of the movie that were difficult to make work in the cutting that you thought would be easier and were there things that worked out which you thought might be trouble spots?
Stephens: We cut out several scenes from the first 15 minutes of the movie. We shot it in the order of his journey, so our first week was in Louisville. That was rough. People hadn't quite gotten into their groove yet, I guess. So I think some of the stuff I shot in the beginning was tough. Plus I think in general I'm much more at ease and at home filming in rural environments. Everything I've made so far has been in rural environments. I feel good out in the woods, in trailer parks, what have you. Shooting that stuff in Louisville I thought was ailing the movie because it wasn't as serene and beautiful as I wanted it to be, but that's the point to some degree, that he's leaving an urban area to go out to nature. Regardless, the first 15 minutes are what changed the most. It's a lot more condensed then I imagined it would be.
Filmmaker: Funny, I find Louisville to be such a beautiful town.
Stephens: It is, Louisville is a great city; I love it, but I'm from the country. I'm never going to feel like I'm doing a shot that looks as if I'm filming in some beautiful rolling hills and greenery in a school gymnasium or a bourbon distillery. It's just not what makes me feel comfortable.