Back to selection
Shooting Richard Linklater and James Benning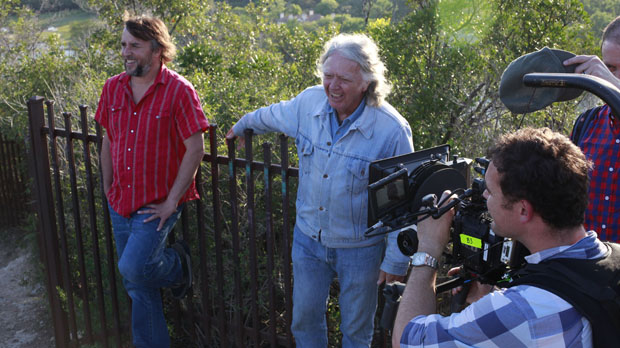 Gabe Klinger is currently running a Kickstarter campaign for his documentary on directing legends James Benning and Richard Linklater. Below he talks about the experience of working on the project.
My first encounter with Richard Linklater was through his Dazed and Confused. The film was of meteoric importance to me and my junior high peers. The soundtrack, which revived forgotten tunes by War and Foghat, got more play on our boomboxes than the Dr. Dre, Nirvana and Mariah Carey hits of the day. When a friend's mom busted me for stealing her pack of smokes, I told her Dazed and Confused made me do it. We even nicknamed our pot dealer Slater after the stoner character played by Rory Cochrane and repeated his catchphrase, "Check ya later," ad nauseam.
I suppose every American kid who grew up in the early to mid-90s has some allegiance to the film. It was sweeter and more compulsively watchable than what Tarantino and Fincher were offering, and more thoughtful and grown-up than other teen films. Sure, we watched and loved Clueless, but we never imagined it was our own world for a minute. I was about to go to high school and Dazed and Confused was the film I wanted to live. It wasn't until much later, during senior year of high school, that I encountered Slacker at my suburban Blockbuster. The film was a huge revelation and over the next several years the name Richard Linklater came to mean a lot to me.
At some point — I can no longer pinpoint the precise moment — I discovered experimental cinema. Attending Warhol and Brakhage screenings in Chicago, someone told me that I should pay attention to a structural filmmaker named James Benning. I watched his 2000 film El Valley Centro, which bored me to tears. Back then I wasn't ready for Benning. In 2004, as a journalist covering the Buenos Aires Festival of Independent Cinema, I was hanging out one night with Sara Driver, Clark Walker, Sam Green, Ron Mann, and a white haired guy with a weathered face who I learned was James Benning. I saw 10 Skies and 13 Lakes (both 2004). I listened to him talk. One day we were walking down the street and he stole a garbage can lid, which in Buenos Aires have the white curved shape of a space helmet, and placed it on his head. I remember thinking, "I like this guy."
Over the next decade, we've stayed in touch and seen each other regularly at film events. In Milwaukee, James's old school chum Jake Fuller showed a film he had shot called Road Work, which included a scene of James playing catch with Richard Linklater. How did the two know each other, I wondered? On the surface, they seemed like complete opposites. The guy who made 10 Skies, which comprises of ten static shots of clouds as they move across the sky, and the guy who made School of Rock  — who knew? It turned out that Linklater was a huge Benning fan and had showed his films many times over the years under the auspices of the Austin Film Society, which Linklater cofounded and has remained active in as Artistic Director. I also learned that both filmmakers are former baseball players. The connections didn't end there. They had a fascinating friendship that I thought I could document in some way.
Earlier this year it occurred to me that I could try to get the two together at the Berlin Film Festival, where Linklater had Before Midnight out of competition and Benning premiered Stemple Pass  in the Forum. Linklater decided he was too busy with his press junket to devote much time to our project, but suggested that the three of us meet in April in Austin to play baseball at his place and record some kind of conversation. When I told Benning and Linklater that I thought we should make a film out of the encounter, they agreed and I took my idea to André S. Labarthe, co-founder of the storied French series "Cinema of Our Times." André said he could get me a little bit of money from his TV contacts, so I plugged ahead and made sure to assemble a budget and find a crew. Berndt Mader, who runs the Austin-based production company the Bear Media and co-produced David Gordon Green's Prince Avalanche, was instrumental in helping me to do all of this, especially with our accelerated timeline.
For two months immediately after Berlin, I would touch base regularly with Benning and Linklater about my ideas. Benning was traveling a lot and doesn't have a cell phone, so most of our communication was through email. One of his missives read, simply: "You must remember that I'm a minimalist." This was in response to me sending him a rigorous shooting plan. He suggested the film should be in two parts: the first would resemble a baseball game, the second a sitdown conversation in the style of My Dinner with Andre. He would say, "As you can see, I already want to be the director of this film." I was terrified that he wouldn't go along with any of my plans. Linklater, on the other hand, was more receptive to my suggestion that we revisit some of his old shooting locations. Benning objected. "Movie locations aren't real life," he told me in one email.
I didn't panic. Linklater and I had reassuring phone conversations at least once a week. His response to nearly everything was, "That's cool, whatever you and James wanna do." I suggested we create a baseball game. "I don't really have a diamond," he said, "but we could set out some bases." I wanted to make sure everyone was on the same page. A week before shooting, Berndt and his team were phoning locations and figuring out schedules to be able to come up with a final budget. Linklater was loose without explicitly committing to any schedule and Benning was his usual taciturn self. My biggest nightmare was that the two would flake and I would be left with my crew of 12 shooting tumbleweeds (something Benning would surely appreciate). Added to all of these logistical anxieties, I couldn't believe that I would be directing two of my filmmaking heroes. Would they think I was a good director?
The night before shooting, Benning, Linklater, Berndt, cinematographer Eduard Grau, first assistant cameraman Steve McDougall, Austin Film Society programmer Chale Nafus, and I went out to dinner. Spirits were already high. No cameras in the room, but I wish there had been: the conversation between James and Rick was already going in all kinds of amazing directions. They were talking baseball, life, creativity, their shared moments in Austin over the years… Call the next morning was 9 a.m. and I couldn't wait to start rolling. Our first shooting location was the Alamo Drafthouse, where Linklater would introduce two Benning films. Our soundman Justin Hennard told me he overheard that Linklater was nervous about speaking in public. Someone had warned me that Linklater was shy. I couldn't believe it, but here we were: Linklater with pre-shoot jitters. Fortunately, he overcame and went on stage to introduce 13 Lakes. Benning came out after, patted Linklater on the back, and said, "He's a good man."
After the screenings, Linklater suggested we take a drive to Mount Bonnell, a steep hill alongside the Colorado River where the final scene in Slacker was filmed. Benning had never been there and was curious. We staged an unbroken tracking shot of the two as they hike to the top. The light was uncannily perfect and the conversation was lively and candid, as we had hoped. At one moment Eduard nearly tripped over a rock but caught his balance and continued shooting. I shushed a tourist group from Brazil who nearly ruined one part of the shot. An hour and a half later, I felt we had achieved our first standout scene. As we were walking back to the cars, Benning bellowed, "The talent is hungry!" The first 12 hours of shooting seemed like an indication of how the rest of our Austin adventure would go, and my nervousness began to subside. The following day the crew would wake up in Bastrop, Texas, at Linklater's ranch outside of the city, and begin another full 12 hours of shooting.
Benning and I were up bright and early. We searched around for Linklater, who mentioned that he would be sleeping on the couch in his library. It was almost time to start rolling and I debated if we should wake him up. I walked over to the library with Benning, who slid open the glass door entrance and yelled, "Hey Rick!" That was that. Linklater said he wanted to warm up on the basketball court. The two shot hoops and backed and forthed about the connection between athletics and making movies. The conversation was casual and stayed at the surface but already touched on some important points. Next Linklater played tennis against his ball machine, and Benning, who didn't feel like playing, volunteered to be the ball boy. After about an hour, we graduated to the main event: baseball. The two played catch and began to reminisce affectionately about the old days. Then Linklater wanted to fire up the pitching machine and swing a bit. Benning decided to stay in the outfield where he could shag fly balls. Most of our crew brought their gloves and stayed out there too. Benning caught one ball with his bare hand. Running for another, he strained his hamstring and took a flamboyant dive into the mushy soil. We decided it was a good moment to break and begin to stage our next scene.
On the spacious deck of Linklater's bunkhouse, we plotted how to shoot the two as they shared a long, post-baseball meal. We decided to have them facing each other so it would be more natural, but we also didn't want to have a conventional over-the-shoulder shot setup. I told our camera operators to be inventive and move around a lot. Benning and Linklater proved to be very natural. They kept the flow going for about an hour and ten minutes. Weeks beforehand Benning had told me, "I think I would like to push Rick a bit, challenge him to let go of audiences and make the masterpiece that he's capable of." I only interrupted the conversation twice to try to refocus the topic. Some of our best, most profound moments emerged during the bunkhouse scene. In the end, Benning succeeded in his plan to have a My Dinner with Andre moment. At the end of the talk, we kept the cameras rolling as our entire crew sat down at the lunch table and joined in.
The third day of shooting was confined mainly to the Austin Studios lot, where Linklater's Detour Filmproduction keeps its offices. Linklater agreed to show us scenes from his still-in-production Boyhood, a film that he's been shooting for nearly 12 years with the same actors. Very little of the film had ever been shown to anyone. We felt lucky. Benning would sit there as interviewer and captive audience as Linklater's longtime editor Sandra Adair sped through various important set pieces from the film. It was great to have Adair there, not only to honor her collaboration (she's been working with Linklater since Dazed and Confused), but to break up the dynamic of the film a little bit by having a third character. Linklater was sensitive about unveiling the material, and having Benning around didn't make him any less reticent. He only showed a few seconds from Boyhood at a time. A couple scenes really chocked me up — I told Linklater and Adair that I can't wait to see the finished film. Benning whispered in my ear after, "I thought it was a little cheesy."
Wrapping up our last and possibly longest day, Linklater thought we should celebrate. We invited the crew and various others to dinner. Most of my local team had gone home to bed and our d.p. and 1st a.c. had taken the last flight out to Los Angeles. The team had shrunk and everyone was beat but the moment was still celebratory. "You guys really worked us," Linklater told me while chomping on a grilled cheese. Benning suggested that everyone stay on another five days as he felt that he had only begun to hit his stride. Linklater predicted that I'd be calling for reshoots in a few days. On the plane home to Chicago, I began to have regrets. I wished I had gotten a close-up of Benning's ancient childhood baseball glove, which he used to play catch with in the film. So far I've resisted any impulse to re-stage. I've accepted the film as a time capsule, faults and all. The two filmmakers met a quarter century ago, and in another 25 years, Benning will be 95 and Linklater will be 77. If we're all still around then, I'll try to get my closeup of Benning's childhood baseball glove.