Back to selection
The POV Conversation: Stephen Maing and Lixin Fan on the Importance of Unpredictability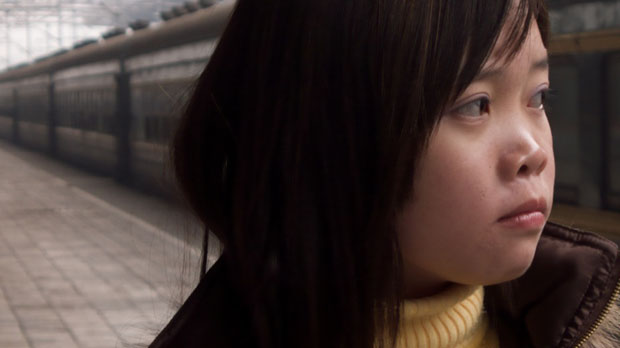 Qin Zhang in Last Train Home
Last year, to celebrate POV's 25th anniversary, Filmmaker organized a series of conversations between documentary directors whose work had been featured on the PBS non-fiction showcase. This year, we continue this series with a fascinating discussion between Stephen Maing — whose debut feature on Chinese citizen bloggers, High Tech, Low Life, is currently streaming for free on the POV website — with Lixin Fan, the Chinese filmmaker whose Last Train Home, an intimate portrait of a fractured family of migrant workers in China, won him great acclaim in 2009. In the third of this five-part discussion, the two filmmakers discuss how unforeseeable circumstances have contributed to their documentary films.
High Tech, Low Life can be streamed for free on the POV website from July 23 till August 21.
Maing: I think one of the moments in the film [Last Train Home] that I really love is when Qin turns to the camera and is like, "You guys want to know the real me? This is the real me!" She kind of explodes, and it's such an incredibly raw moment, which speaks to this process that you guys are going through. I could really see something so vitally important in that moment, that you know there's an incredible messiness about filmmaking and it's an incredibly important part of the process because the subjects are so explosive. That was a particularly unbelievable moment. It was just such a rough scene in terms of what's happening in that family. I think when you look at the layers of information in a documentary, the documentary filmmaking layer is sitting on top of the actual reality layer of the scene which is mediated by our subjects' sense of what they think and what they are supposed to be doing. When that comes into conflict with what they are instinctively doing, that conflict is an interesting thing for you as a filmmaker to see and go deep to unveil that for a moment in the scene. That is such an important scene. It is something that always stuck out to me. I actually use that moment when I teach as a way of helping students understand that documentary filmmaking should be a very unpredictable situation, and that we should really be open to that unpredictability and the evolving relationship with our subjects. It's so much about our relationship to our subjects, more than our singular view of who they are and what they're doing. It seems to be more important to keep track of our relationships. It really speaks to this end product.
Fan: I agree with you a lot and I really think that that was a very important, violent and complicated moment for me, the filmmaker. It troubled me for a long time, and then it confused me for a period of time when we started to edit the scene. I think it helped me to grow a lot as well. I am really thankful for this complicated, unexpected moment that happens. I had a long conversation with my editor, Yung Chang, when we were trying to cut the scene. Mainly we were trying to decide whether to include the scene or not, because it breaks the glass between the audience and the characters. For the rest of the film there was not another moment when the characters talk to the camera directly, so it breaks the rule. That shot was actually longer than what was edited in. In the original shot, I actually entered the frame, to separate the father and the daughter again. But we decided that we were not going to use that [part of the scene]. The main discussion was whether we should include the scene [at all]. My feeling [was that] it changed the dynamics of the film. But then my editor, he had a great point. I had to give the credit to him. We filmed this footage [and] we don't [have] the ownership of that time of life. We don't own the footage, the footage has its own rights to be shown to be seen; it's a real documentation of the reality. Basically, he was saying I don't have the rights to not show it because it's so vitally important to reveal the character relations and the conflicts, and also it's a really dramatic scene. We really had to be brave and put it out there; I thought that was a great point. I didn't think of that, in the beginning, but then I thought he was absolutely [right], and so that's how we did it. I had so many thoughts and debates over that thing over the years.
To read Part 2 of this conversation, click here.