Back to selection
Five Questions with Life of Crime Director Daniel Schechter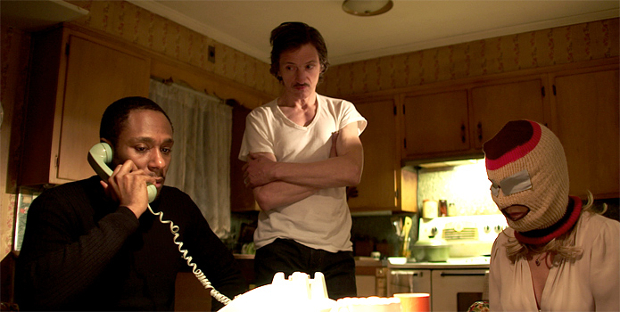 Life of Crime
After two small-scale New York indie features, set in the world of standup comedy (2007's Goodbye Baby) and low-budget film (2012's Supporting Characters), writer/director Daniel Schechter has made the unlikely but extremely welcome step up to a very different kind of movie. Life of Crime, which closes the Toronto International Film Festival this weekend, is not only based on a novel (The Switch) by the late, great Elmore Leonard but boasts a high-caliber cast featuring Jennifer Aniston, Tim Robbins, Isla Fisher, John Hawkes, Yasiin Bey (aka Mos Def), Will Forte and Mark Boone Jr. A dark crime comedy, Schechter's film is about two recently released jailbirds, Louis (Hawkes) and Ordell (Bey) who devise a scheme to kidnap Mickey Dawson (Aniston), the wife of Detroit property developer Frank Dawson (Robbins) — not realizing that Frank has a mistress (Fisher) and would be quite happy to have his wife disappear. Filmmaker asked Schechter a handful of questions via email about his new film, Leonard and how to recreate 70s Detroit today.
Filmmaker: What were the circumstances that allowed you to make the leap from a small-scale, low-budget ensemble piece like Supporting Characters to Life of Crime? Were you the originator of the project?
Schecter: I basically did something that almost never works and I was advised strongly not to do, which was take a best-selling author's book, adapt it on spec, and hope whoever owned the rights would let me make it. What I didn't anticipate was that it took about two years to track down who actually owned it (turned out Leonard just got the rights back from a 30-year option in 2009) and then it took another year to convince Leonard's team I was the guy.
Filmmaker: What kind of contact did you have with Leonard? Did he get to read your screenplay?
Schecter: We had one or two phone chats and then I was able to spend a weekend with him in his hometown, which was incredible for me. We talked a lot about films, his books and films based on his books. We drank beer, ate some good food and I did my best to impress upon him that I had a pretty innate understanding of his tone and how his adaptations should be done. I think he could never really let go of his skepticism but also his hopes for it being a great film. He never got to see it, so who knows what he may have thought. I don't know if he ever read the script.
Filmmaker: What were the biggest challenges of making such a big step up in budget?
Schecter: The film I made previously (Supporting Characters) was made for $60k in 12 shooting days, so for the most part, stepping up was a removal of the challenges I normally faced. But I'd also say considering we shot this film in 26 days, I didn't really get the slower-paced production I was hoping for or expecting. It was a very aggressive schedule that left zero room for error and that was fairly terrifying, but I had awesome producers and crew who held my hand through it all. To me now though, the greatest luxury you can have isn't a great camera or toys or a large crew… it's time.
Filmmaker: How easy was it to recreate 1970s Detroit? Did you actually shoot in Detroit?
Schecter: It wasn't easy. The two largest locations in this film were two very different houses that needed to be impressive, photogenic, appropriate, available and then, of course, period. In fact, one of them had to look more 50's than 70's. Even if you could remove every stick of furniture and re-wallpaper the house, what about the stoves, cabinets, tiling, counters, etc.? Mike Hartel did the locations and hit a home run and saved our asses. I still marvel at what we found and how we got it done. Love those locations so much. But it was hard to get wide shots of exteriors, hard to avoid modern cars, it was expensive to rent old cars, and dress extras, re-decorate homes/locations… but it was all worth it. I'm in love with the look of the film and all the work my costume designer (Anna Terrazas) and production designer (Inbal Weinberg) did. I'll work with them forever if they'll have me; they went above and beyond and seriously delivered something special. No, we didn't shoot in Detroit. we shot in Stamford and Greenwich, CT for the areas in and around Detroit, MI. To my eye, after spending that weekend around Leonard's neighborhood and Detroit, they were a great match.
Filmmaker: What was the most important thing you learned while making Life of Crime?
Schecter: Easy: Elmore Leonard is a genius whose talent can't be overstated.