Back to selection
A Fresh Look at Apple's Final Cut Pro X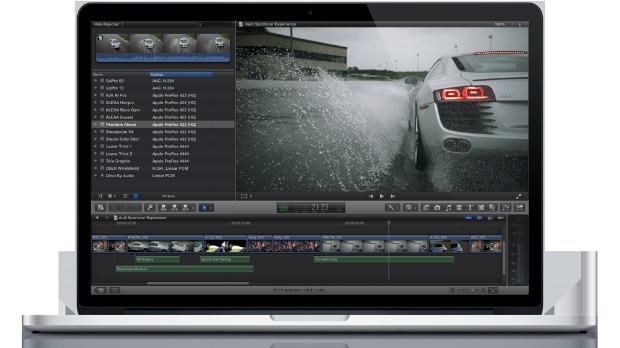 Final Cut Pro X
Hard to believe, but FCP X is well over two years old and already into its ninth iteration.
Its popular multicam tool arrived with version three in January of last year. In the past 12 months alone, no less than four new versions have been released, bringing dual viewers, a unified import window, support for native REDCODE RAW, MXF, Sony XAVC (up to 4K) and optional Rec. 709 display of ARRI ALEXA ProRes captured in Log C.
Recent improvements also include a handy freeze-frame tool, chapter markers for QuickTimes and DVDs, better audio channel editing tools, and FCPXML 1.2 to facilitate audio and metadata export/import. (FCPXML uses Extensible Markup Language, or XML, to exchange Project and Event data and metadata between FCP X and third-party applications.) Plus, there are a host of bug fixes and performance improvements.
Apple claims its 64-bit FCP X has outsold all previous 32-bit versions of FCP combined, and there's no reason to doubt this, for two reasons.
FCP X is faster and less confusing to set up than FCP 7, to which I can personally attest. It better hides the sprawling technical complexity of today's HD, 2K and 4K formats. In fact, in conversation over the past year with several popular digital video experts — recognizable names all — I'm struck by the fact that all admitted using FCP X, at least for basic editing. One mentioned — and I think this is key — he felt guilty because using FCP X was too easy.
Many "pros" still dismiss FCP X out of hand, typically with no experience using it, and I'm reminded of "serious" PC users who once vehemently disparaged Mac owners (like me) because real computing required command-line entry. A mouse-driven GUI was for amateurs. Not that long ago, really.
Consider this: FCP X is a feature-rich 64-bit pro app with a challenging learning curve (I'm still climbing), which, at the same time, provides a relatively easy interface for those otherwise intimidated by professional NLEs. This includes a worldwide market of young media makers, many without editing preconceptions or prior professional experience, a new generation who often shoot with DSLRs or tablets or smartphones, and who wouldn't object to editing on tablets or smartphones either, technology permitting.
A broad, new user base, growing laterally and exponentially. That's reason No. 1 for FCP X's mushrooming popularity.
Reason No. 2 is its low price: $299. Apple offers a free trial, too. For 30 days only, FCP X is as gratis as DaVinci Resolve Lite (which, with a superficially similar user interface, plays very well with FCP X). If broke, cut fast!
Convenience, too, plays a role: FCP X is readily downloaded from Apple's App Store, while subsequent notices of version updates (always free) are automatically pushed to your Mac. This way, every FCP X user stays up to date.
FCP X shares effects files called Smart Motion Templates with Apple's motion graphics app, Motion 5 ($50). These include most of FCP X's built-in effects. Smart Motion Templates can be created from scratch or customized in Motion, which has given rise to Internet swapping of homebrew FCP X effects. That's how, in a pinch, I downloaded a free 8-point garbage matte a year ago. Saved my bacon.
This summer, I edited two unusual projects in FCP X. In one, I shot 4K with a Canon C500, recorded as 4K ProRes to an AJA Ki Pro Quad. Thanks to Thunderbolt, eSATA and USB 3.0, I was able to edit and view 4K ProRes on my 17-inch MacBook Pro. Upon import, I also made low-res 2K "proxies," which are mostly what I edited. I graded the flat Canon Log images in FCP X as well. You can see my workflow depicted and footage displayed in the video below.
I also shot a 22-minute reel for Canon and Cooke Optics demonstrating the "Cooke Look" obtained by mini S4/i primes on a Canon C500. The results were recorded as 1920 x 1080, 12-bit, uncompressed, again using Canon Log. The extremely high data rate required a Codex S onboard recorder. Using Codex's Virtual File System, I backed up both original uncompressed files and also ProRes 4444 copies with a 3D LUT applied. I edited with the latter.
My early 2011 17-inch MacBook Pro, tricked out with an internal SSD and 16GB of RAM, kept up just fine. Over the course of both edits, I had only one crash, which happened immediately after final review of the second project, just before rendering for output. Yes, I was backed up. But one of the most extraordinary features of FCP X is one of the least mentioned: Crashes are rare but when they do occur and FCP X is restarted (after automatically sending a report to Apple), not a keystroke or edit is missing. I consider this close to magic.
Admittedly, if this summer's 4K shoot were repeated now, I'd entertain an alternative, more capable FCP X workflow. On the horizon — in a matter of weeks — is a new release of FCP X to accompany the introduction of the radically reconceived Mac Pro workstation previewed in June at Apple's Worldwide Developers Conference, with the possibility also of a new 4K Thunderbolt Display.
You've probably seen pictures of it: black, barrel-shaped, 10 inches tall. Hollow like a chimney, which is what it is, its airflow facilitated by a silent turbine hidden under the top. The whole thing is about six-and-a-half inches in diameter.
Inside are up to 12 cores of CPU horsepower, dual GPUs with up to 6GB of VRAM and third-generation PCI Express with 40 Gigabyte/sec internal bandwidth to support internal flash storage that's 10 times faster than today's 7200 rpm SATA hard drives.
In other words, 7 teraflops of computing power. Remember Cray supercomputers? Top speed, circa 2004, Cray Inc.'s massive X1 (size of a Sub-Zero fridge), developed with NSA funding, naturally, was 5.9 teraflops.
I/O includes six Thunderbolt 2.0 ports (25 times faster than FireWire 800, twice as fast as the original Thunderbolt), four USB 3.0 ports, two Gigabit Ethernet ports, and the very latest HDMI, version 1.4, which carries a 4K signal to a 4K monitor in a single cable. Per Apple, the new Mac Pro drives at least three 4K monitors at once and permits daisy-chaining up to 36 devices via Thunderbolt 2.0.
New horizons indeed for FCP X.
See also:
Autodesk Smoke 2013 – Super NLE?