Back to selection
Primal Direction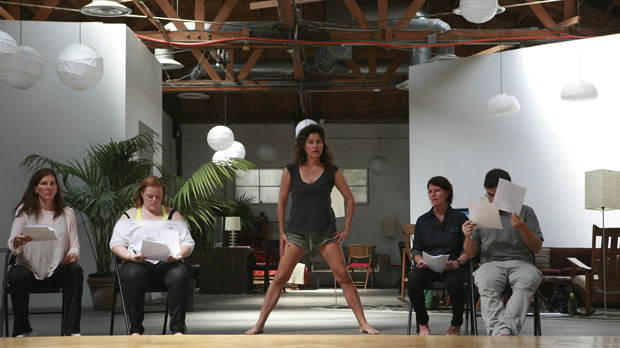 Meaning. The craving for meaning. Art and its ability to create experiences of meaning. Whether they seem all too prosaic or winsomely sincere, these words nevertheless constitute the unabashed core of an intensive, 17-session filmmaking lab series housed in a large, high-ceilinged studio in Hollywood and led by an impassioned woman named Joan Scheckel.
In practical terms, the lab sessions are dedicated to helping filmmakers clarify their vision, hone their craft and develop a functional set of tools for the production process, which is all well and good. But what makes the lab sessions extraordinary is Scheckel herself. Over the last 15 years, and after having led more than 100 of the lab sessions, Scheckel has developed an inimitable teaching technique based on embodied learning. Combining raw presence, searing connectivity, daunting rigor and a nontrivial bit of what — in our totally instrumentalized culture — might appear as lunacy, Scheckel forges extraordinary, immersive learning experiences that are nothing less than life-altering. And, believe it or not, for many filmmakers, they reinvigorate the concept of meaning, restoring the word to its rightful place as a central focus of creativity.
The lab is carefully structured to lead participants through an investigation of a film's overall vision and structure and to establish methods for bringing a film's theme to the fore through rehearsals and performance. Rather than simply lecture on or talk about these subjects, Scheckel instead propels participants into action. They walk, leap, dance, push, touch and sweat.
Take the concept of action itself, for example. It is a core element of the filmmaking process, and a good amount of time is spent understanding it in the lab sessions. Defined as "that which calls performance into being," action can only truly be understood through the body.
So Scheckel spends several hours coaxing writers and directors into literally feeling an action, rhythm and beats in their bones and flesh. Physical actions connect with psychological states and emotions, and participants can only get to the concept by moving around, feeling the ground with bare feet, and gradually reconnecting mind and body.
Other topics in the lab include clarifying a film's essential theme and finding a one-sentence core to which every action in the film will connect. Participants learn about the beats within a scene, again, not by reading or listening, but through an intensive, embodied investigation that combines energetically reading the lines, moving in syncopation and finally beginning to tango to uncover the essential dramatic rhythm beneath the dialogue. The labs also explore the emotional logic of a project; they examine blocking, pacing and rhythm; and they demonstrate how to conduct rehearsals, thereby leading participants up to the moment of shooting.
Scheckel understands that the filmmaking process requires intense connection and resonance, which is a challenge in a culture dedicated to distraction and fragmentation. She also knows that, as an essentially embodied art form, artists may have to be goofy to get a desired effect, despite the self-consciousness that wants to prevent us from fully exploring our ideas. "Self-consciousness is the number one creativity killer, and we need to move through that," she says, adding that many filmmakers try to use dialogue to explore their themes without having to grapple with the messier aspects of emotion. "We're writing a lot of dialogue to avoid feeling."
Scheckel's pedagogical lineage stems not from film schools but from acting. She lists among her inspirations the iconic acting gurus Constantin Stanislavski, Stella Adler and Uta Hagen, and like each of these inspirations, insists that the pragmatic act of honing one's craft, not uncovering some innate talent, is fundamental to the artistic endeavor. Niki Caro, who took Scheckel's class prior to shooting her first feature film, the award-winning Whale Rider, wholeheartedly agrees. "It's not rocket science!" she says emphatically. "It's a lot of other things — it's intuition, it's presence, it's work. It's a plan. You have a plan with your cast and crew, and it's solid." She goes on to explain the preparations she did for a scene in her film, a key scene, and how a particular physical action — moving chairs — comes to express bitter betrayal. "It was easy to shoot," Caro recalls. "It cut like a dream. And it came from this work."
For many, Scheckel's techniques can be off-putting. They are deeply confrontational, sometimes terrifying, and uncomfortably revealing. I know this from experience: I attended lab sessions in August, expecting to politely observe, and was instead horrified, then ultimately exhilarated, as I found myself trotting around the studio in a revealing exercise called "Human Dog Park." Participants wear sweat pants, go barefoot and actively engage physically for hours at a time. And Scheckel is insistently present through the entire process, deftly cajoling, wrestling with and pushing every single person to uncover his or her own process.
But isn't this robust experiential activity what being an artist is all about? A growing number of independent filmmakers and writers would heartily say, "Yes!" and indeed, Scheckel can easily tick off an impressive list of statistics that attest to her method's power: She has contributed to the development of more than 365 films, which together have earned close to 600 nominations and more than 300 awards. Ninety-eight of the films workshopped in the labs have found distribution. Many of these films are represented by the posters that cover the walls in the large studio space where the lab sessions take place. There's Little Miss Sunshine, Beginners, Jesus' Son, The Future, Arbitrage, Connected, Freak Weather, Ruby Sparks, Snow White and the Huntsman and many more. The testimonials on Scheckel's website underscore the power of her process, and lab participants, still dizzy from a day's session, marvel. "She's intensely honest," says one participant. Another says regretfully, "I wish I'd met her years ago."
Scheckel recently moved into a new 4,000-square-foot studio where the labs take place, and she hopes that the space will evolve into a creative hub, an incubator that connects artists and a convivial venue for conversation. She is hosting a series of discussions about creativity throughout the fall, as well as shorter, three-day intensive filmmaking sessions that introduce some of the key elements of the longer Filmmaking Lab and Master Class sessions on Thursday evenings throughout the year. In all of these permutations of her teaching, experience remains central. "Some teachers say, 'Let's start with an idea'; some say, 'Go from the heart' or 'Go from the gut.' I say, 'Teach from experience.' That is what art is comprised of, bringing your experience, your inner life, out." That, as Scheckel would say, is the work to be done.
Class schedules and information: