Back to selection
Introducing 8K: The Final Frontier?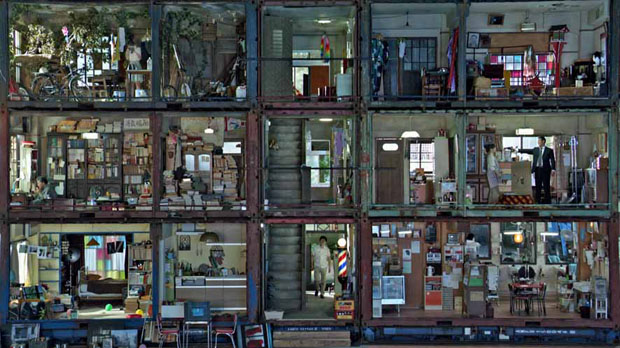 The Chorus
Keeping apace with camera technology is like running a race where the finish line keeps on moving. Just as the next generation of games consoles go on sale boasting the ability to display 4K images (although for the moment only those with the salary of a pro-footballer can afford screens able to make use of all those pixels) Japanese broadcaster NHK has started to film and broadcast events in 8K. NHK are so excited about the technology that they have commissioned filmmakers to make short films showcasing 8K, which were screened at the recent Tokyo International Film Festival.
I went along to see The Chorus, which was billed as "an experimental 8K drama – a play of many characters situated in a sectioned apartment block that makes the most of ultra-high definition by showing all the rooms at once." The Chorus written by Ryô Iwamatsu and with music by Shimizu that had actually been filmed on a sound stage, at the NHK production facility. On the stage was built an open set made from remnants of the now demolished Donjukai housing project. A three-story section of the apartment block was rebuilt, so that three rooms on each floor were left exposed for the camera to peer into. A staircase snaked in between the apartment doors, with each apartment inhabited by different fictional residents. The back of the sound stage was open, so through the windows one could see the outside world, especially the trees, behind the building.
What was immediately striking was that the image was so crisp that it was possible to distinguish the leaves on the trees in the background. Rather than making the image seem flat, the clarity gave the picture a depth hitherto unseen on digital projections. The colors were also magnificent. The whites and blacks were stunning. At one moment a white vest climbs from under a white duvet with zero blurring or merging. There was only one moment where I felt like I saw a white glow that didn't look real (see questions below) – this came when a black-suited man walked in front of a window. But outside light seeping through windows is an issue that always seems to be problematic when shooting on digital cameras.
The production designer must have worked overtime to line rooms with bookshelves, beds, sofas and kitchen furniture of every color and shape imaginable. It was the type of set that, using current production technology, would send cinematographers into panic. The camera, however, was very static, so it was hard to tell how fast-moving events would be captured, but given that the Japanese broadcaster has been launching the technology with sports events, one can only imagine that this is not too much of an issue. It wasn't just that the image had four times as many pixels as that available on hi-vision in use today; the technology also boasts 22.2 channels of sound.
It's impressive, but as with all advances in camera technology the screening also raised as many questions as it answered. Luckily NHK staff members were on hand to respond to some of jottings I made while watching the 20 minute film. The following questions were answered by Kohji Mitani (Senior Associate Director, Engineering Administration Department), Nobuhiro Haneda (Senior Manager, Program Production Department), Yoshiyuki Suzuki (Senior Manager, News Department, Sports Center, Sports Programs Administration Division) and Akira Gakumazawa (Senior Manager, Broadcast Engineering Department, Technical Planning & Management Division).
Filmmaker: What do you see as the advantages of 8K technology?
Mitani: 8K (Super Hi-Vision) is a system that considers the particular characteristics of human vision to make audience experience an effective and efficient sense of both immediacy and reality – it's as if the audience is viewing real objects, thus it is said to be the ultimate 2D TV. The 8K resolution covers almost the entire range of vision (induced visual field) which influences the human grasp of spatial coordinates. The pixel structure remains invisible to the unassisted eye even when viewed across a horizontal angle. When using an ultra-high resolution tablet format, too, the picture can be viewed smoothly, that pixel structure cannot be seen.
Filmmaker: Is it too early to use 8K when 4K is yet to be established? Do you foresee 16k or more coming soon?
Mitani: This is related to the previous answer, but the target for the next-generation service after HDTV is the last word in 2D TV. Some time will be certainly needed for the dissemination of receiving equipment, including TVs, before full-scale broadcasting services can commence and we don't consider the timing to be too early. Also, because this system has been built to match the characteristics of human vision, we do not anticipate building a system to surpass 8K. Meanwhile, as our next-generation system after 8K, we are also researching a 3D TV system for natural viewing which will not require the use of special glasses.
Filmmaker: How will it benefit cinema?
Mitani: Movies too, are shot, edited and screened digitally these days. The widespread use of 8K (Super Hi-Vision) is also expected in cinema production and display devices in the near future. When digital cinema images must be made with high resolution, for example, we hear already that 8K quality materials are being made by film scanner and then edited as needed. If shooting with an 8K camera, the output images will themselves be high resolution from the start.
Filmmaker: What events is it used for now? Do you imagine other countries will start using it?
Haneda: Here in Japan, NHK aims at starting to test 8K (Super Hi-Vision) broadcast in 2016 and full broadcast in 2020. At present, the focus is on organizing 8K screenings around the country. The Kyushu National Museum has a permanent theater for introducing its collection in 8K. Application has also begun in planetariums, flight simulators, educational materials of medical surgery, etc. We are very hopeful that this Japanese technology will be introduced to other countries in due course.
Filmmaker: Is it best for sports events?
Suzuki: 8K (Super Hi-Vision) should truly come into its own in sports coverage. In a sport such as football (soccer), for example, it is possible to view the whole pitch at once and follow the motion of the ball and every player clearly. Close ups can provide dynamic, compelling images of a kind never seen before. In other sports, such as athletics or swimming, viewers will enjoy the sense of spectating at the actual venue, or of being even more engaged in the action than that. 8K has the power to convey the full appreciation of sport. The 22.2 multichannel sound system further enhances that sense of closeness to the action. 8K has incomparably greater power than either 2K or 4K to convey the excitement of sport.
Filmmaker: How many different cameras are available? Will it be for exclusively professional use?
Gakumazawa: There is only one camera model at the present and NHK has four of them. The camera in the photo is used for location shooting and the recording of events. It is the same size as a professional-use HD camera. NHK has been developing a compact camera for 8K, and two models are planned to be available in the future. There is, unfortunately, still no non-professional, home-use 8K (Super Hi-Vision) camera.
Filmmaker: I saw one of the projections – the color was fantastic, but there was still some issues with black in front of white windows? Will this be solved?
Mitani: Thank you for pointing it out. The scene mentioned was when the man with the black suit was walking in the room. In the scene, there was a lamp beside him, and the glow you pointed out was the effect of the light, not about 8K technology.
Filmmaker: Also are there any conditions that are more favorable? Is it better to shoot outside, rather than inside?
Gakumazawa: The current SHV (8K, Super Hi-Vision) camera has lower sensitivity than an HD camera and it is hard to use either in indoors or out in poor lighting (it's about three stops below HD). It also has restrictions compared to the current HD camera, since it doesn't have a choice of lenses, etc.  As seen in the screening, the ultra-high resolution produces an unprecedented extra-dimensional space in pulled out, fixed pan-focus shots.
Filmmaker: I understand NHK will screen the soccer World Cup in 8K. Will that increase / decrease your costs?
Suzuki: There are no plans for 8K (Super Hi-Vision) productions as yet post-2014.
Filmmaker: When do you see the technology being used by filmmakers for feature films?
Haneda: This overlaps with question three, but we are hopeful that some makers of feature films will adopt 8K (Super Hi-Vision) technology in the near future. We also expect 8K systems to be installed in cinemas and, with the progress of non-film ODS content, to see the rich immediacy of 8K applied to concerts, stage shows, sports events, etc.
Filmmaker: Can you tell me a bit about the history and development of 8K?
Mitani: We started research on the next-generation image system to surpass Hi-Vision in 1995. The first camera and projection system was displayed together with 30 seconds of footage at the event to mark the opening of the Science and Technology Research Laboratories' new building in 2002. As the development of the equipment continued, about 15 minutes of footage was screened at the EXPO 2005 AICHI, Japan. There was a live relay at IBC from London to Amsterdam in 2008 and a satellite relay was also tested that same year (both provided public viewing). With the approval of the ITU-R recommendation in 2012, which established this as an international standard, work has since accelerated to turn it into a practical broadcasting system.