Back to selection
What's Ego Got to Do With It? At Sundance's Arthouse Convergence, Ira Deutchman Imagines the Future of Specialty Exhibition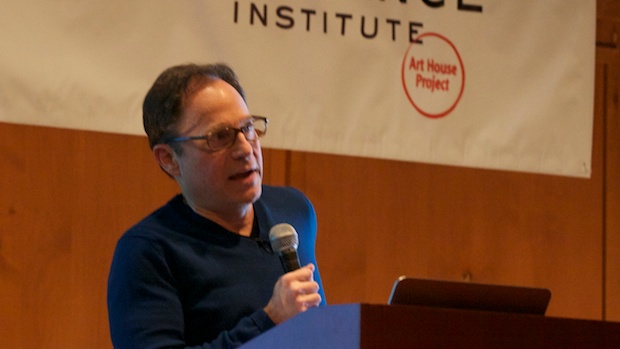 Ira Deutchman at last year's Arthouse Convergence
Just delivered in Utah at Sundance's pre-festival 2014 Arthouse Convergence — where specialty exhibitors gather to discuss and debate trends, developments and threats to their collective business model — Ira Deutchman's keynote is a witty and forward-thinking speech that looks to the past to consider reshaping the future. In his opening, Deutchman cites two truths he learned early on in his career:
First, I learned that Business is dominated by people who are driven, sometimes myopic, and willing to do almost anything to succeed.

The second thing I learned is that the Film Business, specifically, is driven more by ego than by profit. After all, it has never been a predictable, scalable business in the traditional sense that allows for believable projections and charts with any sort of certainty. So who is drawn to such a business when far more money, far more predictably can be made elsewhere? The answer would be those people who somehow convince themselves that they know better than everyone else, or that they've come up with some kind of system to beat the odds.
Allowing cooperation — collective action — to trump competition is the theme of Deutchman's talk, and as it progresses, he gets very specific with his recommendations. (That is, after a provocative head fake where he takes a stroll into the future to propose a few things that, in all honesty, seem pretty cool — things like self-serve refreshment stands and retinal ticket sensors.)
What I like best about Deutchman's essay is its realistic acknowledgement of the varying motivations that exist in the art house exhibition business and then its attempt to find realistic and agreeable goals that can unite its various players. Here are two particularly cogent ones:
If you, the Art Houses are going to be willing to be more flexible about windowing and day and date releases, you deserve something in return. You have effectively become the research and development arm of the theatrical film business. As I alluded to last year, the quid pro quo should be more flexibility on the part of distributors on film rental splits, on split schedules and there ought to at least be a discussion about some kind of real participation in the downstream revenues that feed off of the theatrical showcases. I would advocate that a committee of this group sit down with distributors and explore that discussion.

I think we should be thinking internationally. There are institutions all over the world that are facing the same issues. New distribution mechanisms and marketing initiatives are stripping away geographic borders to the point where thinking domestically is narrow-minded. We could be sharing programming ideas, curating programs that can cross borders, and sharing resources such as digital files that can be shipped instantly to places thousands of miles away. I'm encouraged that we do have representatives here from several overseas organizations. This needs to be a global enterprise.