Back to selection
Sebastian Junger on Reporters Instructed in Saving Colleagues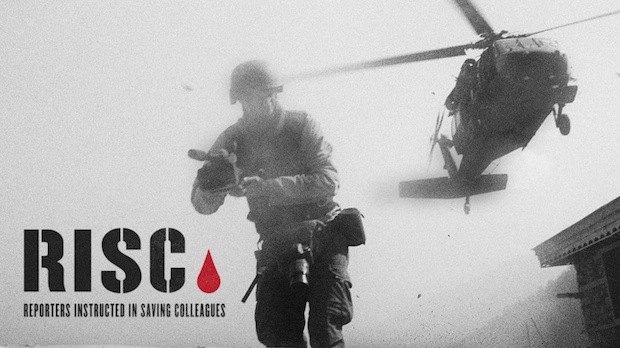 Reporters Instructed in Saving Colleagues is surely one of the most fitting tributes to a fallen comrade ever dreamed up. Founded by Sebastian Junger in the wake of the combat zone death of his Restrepo co-director Tim Hetherington (I interviewed both back in 2010) RISC, based on a Wilderness Medical Associates course adapted for combat, aims to provide freelancers in all media with the kinds of lifesaving equipment and techniques that may have prevented Hetherington's shrapnel wounds in Libya from killing him. Indeed, when I first heard about RISC its mission seemed so obviously crucial – to give combat journos medical training – I wondered why this practical sensible idea wasn't the norm. But then Junger pointed out that combat journos themselves don't think like the norm. "I had 20 years of combat journalism – and no medical experience," he disclosed to my surprise when I recently followed up with him on the phone for the first time since Hetherington's heartbreaking death. "Some (of my colleagues) are cavalier, most are fatalists. The reality is most journalists don't get shot or wounded or killed… But many countries in the Third World have terrible road systems and bad drivers. Driving is a major risk, and often overlooked." Junger then added that "focusing on lifesaving techniques like stopping blood loss" could prevent a traffic accident from becoming a fatality.
So, I inquired, does RISC open its courses to just anyone reporting from dangerous places, even newbies? Junger explained that the focus right now is on veteran reporters "who are the frontline troops of the profession," while allowing that the word "veteran" cannot be so strictly defined. A month in Syria might put someone in that category. As for the less experienced, "Everyone is a first timer at some point," Junger reminded me. "My first war in Bosnia was 1993. I was a first timer. But we need to stick with (training) people who are at least experienced."
This struck me as a sort of triage approach, perhaps due to limited space and funding. How does RISC afford to train people free of charge anyhow? "Private donations, corporate donations, GlobalGiving," Junger said, listing the usual suspects. "We give courses in NYC, just gave one in London, and are now looking into Istanbul," he continued, noting that Americans are not always his target audience. "Foreigners take the courses. There's a very long waiting list. Plenty of people want to sign up – it's a free course. Everything including lodging is free." Junger added that this is a huge incentive because freelancers usually don't have much money. "All they have to do is get themselves to the city where a course is taking place."
Interestingly, when I inquired as to whether the training touches on PTSD, Junger acknowledged, "We tried in London – we had a two hour session – to mixed results." With interview time running short I asked Junger for his own personal opinion about skilled filmmakers who might not have any training in journalism going to conflict areas. "Any good documentary is a good piece of journalism," he ventured. "For me the same standards apply. The documentarians not acting like journalists are selling something not dependable. When you're in a war zone you're effectively reporting the news whether you see yourself in that light or not."
For more information on Reporters Instructed in Saving Colleagues, including the upcoming course in NYC February 25-28, visit the organization's website.