Back to selection
The Book of Lone Peak: Distributing and Marketing the Short Film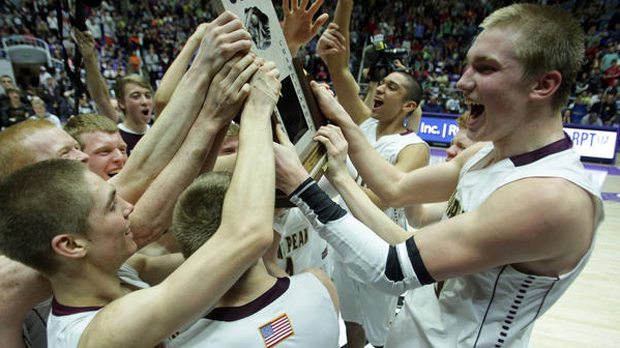 For ten days in January a documentary called The Book of Lone Peak ranked as the top-selling short film on iTunes. The film, which profiles a high school basketball team from the town of Highland, Utah, was made by New York City-based filmmaker Ben Altarescu and a fifteen-year-old journalism student named  Zack Samberg. The pair moved quickly to push the project through to completion before the basketball players left for post-high school pursuits. The filmmakers talked with me about how a professional filmmaker and teenager collaborated and how they helped push the film on iTunes and other platforms.
Filmmaker: You both came to this project from a very different place. How did your collaboration–and the film itself–come about?
Altarescu: As far as where the film came from, Zack found the story after seeing Lone Peak play at the Hoop Hall Classic in Springfield, Massachusetts. Zack was there, watching the game with his father and reporting for Fivestar Basketball's social media account.
Lone Peak had just beaten a highly touted team by 30 or 40 points, so Zack rushed to the locker room to talk to the players, anticipating a long line. Instead, what he found was crowds of people gathering around the losing team with blue chip recruits and nobody trying to talk to Lone Peak.
After a brief interview with the players, Zack knew there was a unique story at hand. He reached out to Coach Lewis, but unfortunately the team was too busy with their season to take part in a documentary, so the conversation stalled out a bit.
Zack and I met a couple months later when a family friend named Denise Levine connected us. She overheard Zack's grandparents discussing the project and luckily threw my name in the ring as a filmmaker who might be able to help out.
Zack's father Joe and I met for lunch one afternoon and coincidentally that week Coach Lewis reached out to Zack about reconnecting for the documentary…. A few days later everyone was out in Utah filming.
Filmmaker: Ben, what was it like working with Zack? Thanks to technology young people can now master skills that used to require a film degree or industry experience–was there much you were able to show him along the way or was it a completely equal collaboration?
Altarescu: Working with Zack was great. I was immediately struck by how smart and mature he was, but over the past year I've only become more impressed.
At the start I don't think Zack had ever made a film before, so there was definitely a lot that I was able to show him. I introduced him to FinalCutPro, which he picked up really quickly, and I was able to teach him a little bit about cameras (we shot on a Sony EX-1 and a Canon C300), but mostly I just tried to teach him about the documentary and storytelling process as a whole.
Zack is a natural storyteller and a fast learner so it was really easy for us to collaborate throughout the whole process, even when there were aspects that he was just learning for the first time.
Filmmaker: What about you, Zack? With your background in social media and journalism what was it like working with an older filmmaker on a longer-form piece?
Samberg:  It was awesome. Ben is such a great guy and is really smart/savvy with film. I couldn't have asked for a better way to learn how to make a documentary. From working in social media and journalism, I had been good with finding stories, and Ben is great at what he does, so it was a really good combination in my opinion.
Filmmaker: Let's back up and talk about the film itself. What appealed to you about this particular team's story? What was the production process like?
Samberg: I honestly loved everything about them as far as basketball goes. They are a coach's dream. They passed great, shot well, ran the fast break phenomenally and played exceptional defense. As far as the story goes, I really like how they share a faith that is relatively unheard of (or not well-known) in this country, and how they use that to their advantage. Mormonism values helping others, and on the basketball court that is key. I also loved how they had played together since second grade. I thought that was really cool because I've played with my best friend Charlie since about the same age, and we have a really strong bond because of it, just as they do. I was really able to connect with them because of that, and also because they're not that much older than me. Only a few years, so I felt like they could be me if I work as hard as they did. The production process was pretty smooth. We went out to Utah in late April to spend a few days interviewing the coach and top players, along with getting plenty of footage in and around the school and the beautiful scenes of Utah. We then did postproduction for months before we went back to Utah in October to get some final footage before we put the finishing touches on the product for our release in January.
Filmmaker: And you're planning on making a sequel? What can you tell me about that?
Samberg: We would love to make a sequel. Pending the approval of the Mormon Church, we plan to visit the players on their missions in Italy, Germany, and France and get footage of what they do on their missions. We feel that the mission is such an important part of their life, so we would love to be able to show it. They really mature and learn a lot on their missions, so we are excited to see where that goes.
Filmmaker: Online platforms are changing the way short films are marketed and perceived. Can you talk about your goals with distribution and how you did–or didn't–accomplish them?
Altarescu: My goal for distribution was to get the film in front of as many people as possible. However, due to the fact that there had been a considerable amount of time, money, and energy put into the film we also wanted to see if we could make back the investment.
We decided to distribute through a company called The Orchard, and they were able to help us get the film onto iTunes and other VOD outlets.
Putting The Book of Lone Peak on the short film market helped us take giant steps in both the audience and revenue categories. We're still working to get the film in front of more people by making a run at some film festivals and continued marketing/PR efforts, but we also are very pleased with the results so far.
Filmmaker: How did you push The Book of Lone Peak to the top of iTune's short films category for a week and a half? Can you share anything about the types of expenses, such as for The Orchard, and revenue that that entailed?
Altarescu: The film's 10-day run as the number-one selling short film on iTunes was definitely a pleasant surprise for us. Seeing The Book of Lone Peak at the top of the charts over the likes of short films from Pixar, Disney, and others was a really great reward to all of our hard work.
Leading up to the release, we did a lot of grassroots marketing (emailing, social networking, etc.) to get the word out to family, friends, and co-workers in the hopes that they would help us spread the message about the film.
Through Ikon3, a marketing agency in NY, we bought some pre-roll on a basketball website as well as relevant search keywords. Also through M Public Relations, a PR firm out of LA, we developed an EPK and generated some press around the project.
I believe all three of these things (grassroots outreach, marketing buys, PR effort) helped us achieve that top spot and are continuing to help us to get the film out there.
Filmmaker: Any other thoughts for people seeking to distribute a short film?
Samberg: Social media and word-of-mouth is really key for a short film. Fortunately for us, while making the film we met plenty of people who were really helpful in getting the word out. Facebook, Twitter, Instagram, etc. are so helpful since anyone could see the posts about the documentary. Especially in our case, since the players have big followings, we were fortunately able to promote through their networks, which helped big time.