Back to selection
DJI's Ronin Hits Camera Stabilizer Arena at NAB – Big Features, Low Price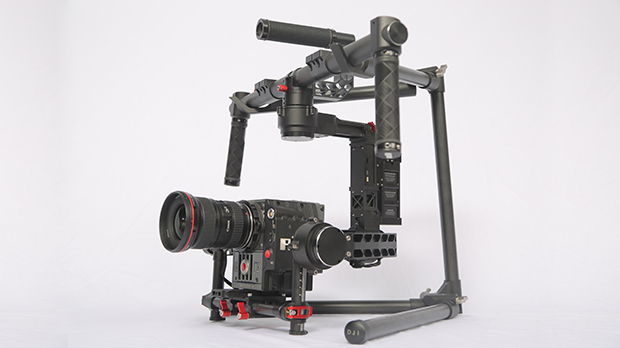 While today is the official day the exhibition halls open their doors at NAB, last night some companies got to release a sneak peek of some do their new products. Definitely the most exciting in the production field is Ronin, a new handheld gimbal stabilizing system that's a direct competitor to the MoVI. Like MoVI's manufacturer, Freefly Systems, Ronin comes from a company with a background in making aerial drones with gyrostabilizers, DJI. They're probably best known for the Phantom, the GoPro aerial drone that's made high altitude shots available to just about anyone.
While Ronin and MoVI look pretty similar, Ronin takes things a step further. First off it's got a 16 lb wait limit, a few pounds more than MoVI's higher end system the M10 (though they are developing the M20 with a 20 lb weight limit). It's built for either a single operator or dual operator to control pan and tilt with an included controller. However they are also developing an accessory to add a joystick to the grip to let the operator also have fine control over pan and tilt.
Ronin has three rig configurations to place the camera in different positions without adding strain to the operator, and it transforms between each one seamlessly. The first is the position you'd generally see an operator holding the rig – two hands with the camera at chest height. Rotate the rig 180 degrees and now the camera is at eye level, still stabilized. No need to put your hands above the head. For the third position, hold one of the handles so the rig hangs vertical and now you've got a low angle without the risk of grabbing the top handle and kicking the rig while moving. Here's an Instagram video I shot of the three positions but apologies, I ran out of time at the end. I'm sure loads more of videos will be popping up soon.
Setup is designed to be extremely easy. The entire rig can be built without any tools and it has an auto configure setup to calibrate the camera. It also connects to your phone to give you fine tuning options.
The best part – Ronin will be under $5000. That's the same price as the M5 but with a weight capacity exceeding the M10, which costs a hair under $15,000. No word if the cost will include the single operator joystick or if that'll be an additional accessory. Should be shipping by July.
While Ronin definitely takes  the bulk of this post, other notable mentions include Big Balance's small gimbal rigs. They cover everything from smartphones and GoPros to DSLRs. Husky HY1 is a 2-axis stabilizer with a thumb pad controller for tilt. Mustang MG1 is a single axis stabilizer with a grip. The rep said both sell for $239, but the Husky HY1 seemed like it was a better stabilizer with more features. Their website is down as of posting so I can't verify the prices.
Though both stabilizers seemed a little sensitive with how crazy your hand could be moving, they were definitely more stable than just handholding a phone and I could see these being used when mounting GoPros to vehicles to dampen the vibration, especially the Mustang, which could possibly be less than $239.
LaCie has a couple of new Thunderbolt 2 storage units – a 2 bay, 5 bay, and 8 bay rack. They are one of two manufacturers licensed to use Seagate's new 6TB drives, so expect some big storage space from these units along with a premium price tag (no official pricing yet). They're definitely geared for the data monster that is 4K.