Back to selection
Tribeca: 5 Questions for Glass Chin Writer/Director Noah Buschel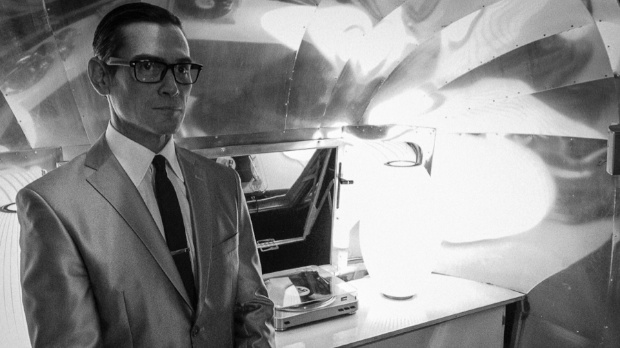 Glass Chin
"Boxing has always drawn dumb, confused macho guys like myself," writes filmmaker Noah Buschel. "It's cool, it's tough, it's naked, it's true…. But the thing about boxing, as Norman Mailer pointed out, is that it's just as sensitive as it is murderous. If you go to a boxing gym, and Floyd Mayweather's not there, it is a remarkably quiet and tender place."
Buschel heads straight into that quiet and tender place with his latest, Glass Chin, premiering at the Tribeca Film Festival. Since he's already written an essay for us about the film itself, we sent Buschel a set of five questions about not just filmmaking but also the business and what keeps him going as a director. Glass Chin premieres on Saturday, April 19.
Filmmaker: Since you already answered for us in an essay, "why a boxing movie," what's your favorite boxing movie and why?
Buschel: Oh, umn — does On The Waterfront count as a boxing movie? Even though there's no boxing in it, just an ex contender? If so, then On The Waterfront is my answer. Why — because it's greatest movie of all time, naturellement. And I think the most influential movie of all time. And the only movie Leonard Bernstein ever scored. If that don't count — I'll say Million Dollar Baby, Mr. Eastwood's masterpiece. Because it used boxing as a metaphor to make a movie about vulnerability. Every scene, every line in that movie is about risk and how much to open up and the costs of opening up. And the costs of not opening up. It's wonderful.
Filmmaker: You've spoken about the corruption in boxing in relation to the film business. What ideas about the business of making movies found their way, in some form, into this film?
Buschel: Well, you have these fighters, and they're in a gym, and they're training. They're training in the dark, in obscurity, in heat, in snow. And there's something so simple and pure about that — um, so naturally other forces are going to come in and try to exploit that situation. Ya know, like, can we make money off this thing? How can we make money off this kid doing this thing in the dark? Sometimes those two forces are in one person. Like, the pure fighter training, he might also become concerned with exploiting the purity of what he's doing. Ya know, how can I get something out of this energy I'm creating here? Which is practical and logical. But sometimes it can lead to trouble and shift the nature of the training, shift the energy of the training into something less dignified. So, art and movies are like that. Like, writing a script — if you think too much about what the script can get you or where it's going — the script becomes lesser.
Filmmaker: You've managed to make several features, tough dramas, in this difficult environment. What keeps you making movies, and how do you think your practices have changed over time?
Buschel: Well, I write a lot. And then the scripts are sitting there, talking to me. So then I can't get no sleep. So then I start calling people at bad hours, saying — hey, let's make a movie! And then I regret it in the morning. But it's too late.
Not much has changed, except I remember on my first movie I was really into the actors — protecting the actors — shushing the crew antics and jokes. Ya know, like, hey — this is serious!!! Quiet!!! And now, I still care about the actors, but it's not so precious. And the jokes going on around the camera are not to be silenced. It's all the same thing. Ya know. Not no serious thing. And I don't have to be in some special mystical zone to direct. I just drink some green tea, get the necessary aminos, and let everyone do their thing. I just tell Polish jokes to the script supervisor. Which is kosher, because I'm nine percent Polish. I'll be here all night, thank you.
Filmmaker: How did you approach the visual language of noir in this film?
Buschel: I didn't think of it as a noir. I dunno, I just storyboarded it as simply as I could. Not much coverage at all. Just simple simple simple. No fancy pants. Tried to use colors in certain ways. Like– where do we feel warm and cozy and at home? In this movie — that's red, brown, gold, yellow. And then where do we feel far from home? That's silver, cool blue. And, that's it — storyboarding is good when there's not too much thinking.
Filmmaker: If you could change one thing about filmmaking today, what would it be?
Buschel: The whole SAG/union/legal thing that people get involved with. The complicating of indie film. Like, making things more expensive and professional than they need to be. The truth is we can just shoot a movie on our phone or whatever. We don't need to to run it by the government and have like tofu sauce for legions of extras. And also I would like to ban all rats from movie theaters. One time a rat sat next to me for five minutes at the IMAX on 68th Street. And it just looked at me. I only had two Twizzlers left, so I don't know what it expected. That wasn't gonna happen, me giving away the last Twizzlers. No. But yeah, rats are in almost every movie theater in N.Y. That's a fact, Jack! I like going to movies in LA a lot more because you can just lie down on the floor and it's pretty safe.