Back to selection
Five Questions With Fishtail Director Andrew Renzi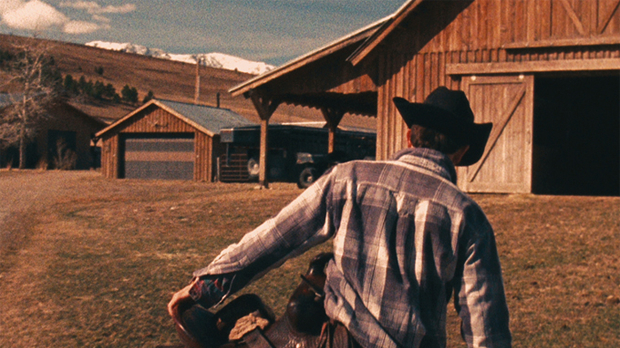 Fishtail
After serving as a producer on films including Afterschool and Two Gates Of Sleep and directing three shorts, Andrew Renzi is transitioning to directing features with not one but two films in 2014. First up is Fishtail, a portrait of life on a Wyoming cattle farm shot in a mere four days. Speed doesn't mean sloppy haste: Fishtail makes full use of its 16mm widescreen frame, carefully capturing agricultural processes that connect the present to the old American West. Later this year, expect Renzi's Richard Gere-starring drama Franny; his documentary premiered yesterday at the Tribeca Film Festival. In an email interview, Renzi spoke about shooting celluloid and watching Harry Dean Stanton sing
Filmmaker: Death of celluloid or no, 16mm is still being used by filmmakers on the independent circuit. Did anyone try to dissuade you from doing so and did you have any exceptional logistical challenges in acquiring stock or processing it?
Renzi: Right from the start, we knew that if we could find a way to shoot 16mm, then we'd have to do it. It was kind of the starting point for us. There aren't many docs shooting on film, so when I approached Kodak rep Bob Mastronardi about it he was extremely supportive and made it happen for us. In post, Company 3 helped us with the processing costs and the finishing. So many of the challenges that are often associated with shooting film are things that I actually really prefer when making a movie… I'd never made a doc before, and I liked the idea of making one with a specific shot list that we had to stick to, because we wouldn't have the luxury of just keeping the camera rolling. I think when I have too much freedom, my creativity dwindles a bit. We knew that we were showing up to Montana with no more and no less than what we'd need to complete the film. We only shot what we needed to shoot, because we didn't have the option to shoot any more than that.
Filmmaker: As far as I can determine, William Abbott Fine Art hasn't been involved with a film project before. How did they get involved?
Renzi: Well, William "Tylee" Abbott is really the reason for this whole thing. It's his ranch, and he's the star of the movie. The crazy thing about Tylee is that he's a rancher, and has been doing that since he was a kid, but he's also a specialist in Western American Fine Art at Sotheby's in New York City. He's a descendent of a Western American Painter named William Tylee Ranney, so he's steeped in these Western art ideals and traditions. He and I came together to make a film that was rooted in his love for the art of the American West and our mutual love for the films of the American West.
Filmmaker: Were you able to combine the infrastructure of work on Fanny and Fishtail at all?
Renzi: We shot Fishtail right before we went into pre-production on Franny, and thankfully I was able to put Fishtail aside while I went and shot Franny. My cinematographer Joe Anderson shot both Fishtail and Franny, our AC Sam Ellison did both films, my editor Dean Marcial is editing both films, and my producer Brett Potter is a producer on both films, so in a sense, Fishtail was this perfect little opportunity for us to preheat the oven before a much bigger, more formal, and intense shoot in Franny. The two films could not be more different, but the approach to making them with my camera team was often very similar. The takeaway for me is that it's really nice to work with people you enjoy being around.
Filmmaker: When did you decide Harry Dean Stanton should sing in addition to narrating, or was this a decision that emerged organically when he came on board?
Renzi: When I went to record the voice over with Harry Dean at his house, I had no idea I'd leave with music for the film. We were sitting there, sifting through pages and pages of prose and poetry that I printed out and brought with me, and I think I accidentally created a formality to the situation that wasn't really working, and so at some point in the day, Harry just picked up his guitar and basically said "to hell with all this talking." He just loosened the whole thing up by playing his guitar. He'd go back and forth between singing Irish drinking songs and reciting cowboy poetry, and it all suddenly started to make sense. He made it one of the more memorable days of my life, and made the movie a whole lot more textured with his voiceover and music.
Filmmaker: You've mentioned Wiseman and Maysles as influences on the documentary side, though your visuals seem more indebted to some of the narratives you mentioned (Once Upon A Time In The West, Jeremiah Johnson) for their scope and grandeur. How much time did you need before shooting to explain to your subjects/collaborators how you'd be filming with them, and did you try at all to approach the film in traditional vérité mode vs. sculpting the events on screen?
Renzi: Despite it being a doc, we never approached it from a traditional vérité mode. We always knew that we wanted to sculpt the images very specifically without affecting or manipulating the events. So we basically did a tech scout for several days before we started shooting, where we followed the ranchers around on their daily routine, made marks for the camera, and created a specific shot list based on their activities. We never had to ask them to do anything for the sake of the film, because their routine was so specific. This made it a very comfortable process for me, because that's basically how I would approach a narrative film. We were able to have a lot of fun with our compositions, because we always knew where the characters were going to go next, and they rarely strayed from their routine. The one wild card was the cow birth, which we obviously couldn't plan for, and we spent about four hours posted up on a bale of hay, just waiting. It turned out to be the most exciting part of the process, and probably the movie, because it's the one thing we had no control over.