Back to selection
Five Questions with Something Must Break Director Ester Martin Bergsmark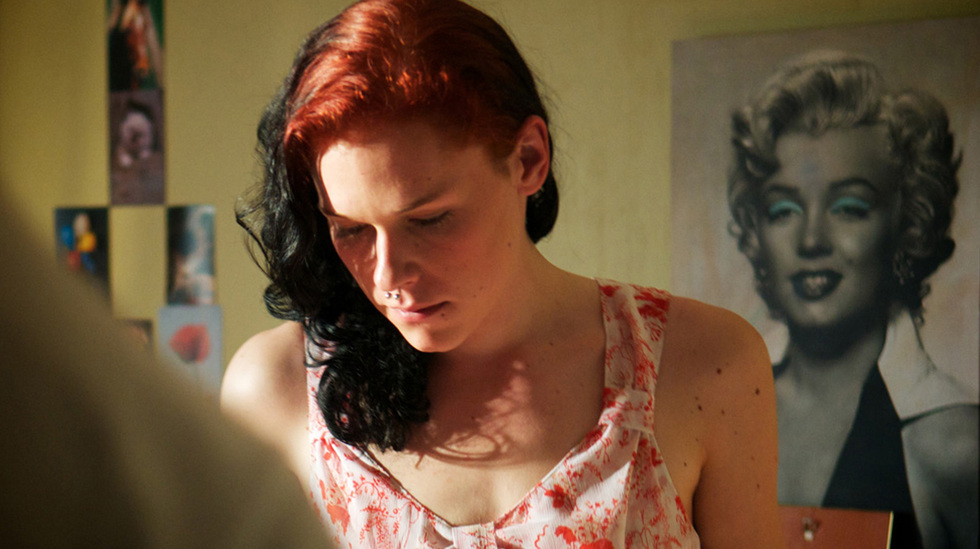 Something Must Break
A moody exploration of the human need for connection — with others, and ourselves — Ester Martin Bergsmark's Something Must Break centers on Sebastian, a queer, androgynous twenty-something, in desperate need of grounding. Drifting through unfulfilling sexual experiences in grungy, modern day Stockholm, a chance encounter leads Sebastian to Andreas, a straight man who nevertheless can't seem to resist Sebastian's advances. As their relationship deepens, so do Andreas' doubts, sending Sebastian towards his feminine alter ego, "Ellie."
Filmmaker spoke to Bergsmark about making the transition from documentary to narrative, and the film's alternately loose and stylized execution. Something Must Break had its North American premiere in the World Narrative Competition at the Tribeca Film Festival.
Filmmaker: Saga Becker is pretty much perfectly cast — aesthetically speaking and performance-wise  — in her first film role. Where did you find her?
Ester Martin Bergsmark: I think we [tried to] cast every androgynous boy in Stockholm but none really were what we were looking for. As I'm interested in relations, casting is a big part of the directing. Saga read that the Eli Legend novel was going to be a movie and when she read the book, she thought, "This is me!" When she first got in touch with us, I didn't think it was like the role was written for her, so we had many hard auditions to make sure she was the one.
Filmmaker: This was your first feature length narrative after two docs. Obviously, there is a difference between the two forms, but can you speak about adapting to the fictional format?
Bergsmark: From documentary, I think I have a way to get close to the characters. I think I can get even closer with them in fiction; I can be really, really close and I can push the actors in the name of fiction. I also think a lot in images and that is a delight with fiction. To really perceive and use your vision.
Filmmaker: The film assumes a scrappy, handheld style, aside from Sebastian's sexual exploits, which are immediately stylized. Why did you decide to frame these sequences distinctly from the rest of the narrative?
Bergsmark: Melodrama meets naturalism. The time stops and pleasure and pain are feelings on the same string. Everything starts to vibrate.
Filmmaker: One of the central relationship's many interesting facets are the stakes it demands. Andreas is ultimately only willing to be with Sebastian if he adopts Ellie's identity — a few reviews have referred to Sebastian as transgendered, but to me, there is more of a grey area. Before the relationship, for instance, he demonstrates little desire to be a woman. Did you intend to keep Sebastian's interior gender ambitions ambiguous?
Bergsmark: It's about to finding strength in your femininity. In a male world, in a male fiction, femininity is the only truth. I make up what is real.
Filmmaker: When you're directing a film that is so reliant upon brief exchanges, images, touches and glances, how much of it is storyboarded, and how much of it is derived from your trust in the d.p.'s vision?
Bergsmark: Everything is planned. From the very staged [images] to more fluid [ones], it's about the spirit of the film. Sebastian. Ellie.