Back to selection
Behaving Badly in Nathan Silver's Stinking Heaven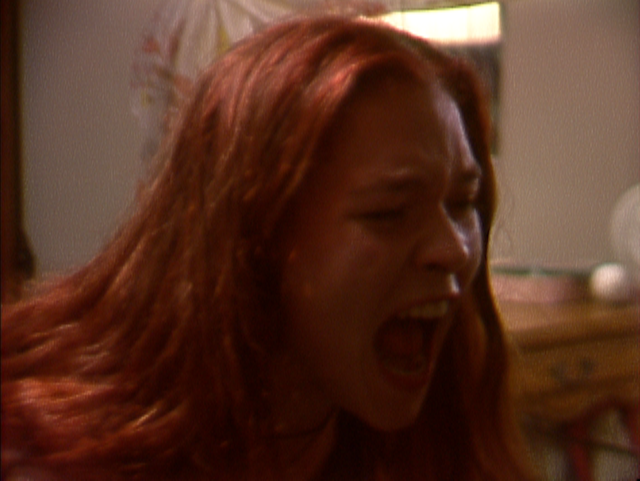 Stinking Heaven
I love being on set. Mine, yours, whomever's. I like eating exorbitant amounts of food. I like idle conversation. I like the feeling you get when sleep deprivation kicks in and the dullest minutiae is suddenly hilarious. But mostly I like being around a group of people who have cast aside their better judgement to create something together. So when Nathan Silver asked if I wanted to come to the Stinking Heaven set, I gladly hopped the train to Passaic. I was excited to see how Nathan, who works from outlines and improvisation, constructs a film from the ground up. The following is a loosely timestamped diary of my adventures on set, which ended up extending over the course of two days after I volunteered to cover for PA extraordinaire Drew Tobia.
1:07 I arrive at the location, a single story home (plus basement apartment) that's a short walk from the train station. I idle for a moment outside as I don't want to stride into a scene, but Henry Douvry, one of the actors, opens the door and introduces himself. I walk through the house, which has some fantastic chartruese carpeting and '90s props aplenty, to find everyone eating falafel out back. 
1:15 Carl Kranz, who starred in Soft in the Head and is acting as location manager and associate producer this go around, gives me the low down on the house. They are using it and his grandmother's home some two minutes away to act as the commune which houses the merry band of recovering addicts. I wonder if it will be hard to cheat the two locations as one in the edit, but he assures me Nathan has done it before. He then tells me about the time he accidentally flashed an old woman at a baseball game.
1:25 I try to eat while actors Hannah Gross and Tallie Medel do vocal exercises about butt yeast on either side of me. Tallie, whom I am pleasantly surprised to see, was a late addition, filling a role originally written for a teenager. "But all these teenagers were trying so hard to act," Nathan interjects. "And I realized I just wanted Tallie."
1:50 The producer, Rachel "Pretty But She Doesn't Know It" Wolther, takes me to one of the bedrooms where the DIT station is set up. Natacha Giler, who logs footage in between the takes she ACs, assures me in her thick French accent that this is "not what [she does] in life." Rachel asks her to walk me through some of the dailies, and soon everyone is congregating over our shoulders. Rachel politely banishes them and we continue watching a scene in which Henry and Eléonore Hendricks' characters are married. D.P. Adam Ginsberg's camera meanders over their bodies, the sequins in Eléonore's sea foam green dress, the faces of the onlookers. They seal it with a kiss.
1:57 Rachel shows me the shooting camera propped up on a nearby dresser. It's a '70s broadcasting camera, a HL-79E Ikegami that they bought on eBay. By some stroke of luck, the Ikegami offices are nearby, so they took it in for a tuneup and decided to keep the original lenses. "They're much better than the crappy ones that come with the Canon DSLRs," she tells me. The film is also being primarily shot in natural light. Without the financial restrictions of equipment rentals, the team has been able to luxiriate in four-day work weeks. Except, of course, for Nathan, who hunkers down with editor Stephen Gurwitz over each long weekend.
2:09 We watch what was shot that morning at a nearby funeral home. The camera renders amazing, disorienting color palattes once the action moves outside, and the group boards their van. Inside the vehicle, which Rachel proudly notes cost a mere $800, the mourners sit in silence. Adam lingers on Deragh Campbell's character, with her low bun, bug-eyed sunglasses and menacing fake nails. I tell Rachel she should keep the van.
2:22 I watch from the adjoining alcove as Nathan speaks to the actors in the living room. They're shooting a scene in which Keith Poulson's patriarch tries to convince his wife, played by Deragh, that one of their refugees must leave after bringing drugs into the house. Tallie's character, Courtney, sulks in silence on the couch, up against the rule-breaker in question, who is still strung out. "Ask Courtney what she wants to do!" Nathan shouts, as Keith and Deragh confer in almost inaudible whispers. The addict speaks up, slurring his case that he should be allowed to stay. "Fuck the rules" seems to be his general argument.
2:38 Cut. Nathan grabs his co-writer, a New School student by the name of Jack Dunphy, and they rush out the front door to pow-wow. I ask Rachel if the dialogue was all concocted on the spot. She shows me the "sides," which consist of a description of each scene, and the turning points the actors must address.
3:00 Nathan and Jack return with a whole new set of beats for the actors to work from. Now, the scene will unfold with the guilty party soberly owning up to his mistake, and offering to leave the house at his own volition. Here, Nathan gives himself 180 degrees worth of options in the editing room. They start to work through it. "What do you need to get out of this scene," asks the actor Jay Giampetro, propping up his guitar. "Do you want it to be less expository?" Nathan changes up the blocking, distancing Tallie from the man on the couch, thereby breaking their solidarity. The edits are starting to take shape.
3:05 I introduce myself to Jack, who wonders if I am the executive producer because I "walk with purpose." I thank him for thinking so, while pointing out that as the writer, he is rather important himself. "Not really," he says.
3:14 "I think the DINO and d.p. need some coffee," says Nathan. DINO? "Director In Name Only."
3:16 The camera rolls again and a completely different dynamic plays out.
3:20 Nathan holds up his fingers in front of the lens and scissors them together: "This is the second part of the take, Stephen."
3:31 Cut. Nathan tells Adam to go in for MOS looks and moves toward the next set up. Francesca Coppola, the AD, is confused. "This is not a scene that is in the script," she says. There isn't really a script to work from, but Nathan tells her that he's cutting two scenes and replacing them with a new one.
3:34 Drew and Jack start blacking out the windows in the living room with trash bags. Rachel remembers that Drew has another gig tomorrow and she will be without a driver in the morning. I volunteer my services.
3:50 Adam and Natacha go out front to grab some b-roll, while Nathan preps for the next scene with the actors. Deragh worries that the reversal on the confrontation scene will completely alter the meaning of something they shot earlier in the day. "We'll figure it out," shrugs Nathan.
3:56 I tell Nathan I have to head back to the city, and he's upset that I'm going to miss a "re-enactment." "I want you to see the crazy stuff," he says. At least I'll be back tomorrow, and will get my chance to see the footage then.
Cut to "tomorrow:"
4:45 We haven't had a chance to look at any re-enactment footage, but that's just fine as I'm about to see one in the flesh. The idea behind the re-enactments is that each character, as a recovering addict, will have an opportunity to act out their lowest point. The crew is about to film Hannah's character's re-enactment. It isn't clear exactly when she will snap and momentarily regress to rock bottom, but we know that it will happen. And when it does, it will be loud.
4:48 The scene begins with the cast seated in the living room. Deragh's character gets into an argument with Eileen Kearney's character that's at once heated and restrained. Eileen is trying to pin a man's relapse on Hannah's character and Deragh diverts the blame, degrading Eileen's "sentimentality." The argument escalates, as Hannah sits in the corner, biting her lip.
5:05 Out of nowhere, Hannah goes apeshit. She stands, grabs a wooden chair and starts hammering it into the floor. Deragh slaps Eileen. Behind the monitor in the hallway, Nathan begins to twitch with glee. There's screaming. Lots of it. Adam glides behind Hannah as she runs into the kitchen and rummages through a drawer. She returns to the living room and pulls a knife on Deragh, dragging her from the couch to the carpet. It's hard to make out her words over the screaming, but I think "I fucking love you" factors into it. Then, everything settles. They collapse onto the floor, and Hannah laughs. A slow clap comes from the living room, and I can't tell if it's from the actors or their characters. "Good job, Ann." Definitely characters.
5:13 That's a cut on rehearsal, but it'll be the winning take. Jay tells Nathan that he has his Zulawski moment. Deragh asks for an ice pack for Eileen's face. "That was awesome," Eileen tells her. We spill out the front door into the 97 degree heat for some air. "Uh, Rachel. The cops are here." Indeed five of them are marching up the sidewalk to tend to a domestic disturbance call. Tallie apologizes and explains that it was just for a movie, but they need to have a look for themselves. I congratulate Hannah on a new addition to her rap sheet, and not twenty seconds later, the cops are back outside. Tallie asks for a picture and we all line up and snap away. I look over at Nathan, who has probably never looked more pleased with himself in his life.