Back to selection
Fundraising $100,000 a Year for Online Video: Mike Stoklasa on Patreon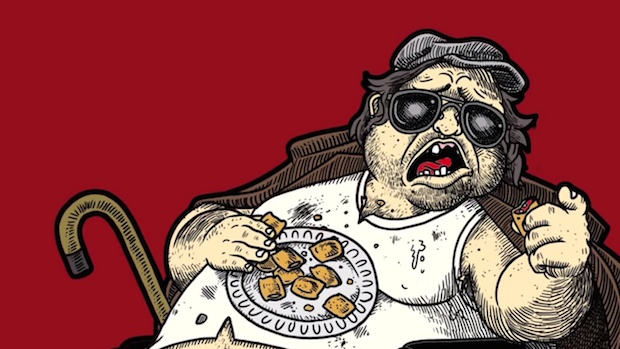 Red Letter Media's Mr. Plinkett
"Red Letter Media is Creating Weird Internet Videos and Films" is the tagline for the Milwaukee-based collective's page on online fundraising platform Patreon. It's an appeal that has impressively generated the group almost $100,000 a year in fan donations.
Red Letter Media is the home of various creators, including Mike Stoklasa, whose critical vivisections of George Lucas's Star Wars prequels landed him on Filmmaker's 25 New Faces list in 2010. Offering reviews of films and video games alongside other content (like a comedic instructional feature film, How Not to Make a Movie), Red Letter monetizes itself through YouTube advertising, DVD sales, merch and its own Blip player. But while Red Letter's 194,000 YouTube subscribers is impressive, its 1,272 followers on Patreon is perhaps more so. That's because those patrons are donating over $8,000 a month — almost $100,000 a year — to support Red Letter's ongoing work.
Founded in 2013 by Jack Conte and Sam Yam, Patreon aims to reinvent patronage for the internet age. Artists, who include not just filmmakers but musicians, gamers, podcasters, comics, and choreographers, create pages, establish pledge levels and set rewards. Fans contribute monthly to support those artists' ongoing work. As Red Letter's Mr. Plinkett (Stoklasa) says on the group's "patron of the farts" video, "It's like a subscription that's voluntary… you don't have to do it. Do whatever you want, I don't care." Red Letter says it may create higher tiers in the future, but for now offers $2 (the most popular), $5 and $12 monthly subscriptions.
In return for funds, artists offer fans bonuses such as behind-the-scenes content, downloads, Google hangout chats, pre-sale tickets and other items. Reports Sarah Buhr at Techcrunch, new tools for artists are forthcoming from Patreon in the form of a "launch mode" — a page offering live streaming, chats and a "countdown to hype" a new piece of content.
While a number of Patreon artists are scoring substantial sums on the service, Red Letter's nearly six-figure annual revenues are among Patreon's highest. Below, and conducted over email, is a short interview with Stoklasa about Red Letter's use of Patreon.
Filmmaker: How and why did you choose Patreon as a fundraising platform?
Stoklasa: We chose Patreon because it seemed like a new and interesting way to do a kind of voluntary subscription service to our site. We've always had a donate button, but never felt the need to do a Kickstarter to ask people to pay us to make something. Seems like you should establish your fan base and prove you can be successful first. Our videos are free to watch, and they'll always be that way. If people enjoy them enough to become a Patreon member on our site, they are welcome to [become members]. If they just want to keep watching, that's fine with us too. We love doing what we do.
Filmmaker: So to what do you attribute your success so far on the platform?
Stoklasa: Well to our fans, of course, and their generosity. I think they see how hard we work at producing content on a regular basis and a lot of them take it upon themselves to donate to help us to continue to make videos.
Filmmaker: What sort of content are you creating now that your Patreon fans are responding to? Would you be creating this content if they weren't in the picture?
Stoklasa: Our Patreon has three tiers – text updates, photo updates, and exclusive video updates. The video content is usually behind-the-scenes footage, outtakes from episodes and unused content from the review shows. A lot of stuff that would end up on the cutting room floor, but we take the time to edit it and provide it to Patreon members.
Filmmaker: Aside from the revenue, how is this formalized fan relationship helping you guys? What are you learning about your fans?
Stoklasa: Well, one thing we've learned is that we have a pretty great fanbase. The response has been overwhelming, and we can see how much people appreciate what we do. Patreon also made us work a little harder to keep people watching and contributing. We don't take that kind of support from our viewers lightly and we want to keep expanding, growing, and making better and more frequent content.