Back to selection
How to Address the Gender Divide in Filmmaking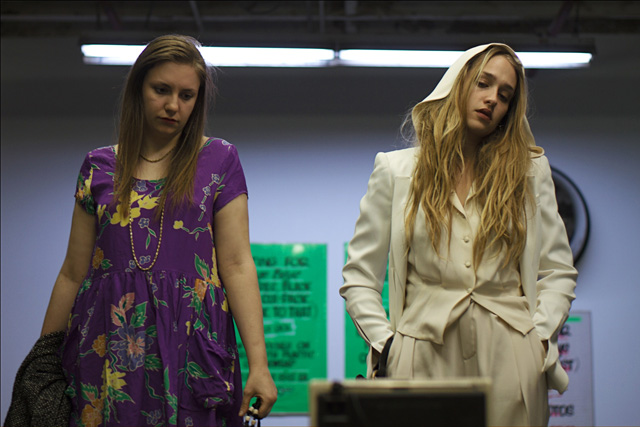 Tiny Furniture
Recently, I realized that Kelly Reichardt is the only working American female filmmaker with a body of work I can wholeheartedly exalt. That's not to say there aren't plenty of films to admire that are directed by women in this country, but that those films so often stand on their own, as that director's first and last achievement. There is no "late period" to debate, because these women are rarely making it on to their second or third feature.
TV money and exposure factor, sure, but even the standard bearer success story that is Lena Dunham never directed another after Tiny Furniture. Instead, Judd Apatow opened a door, as Soderbergh has similarly done with a post-Sun Don't Shine Amy Seimetz, but where is this sort of support in feature film? As I rack my brain for an example, I'm adding that "mentorship" point to this list from Christina Kallas that addresses what can be done about inequalities in filmmaking. Trailblazing is never easy, so deep pockets, if you like a woman's work, don't hesitate to get behind it.
Create funds and tax incentives for films and TV programs written by women.

Legislation to give tax credits to female writers (like the one the WGAE is currently fighting for in Albany) and/or the creation of funds for the financing of films and television programs (see, for instance, Gamechanger Films) created by women are two necessary steps on the way to greater diversity.

Establish quotas in production and distribution.

The most discussed example is currently Sweden, where the National Film Agreement's equality directive demands funding be divided equally between women and men (in the key positions of director, screenwriter, and producer) on projects funded by the country's Film Institute. Similar quotas could be established for film festivals and TV channels (a controversial practice that has kept European cinema as well as national cinema in Europe alive for decades on end.)

Consume and spread the word about cultural products produced by women.

The biggest challenge today is distribution. With or without quotas or funding, making a film is easier than ever before. Making a conscious decision to look out and support films and TV programs made by women, as well as discuss and review them, will increasingly outweigh the systemic disadvantage.

If you have the power, walk the walk.

One has to consider who is making the hiring decisions and what they are responding to when they read a writer's work. We all respond to work that feels familiar to us. Comfortable. There's a shared aesthetic, a shared sense of humor. If you have the power, get out of your comfort zone. Hire more women.

Support income equality.

Money gives one the freedom to take the jobs you want to take, to make the films and shows you want to make. That freedom is important if we want to see more from the female perspective. There is no reason on earth why women should be paid less than men. Do not pay them less than men.

Start repeating the right mantras.

In a recent interview, Orange Is the New Black showrunner Jenji Kohan describes how gender inequality has been a thorn in her side since she was a young girl. And how her mother told her that men are "funnier" and "better at this." Generations of women are being raised with the wrong mantras. It is time to replace these mantras. Women are funny. Women are good at this. Women rock.

Change the way you think.

If you are a man, get in the habit of treating your maleness as an unearned privilege that you have to actively work to cede rather than femaleness being an unearned disadvantage that women have to work to overcome. If you are a woman, do not allow for the state of things to discourage you. The industry is transforming every day and opportunities are shifting constantly. And ultimately, one can buy into the discrimination, or one can create one's own opportunities.

Do your own thing.

Do not imitate a man's voice. Do not make an effort for your writing to be indistinguishable or to have a male style. When most of what you have grown up with is in that style, it will be difficult at first. But what an exciting thing to do, to strike out into unknown lands.  The world is changing, there's momentum. Use it. You are the right (wo)man for the job!