Back to selection
2014 "Best Film Not Playing at a Theater Near You" Series Announced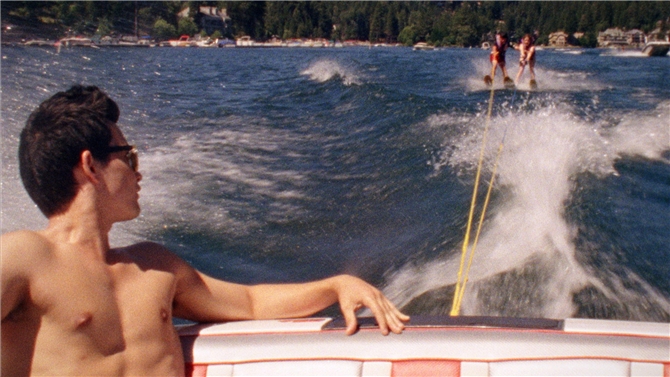 L For Leisure
IFP, Filmmaker and the Museum of Modern Art are pleased to present this year's slate for Best Film Not Playing at a Theater Near You, the annual series that spotlights films currently without theatrical distribution. Screening at MoMA from December 12 – 15, this year's five films are Approaching the Elephant, Evaporating Borders, The Mend, L for Leisure, and Uncertain Terms. Past selections include It Felt Like Love, Frownland, An Oversimplification of Her Beauty and Sun Don't Shine, all of which eventually secured distribution. Read below for a full description of each of this year's titles.
Approaching the Elephant 2014. USA. Directed by Amanda Rose Wilder. Little Falls, NJ, 2007: the new Teddy McArdle Free School is a passion project for founder Alex Khost, who believes in a form of education that requires kids to shape their own moral compass, enabling them to discover for themselves the value of a more traditional curriculum and following the social contract. Khost's good intentions are derailed by Jiovanni, a problem child who threatens to disrupt the nascent institution. Amanda Rose Wilder's verite-oriented documentary is both a full-on immersion in the chaos of childhood and a case study in how one benevolent democracy determines how far it can legitimately go to suppress one troublesome member. 89 min.
Evaporating Borders 2014. USA/Cyprus. Directed by Iva Radivojevic. A poetic essay in five parts, Evaporating Borders explores issues of migration as experienced by asylum seekers in Cyprus. This feature debut from Iva Radivojevic, who left her native Yugoslavia for Cyprus during the unrest of the 1990s, brings to life its tenuous contradictions – a gateway to Europe that remains a breeding ground for discrimination and xenophobia; a divided island on the idyllic Mediterranean. Radivojevic's film is a graceful meditation on national identity, diaspora and exile, and serves as alarming documentation of the plight of migrants on the island and beyond. 73 min.
L for Leisure 2014. USA. Directed by Lev Kalman and Whitney Horn. Critical theory meets Carsey-Werner in Lev Kalman and Whitney Horn's improbable ode to holiday fun, L for Leisure. Set in the early '90s, the film features a group of attractive graduate school co-eds who jet from one upscale vacation spot to the next, tossing off deadpan one-liners about the end of history and race as a social construct along the way. Adorned with a gauzy, synth-pop score, L for Leisure is both a delicious social satire as well as a dreamy, almost sci-fi like evocation of a nattily brainy alternate past. 74 min.
The Mend 2014. USA. Directed by John Magary. Routinely estranged brothers Mat (Josh Lucas) and Alan (Stephen Plunkett) are equally unhappy, but the former embraces chaos and rudeness while the latter conceals his discontent. With both their lives on a downhill slide, Mat and Alan are temporarily reunited as roommates, uneasily sharing a Harlem apartment. Judd Greenstein and Michi Wiancko's bracingly modernist score sets the tone for this Desplechin-esque study of shared familial dysfunction, brimming with smart, hostile talk aggressively filmed by writer-director John Magary. 111 min.
Uncertain Terms 2014. USA. Directed by Nathan Silver. A bucolic home for pregnant teens and a handsome handyman fleeing a crumbling marriage are the elements of fiercely independent filmmaker Nathan Silver's fourth feature, Uncertain Terms. Receiving its New York premiere — and co-starring, as is often the case, the director's mother, Cindy — the film finds in its isolated setting a strangeness tender drama about life's indeterminacies. 71 min.