Back to selection
Cinematographer Matthias Grunsky on Shooting Andrew Bujalski's Sundance Competition Film, Results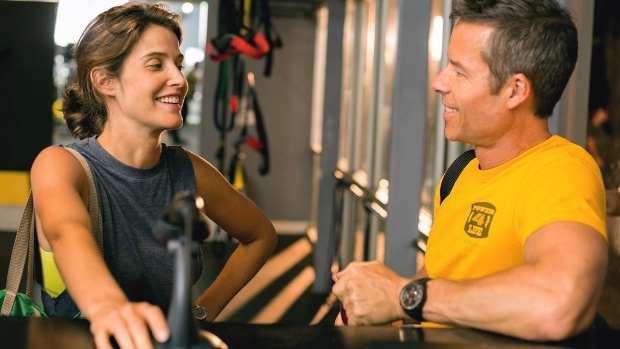 Results
Austrian-born cinematographer Matthias Grunsky has been a steady collaborator of director Andrew Bujalski from his 2001 debut, Funny Ha Ha to the more recent Computer Chess, for which Grunsky was nominated for Best Cinematography at the Independent Spirit Awards. From grainy black-and-white to what appears to be a slicker look for their latest, Results, Grunsky has adapted his technique to Bujalski's desire for small crews and low-key environments. Below, Grunsky discusses that process as well as the detailed testing process he undertakes on his pictures.
Results premieres Tuesday, January 27 in the Dramatic Competition of the Sundance Film Festival.
Filmmaker: How and why did you wind up being the cinematographer of your film? What were the factors and attributes that led to your being hired for this job?
Grunsky: Results is my fifth collaboration with [writer/ director] Andrew Bujalski. In 2001 I shot his first movie Funny Ha Ha, and we have been working together ever since. Andrew and I know each other pretty well by now. While shooting Results we sometimes would just look at each other after a take and both know what was great or what went wrong without saying much. I think that this trust that we have gained over the years lets us go further in our creative decisions.
When we first had met over a decade ago it was immediately very clear to me that Andrew wants to avoid "technical noise" on set whenever possible. Every light I am not setting up and every extra crewmember that does not need to be on set makes him happy. I like that challenge because I totally understand how this concept protects the most important element: the actors and their space in front of the camera. And even with the most professional actors that can be a very sensitive thing. After the years I have learned how to walk that fine line of sometimes having to step back to avoid harming a performance and on the other hand knowing when I can't — needing to have my space for crew to bring in more equipment or get certain things done to make a scene work, but doing it in a sensitive way. I guess filmmaking is always a compromise on one level for every filmmaker. You have to determine what is important for the scene and for the movie the director tries to make and never forget to see the whole picture.
Filmmaker: What were your artistic goals on this film, and how did you realize them? How did you want your cinematography to enhance the film's storytelling and treatment of its characters?
Grunsky: Results is set in a very crisp and colorful world, but Andrew and me wanted to resist that with a somewhat flat, desaturated, not too sharp image. So while our production designer Michael Bricker and our costume designer Colin Wilkes created this crisp and colorful world for the characters in front of the camera, which is trying to tell us that it is perfect, we captured it with lenses that are neither perfect nor state of the art and graded it in a more desaturated and flat way, which seems to contradict this on the surface – perfection. It is a symbol for the characters who want to improve themselves, trying to be perfect by getting in shape and to get things right but then ending up doing so much wrong and not being perfect at all.
Filmmaker: What were the biggest challenges posed by production to those goals?
Grunsky: Instead of posing challenges for those creative decisions and goals, it was actually very pleasant that our producers and financers trusted Andrew and me in that regard. But the most stressful part was probably our schedule. While there is never enough time on any movie, this time we all felt really crushed. We had very tight actors' schedules and a limited budget but a lot of scenes and locations, including Marfa, which was a six-hour drive away from our base in Austin. But good planning in pre-production, our amazing AD Will Rimmer, and our young, enthusiastic Austin-based crew made it all work in the end. Pre-production is really crucial, especially on such a tight schedule. The more you think things through, the better you are in making fast decisions on the day of the shoot, which then mostly come out of your belly.
Filmmaker: What camera did you shoot on? Why did you choose the camera that you did? What lenses did you use?
Grunsky: We shot on the ARRI Alexa in Log C. It is a very straightforward and reliable camera, and I love the pleasant image quality. I am very grateful to ARRI for helping us by donating the camera package through the ARRI Film Independent Feature Film Grant.
Because of the mentioned stylistic decisions of the movie I chose to shoot with the old Bausch and Lomb Super Baltar lenses, which have a much flatter feel than todays modern contrasty lenses. We got a good rehoused set from Lens Work Rentals in Los Angeles. I especially love how their cobalt glass handles skin tones. They have a certain softness without feeling out of focus, they feel warm, and create really nice flares.
Filmmaker: Describe your approach to lighting.
Grunsky: As on most of Andrew's movies I also wanted Results to look naturalistic. Also I tried to approach the lighting in a simplistic way. Of course the tight schedule and budget were parts to that decision. But I always like the idea to set up just one big light instead of many small ones. On exteriors I would only bounce sunlight with muslin. Day interiors I lit through windows whenever I could.
It is always exciting for me to tell part of the story through lighting, mostly by setting a tone that supports the story like in this long scene with Danny (Kevin Corrigan), Trevor (Guy Pearce), and Paul (Giovanni Ribisi) in the basement. It is a somewhat chaotic and messy and drunk conversation and the way I lit it was also kind of messy, a bit more contrasty than most of the movie. Somehow I even felt a bit unsettled like the characters while lighting that scene.
Filmmaker: What was the most difficult scene to realize and why? And how did you do it?
Grunsky: One of the most challenging parts of the shoot were our days in Marfa, where we had an immensely tight schedule and could only bring a reduced crew. On top of that we had to do a lot of night exteriors and the rain was holding us up. But we did manage to get it all done and those scenes are some of my favorite ones in sense of mood and intensity. It is one more example for me of how limits can sometimes help to create something special.
Filmmaker: Finally, describe the finishing of the film. How much of your look was "baked in" versus realized in the DI?
Grunsky: As I try to do for all my projects, I did test shots with as many elements that we planned to have in the movie as possible and as early as I could in pre-production. It is a very important part of preparation for me, not only to test our choices of color, light, lenses but also to create and test looks in color grading. In this case I could get one Super Baltar lens and an Alexa from MPS, our rental house in Austin, for the test and I created and lit little set ups for day and night, interior and exterior, using some wardrobe pieces and colors that we wanted to be part of the design. Then I went to TBD Post in Austin, where I graded the test with colorist Brandon Thomas, who was also doing our final color correction. We created a DCP of the graded test and I watched the projection on a theater screen to see what I would get at the end of the post-production pipeline. We then created ARRI look files from those test grades, which I later applied while shooting. We still recorded in Log C and the look was only saved in the metadata of each clip but not baked in. I could see the chosen look in my viewfinder, on the on set monitors, and it was later applied to the dailies and to the files used for editing. Once we did our final grading we went back to the Log C files, while for reference sometimes looking at the dailies or my stills, which I had grabbed and roughly graded during the shoot. So while the general look had been established in pre-production, and the dailies were very close to what we wanted to do, we (re)created the look from the Log C files while working on the final grade.