Back to selection
Cinematographer Bradley Stonesifer on Shooting Bobcat Goldthwait's Sundance Competition Doc, Call Me Lucky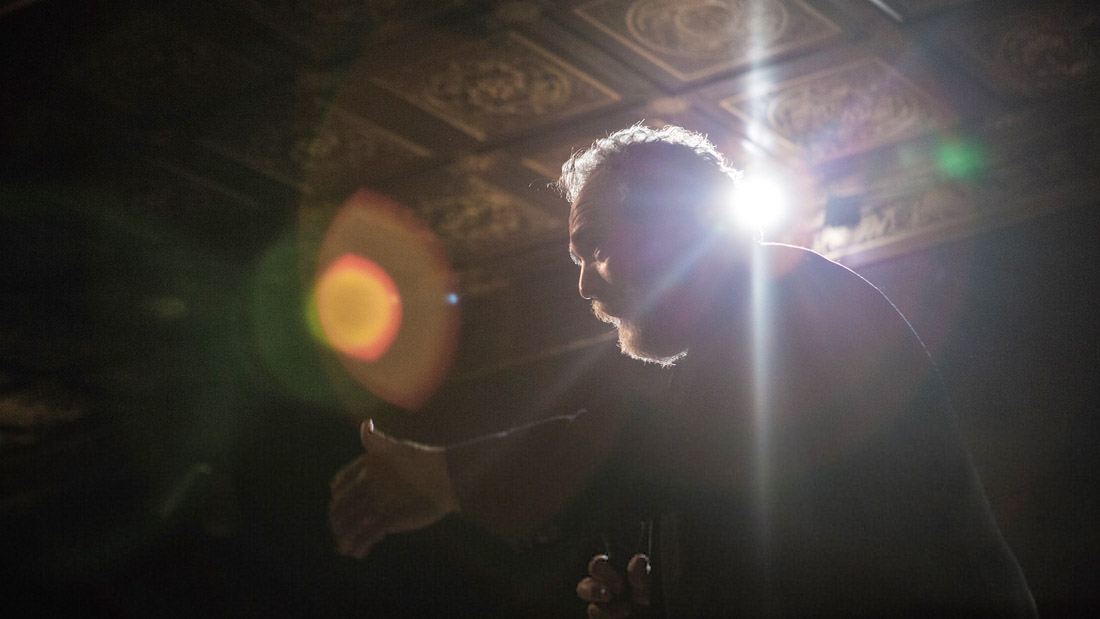 Call Me Lucky is Bobcat Goldthwait's documentary portrait of fellow comedian Barry Crimmins, who is not as famous as he should be for his barbed political satire — and whose outsider activism led him to dark places, as this documentary reveals. To visually capture Crimmins on and off stage, Goldthwait turned to his frequent cinematographer Bradley Stonesifer, who previously screened at Sundance with Lee Toland Krieger's dramatic feature, The Vicious Kind. Below Stonesifer answers questions about that collaboration and doing big theatrical lighting on a shoestring budget.
Call Me Lucky premieres January 27, 2015 in the Sundance Documentary Competition section at the Sundance Film Festival.
Filmmaker: How and why did you wind up being the cinematographer of your film? What were the factors and attributes that led to your being hired for this job?
Stonesifer: I'd been working with Bobcat Goldthwait over the past three years. I shot the film God Bless America with him and was a great experience. We continued to stay in touch and worked together when possible. We did a couple comedy shows and a music video together since then. When it came to Call Me Lucky, Bob has a very personal relationship with the subject of the film and really thought I'd love to be a part of it and asked me to join. Bobcat is a wonderful director and working with him is always a great adventure. Once I heard about the subject matter and some of the challenges and approach, I was sold and couldn't wait to be a part of the film.
Filmmaker: What were your artistic goals on this film, and how did you realize them? How did you want your cinematography to enhance the film's storytelling and treatment of its characters?
Stonesifer: My goals artistically for this Doc was to consistently create captivating interviews that had pleasing backgrounds which help the viewer engage the subject. I wanted to shoot 2.35:1 with a fairly contrasty ratio. I was going for 8:1 or 16:1 most times. The goal was to be cinematic, this is for the big screen we kept telling ourselves. Slow-moving cameras and postcard photos when applicable. We also wanted the light to be big and soft with the ability to compete with windows with exterior daylight. The goal was to be cinematic and intimate. We didn't want any distractions for the viewer.
Filmmaker: What were the biggest challenges posed by production to those goals?
Stonesifer: Our main subject lives in upstate New York, part of the shoot we shot in February during a snow storm. It was -20º windchill at times. We wanted big cinematic lighting on a shoe string budget and a total crew of three including myself for camera grip and lighting. We had to travel from D.C., Boston, Syracuse, Skaneateles, New York City, with a small mobile package.
Filmmaker: What camera did you shoot on? Why did you choose the camera that you did? What lenses did you use?
Stonesifer: We shot the film on two Canon C300's and one 5D Mark III. Lenses: Canon CN-E Cine zooms. 15.5-47, 30-105 primes: set of Rokinon primes with Canon L series zooms. We used the C300 for our interviews. We wanted Super35 depth of field with long roll times and good highlight control. Built in NDs were also very useful during our shooting. We used the 5D Mark III for motion control timelapses and some additional photography.
Filmmaker: Describe your approach to lighting.
Stonesifer: Lighting was with an Arri M18 with a chimera and 6x or 8x light grid. We would get the light as close as we could and created a Rembrandt-style ratio with the fill side of the face going fairly dark. We would use a top light to separate, usually a 2×2 kino. We would put a little cheek/hair light on the fill with a 1×1 light panel dimmed way down and pretty high to not create a strong specular angle of incident.
Filmmaker: What was the most difficult scene to realize and why? And how did you do it?
Stonesifer: The movie was consistent in its challenges. We were shooting anywhere from six to 12 interviews a day with multiple setups in tiny rooms. We shot inside of cars, on frozen lakes and open parks. The commitment of our crew and their attention to detail is why this project has come out so consistent. I am very grateful for their support.
Filmmaker: Finally, describe the finishing of the film. How much of your look was "baked in" versus realized in the DI?
Stonesifer: We onlined and colored the film at Tool and Dye in Hollywood. Aaron Peak is an amazing colorist, and I have been working with him for years. We shot CanonLog in the field, I love the way it looks without the video assist or Rec709 curve. In color we would balance the image from shot to shot, add a touch of saturation and place black/white levels where they seemed fit. It was a very fast turnaround on the coloring. Wonderful work by Aaron.