Back to selection
Five Questions for Western Directors Bill and Turner Ross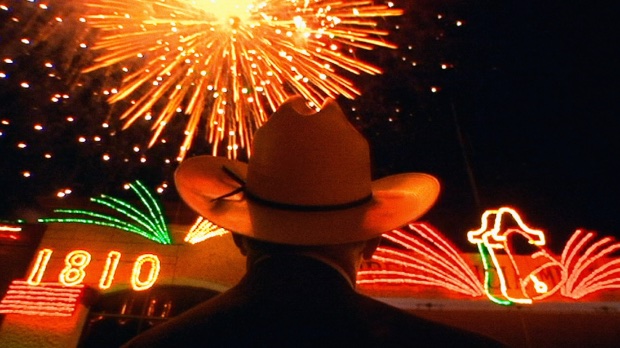 "Ravishing cinema verite" is how the Sundance catalog describes the work of Bill and Turner Ross, whose elegiac American portraits crackle with a lovely lo-fi buzz. Following their New Orleans-set music travelogue Tchoupitoulas, the brothers immerse themselves here in Western within a world considerably tougher — two towns on either side of the Mexican border grappling with the sudden onslaught of cartel violence. Below, we ask them about incorporating that criminal storyline into their film and sticking with the same camera for three pictures.
Western premieres today in the Documentary Competition of the Sundance Film Festival.
Filmmaker: Your documentaries have consistently found visual beauty using, often, not the latest cutting-edge, highest-res, tricked-out cameras. Yours seems more like the lo-fi approach Robert Green recently wrote about in Filmmaker. So, what informs your choice of camera and technology, and what techniques do you do to bring out the beauty in your imagery?
Bill and Turner Ross: We wanted the first three films to have a similar look and feel. We picked the Panasonic DVX100b back in 2007 when we were shooting 45365 mostly because it was the only thing we could afford. We quickly fell in love with the character of the image it created. It was imperfect yet had a substance and depth to it that we didn't see in more expensive HD cameras. We've shot on numerous other cameras since then but for our own work we go back to this old friend. For Western it seemed to capture the dirt and heat and grit of the landscape. It has texture.
Filmmaker: There's an elegiac quality to Western but also a dark tension arising from the introduction of the narco and drug cartel subject matter. At what point in your documentary process did the latter enter the picture? Did you set out to make a movie in which cartel violence plays a role, or did this storyline emerge from the events on the ground?
Bill and Turner Ross: The storyline emerged while we were there. We didn't set out to tackle issues like that — we actually made a concerted effort to avoid them. We were looking to make an observationally sweeping "non-fiction western" that would eschew the one-dimensional contemporary news headlines. But the inherent drama of the moment couldn't be avoided, and with strange serendipity it spoke to the theoretical approach we were taking.
Filmmaker: How much time did you spend on the ground, and how did you land on the film's specific subjects?
Bill and Turner Ross: We scouted the border towns along the Rio Grande until we met Chad Foster, the Mayor of Eagle Pass, TX. To us he represented the modern John Wayne. The man of the frontier. So we stuck around to see what that looked like. We spent the next 13 months with him and many others we came to know quite well.
Filmmaker: What were the specific challenges in making a film that deals with the cartel violence subject matter?
Bill and Turner Ross: Trying not to get killed mostly. But also making sure the film didn't become myopically focused on that violence. There's much more to the region than that.
Filmmaker: Finally, where do you see your documentary practice going from here, both in terms of future projects and the ways in which your work might change?
Bill and Turner Ross: This is the end of a chapter that we feel pretty good about. A sort of regional Americana trilogy. The next few will be on a different palate. The desire for adventure and discovery will remain but we're looking to exercise different muscles. No sense in making non-fiction sequels.