Back to selection
Cinematographer Daniel Patterson on Shooting Shaka King's Sundance Short, Mulignans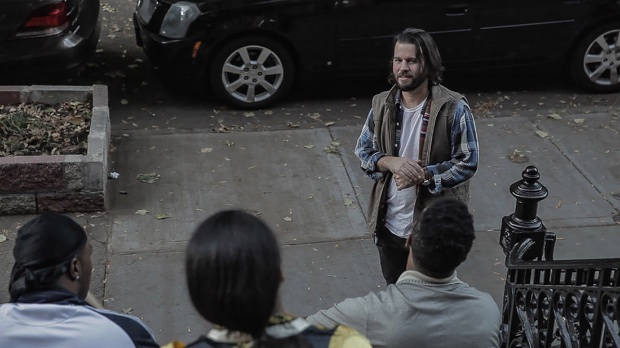 Returning to work again with director Shaka King (Newlyweeds) is cinematographer Daniel Patterson, who lenses the director's Sundance short, Mulignans.
Mulignans?
mulignan(s) /moo.lin.yan(s)/ n. 1. Italian-American slang for a black man. Derived from Italian dialect word for "eggplant." See also: moolie. Source: Urban Dictionary and pretty much every mob movie ever.
Called "four minutes of biting, vicious satire" by Filmmaker's Sarah Salovaara, Muligans was shot in one day and is one long scene. Below, Patterson discusses how he made that happen.
Filmmaker: How and why did you wind up being the cinematographer of your film? What were the factors and attributes that led to your being hired for this job?
Patterson: I ended up being cinematographer on this film because Shaka called and asked me if I wanted to shoot another film. The main reason I did the job is because I believe in the director and his vision. I enjoy and would go see the type of films I have made with Shaka. The main factor that led me to make this film with Shaka was the storytelling, which started with the script. I really like the idea of actually laughing out loud while reading a script — and Shaka never fails to deliver laughs.
Filmmaker: What were your artistic goals on this film, and how did you realize them? How did you want your cinematography to enhance the film's storytelling and treatment of its characters?
Patterson: My artistic goals were to be honest in telling the story. I wanted the cinematography to enhance the film by not getting in the way and not distracting the storyline. On occasion, we emphasized dramatic beats using the cinematography. At the end of the film, there is a timely whip pan which accentuates the beat of that moment. Much of the film is static medium shots done on a tripod.
Filmmaker: What were the biggest challenges posed by production to those goals?
Patterson: The biggest challenge in the film was shooting it all in one day. We met the challenge and succeeded.
Filmmaker: What camera did you shoot on? Why did you choose the camera that you did? What lenses did you use?
Patterson: We shot on three Canon 5Ds. We made that decision because that is what we had available. Canon has made affordable cameras you can shoot on and get films into Sundance…back in the day, that would not have been possible. We shot on Canon zooms 24-105mm. I think we also had a 14-35mm zoom too.
Filmmaker: Describe your approach to lighting.
Patterson: My approach to lighting on this film was to respect nature. We could only use available light, because we shot 96% of the film exterior on a stoop in Brooklyn. By respecting nature, I mean I paid attention to what was happening with the natural light and moved my cameras accordingly…certain angles look better during certain times of the day. That takes time and practice to figure out.
Filmmaker: What was the most difficult scene to realize and why? And how did you do it?
Patterson: The film is one long scene and the difficulty of realizing it was completing it in one day of filming. We did it with three cameras. This film could not have been done in one day, with the coverage we had, if we only had one camera. The decision to use three cameras made it all possible. I'd also be lying if I did not mention our amazing cast, our crew and their abilities.
Filmmaker: Finally, describe the finishing of the film. How much of your look was "baked in" versus realized in the DI?
Patterson: I love this question. There is no (DI) digital intermediate when you start and finish on digital. The look is something Shaka and I made in the color grade session, because we shot the film with a very flat look.
TECH BOX
Camera: Canon 5D (3 cameras)
Lenses: Canon zooms 24-105mm
Film: Mulignans
Lighting: Available Light
Processing: Digital
Color Grading: DaVinci Resolve at Nice Dissolve post production house