Back to selection
Online Hoax: Sophie Deraspe Discusses Her Sundance Doc The Amina Profile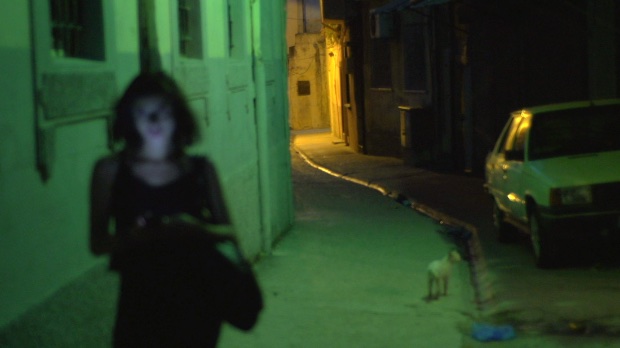 Girl meets girl online. They fall in love from afar — Sandra in Montreal, Amina in Syria. The Arab uprising occurs and soon Amina, star blogger and creator of "A Gay Girl in Damascus" gets swept up in the chaos, then kidnapped, and then disappears. Her frantic paramour goes on a global quest to find her — only to discover that the game-changing World Wide Web is also a web of intrigue and deceit.
Fortunately, Sophie Deraspe's doc The Amina Profile is more than the sum of this now infamous hoax. By smartly training her lens on the unwitting victim and delving into the fallout, Deraspe deftly shifts the focus from (and thus avoids cheaply glorifying) the usual headline-grabbing suspect. Filmmaker spoke with this thoughtful Canadian director prior to the film's Sundance premiere in the World Documentary Competition.
Filmmaker: Most films about cons focus on the flashy perpetrator, so the fact that this is an "up close and personal" look at a victim instead is refreshing. Were you friends with Sandra prior to shooting? You seem to have gotten incredible access (including emotional).
Deraspe: Yes, I personally knew Sandra and was a witness to her online love affair with Amina right from the beginning. When Amina was abducted, it really felt like being in a thriller, coupled with an overwhelming emotional journey for Sandra. Once the hoax was revealed, I remember telling her that a film was unfolding here in front of us, but that we were only at minute 30 of an incredible story. The rest was yet to come.
When I suggested we could travel around the world and meet with all the key people involved in the story, she was eager to share the burden and the pain, to understand more and to find closure, even if at that time we didn't know how far all this would lead us. One thing that I am sure of is that Sandra didn't want to appear to be a victim. She wanted to take control back, in a way. And she entrusted me to go beyond the sensational story to which her name will be attached for as long as the Internet exists. At the same time, it was very important for me to have the freedom to cover all aspects of the story, the intimate ones as well as the sociological and political ones. Sandra totally agreed with that.
Filmmaker: Your film reminded me a bit of The Imposter, in the sense that I already knew the story through news accounts, but was still riveted by the new angles. Not just Sandra's tale, but also that second layer of (quite amusing) hoax that was revealed, as well as the broader, more serious life-and-death consequences of the entire scheme. Did the story unfold before the camera, or were you already aware of these various pieces of the puzzle?
Deraspe: Of course I did a lot of research prior to shooting — even though I knew the story from being a firsthand witness. There are so many issues exposed here, some of which were covered by the media, others that stayed rather underground or that people were simply too angry or ashamed to share. So yes, a big part of the story and its consequences unfolded during shooting. That is the magic of documentary. Lay the groundwork, take risks and let reality speak for itself.
Filmmaker: If the Serial podcast is any indication there seems to be a popular nexus of detective stories, social media and blogging lately. What fascinates you about this collision?
Deraspe: It's amazing to realize that many people from different continents, all sitting behind a computer, worked at putting together the pieces of this puzzle, a story that has all the ingredients of a spy thriller. At the same time, it's frightening to see how online footprints are almost impossible to cover — well, that's good if you want to debunk a fraud, but tremendously painful when you become the victim of one.
Filmmaker: You're a narrative filmmaker as well, so I'm also wondering, why choose the documentary format? The premise certainly seems readymade for a fictional treatment.
Deraspe: The Amina Profile is a documentary about a huge fiction. At first, when Sandra gave me her archives and the right to make a film about her story, it wasn't clear if it would be a doc or a drama. All of it had happened online and didn't give me much to grab on to in terms of visuals. Nevertheless, the reality was more compelling than anything that could be constructed, and the fact that I felt it wasn't the end of the story yet, that more was yet to come, pushed me toward a documentary. It's funny that life put this project in my hands. My first feature film, Missing Victor Pellerin, was about the construction of a con artist. I used a documentary approach and the complicity of real people with their own backgrounds to elaborate a persona. Now with The Amina Profile the process is reversed. I am deconstructing an international hoax perpetrated in the personal as well as the sociological sphere. And I had to use narrative film codes to allow the audience to become immersed in this huge fantasy. In both films, our perception of reality is deceived, and then questions arise about what is truth and what is not, what and who can we trust, and what are the consequences of posing as someone else.
Filmmaker: You ultimately captured the hoaxer onscreen — but were there other "players" you tried to get to and couldn't, any potential subjects that proved too elusive?
Deraspe: Sandra is certainly the person who was the most exposed throughout these events. So making the film with her gave me access to people who would otherwise be absolutely unwilling to speak about that anymore. It was very embarrassing for some of them, very upsetting for activists who spent their time campaigning for Amina while they themselves were in danger in the middle of a revolution. And the fact that I went solo with Sandra, doing the camerawork and sound myself, contributed to forming a human connection that made it possible to build trust. People were willing to share their vulnerability, their pain, even their mistakes. And, ultimately, I think at that point all of us were very happy to meet real humans, face to face. Even Ali from Electronic Intifada wondered if Sandra really existed — right up until the day we met for the shoot in Chicago!