Back to selection
"Your Obstacles are Basically Everything": Writer/Actress/Producer Naomi McDougall Jones Talks Grassroots Female Filmmaking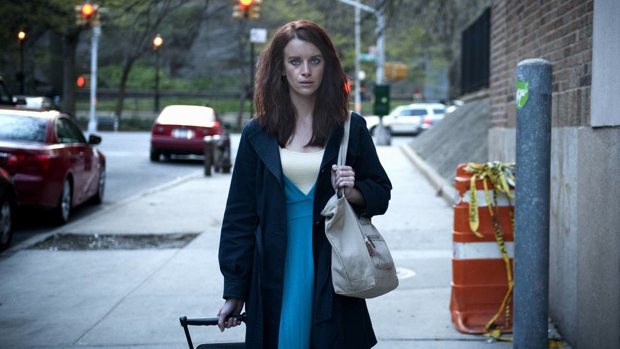 Naomi McDougall Jones in Imagine I'm Beautiful
Once again, the two-decade-old Bermuda International Film Festival, where I'm on the international advisory board, provided some truly unique networking opportunities. While I didn't find myself star-struck like at last year's fest – when I had the once in a lifetime chance to serve on a jury with a spry legend, Kubrick's producer and brother-in-law Jan Harlan – the 2015 edition hosted several impressive names. Rounding out this year's Academy Award qualifying shorts jury were producer/writer Hilary Saltzman (daughter of Harry Saltzman, best known as the producer of the first nine Bond films), the inimitable Killer Films co-founder Christine Vachon, and Oscar-nominated screenwriter Craig Borten (Dallas Buyers Club).
The Dallas Buyers Club scribe also participated in a workshop titled "The Write Stuff" alongside screenwriter James V. Hart (Spielberg's Hook), Bermudian filmmaker Lucinda Spurling, and NYC-based writer/actress/producer Naomi McDougall Jones (Imagine I'm Beautiful) – whose contagious passion for DIY filmmaking from a female POV made me want to hear more. (Indeed, if she weren't so busy making movies Jones could easily serve as an independent filmmaker life coach, having penned pieces with titles like "Why It's a Great Time to Be an Independent Filmmaker" and "Being the Change.")
Filmmaker decided to follow up post-fest with this multi-hyphenate artist who believes that, "while it's good that Lena (Dunham) has a seat at the table, we don't just want a seat. We would like a whole table."
Filmmaker: As a staunch advocate of DIY filmmaking – especially for women, whose stories are often deemed unmarketable by the powers that be – you've cited your own successful filmmaking journey as evidence that maintaining control of a project from pre-pro through distribution can indeed be done. But what were the hardest obstacles to overcome – and what "tricks" did you use to get over those hurdles?
Jones: When you're making a first feature at this budget level your obstacles are basically – everything! We had no money, few connections, none of us had ever been to film school, and we really had no track record suggesting that anyone should in any way take a chance on us. The only thing we did have was the totally naive, blindly enthusiastic, passionate belief that we could make a movie. Fortunately, that turned out to be enough.
For us, the biggest hurdle was definitely how to raise the money. $80,000 may sound like a pittance to make a feature film on, but it was also a staggering amount for us to have to raise. None of us came from wealthy families, and all of our friends were also broke artists, so there were no easy answers on this one.
We had a moment about a year and a half into the process, where we had raised $10,000 through an IndieGoGo crowd-funding campaign, and then absolutely could not raise any more money. We had asked everyone we'd ever met – and a healthy number of people we hadn't – and it just wasn't happening. So we had this come-to-Jesus moment, where we decided to just set production dates for six months from then and agreed that, come hell or high water, we were going to start the cameras rolling on April 1st. That's really when things turned around. We finally found some incredible female investors who were excited about supporting female voices in film, and then raised the final $20,000 through a second IndieGoGo campaign. In the end, we pulled together the money from over 300 donors and investors – each of whom generously gave what they could to make the film happen.
That decision to set shooting dates was a really important lesson. It's hard to convince people to invest money in a film that is supposed to happen at some indeterminate point in the future, but if you just go ahead and build the ship and push away from the dock, people will start to believe that you know how to sail.
Filmmaker: You wrote, produced and starred in this first feature Imagine I'm Beautiful, but chose not to direct. (In fact, you went with another first-timer, Meredith Edwards.) So why give up creative control in that area?
Jones: From the beginning, I had a strong gut sense that I would be able to effectively do three of those four jobs, but not all four of them. The role I had written for myself to play in the film was incredibly demanding, and I knew that it was going to require all of myself once we were on set.
I never saw not directing as giving up creative control, though. Meredith came to my script, and as we worked together something more beautiful emerged than either of us could have created on our own. Every film is a collaboration involving a huge number of people – writer, director, producers, actors, editor, crew – so it's always a process of passing the story through many different visions and filters.
More than anything, I was extremely blessed to find Meredith. From the first time I met with her about the film, I knew that she had to be the director. She understood the story on an intellectual and emotional level in exactly the same way I did, while bringing a strength of vision that is extremely rare in a first-time director. It honestly never felt risky handing it over to her because I quite simply trusted her. Once we were on set, I was just the actress and she was the director. I often forgot during filming that I had written the script at all!
I would also be remiss not to point out that the only reason I was able to act as well as produce at all was because of my phenomenal two co-producers, Caitlin Gold and Joanna Bowzer, who stepped in and 100% removed all producing responsibilities from my shoulders during filming.
Filmmaker: When we chatted in Bermuda you expressed quite a bit of enthusiasm about working with Candy Factory Films, a small distribution company that I'll admit I'm not too familiar with. I know your producing partner Caitlin Gold is head of acquisitions there, but what else excites you about this young company?
Jones: I am enthusiastic about them! Candy Factory Films is a very new company – we were only the third film they released, although they now have 16 titles. I'm excited about them for a number of reasons, not the least of which is that they took a chance on Imagine I'm Beautiful – a film that conventional wisdom said shouldn't sell (a dark, quiet psychological drama about two female protagonists, one of whom has a mental illness). They got it into theaters in 10 cities across the U.S. and Canada, as well as online through VOD platforms.
I also just think that we are in such an incredibly interesting moment in the film world. The monthly and weekly pace with which the distribution landscape is shifting means that none of the old truisms about how you reach audiences apply anymore. I was and am excited to work with Candy Factory precisely because they were a new company, and thus eager to be on the cutting edge of the emerging distribution models, while being young and flexible enough to nimbly shift strategies as they learned. They also care very deeply about filmmakers, which has been wonderful.
Filmmaker: We also briefly chatted about starting out in theater (and growing up in Colorado – two similar trajectories we share). As a stage actress and playwright, what were the greatest challenges in transitioning from live theater to film?
Jones: Isn't it funny where diehard theater girls sometimes end up? As an actress, I started getting cast in more film than theater almost as soon as I got to New York, so it's possible that my acting style always lent itself better to the screen.
As a writer, it was definitely a big transition moving into writing for film. I went through 52 drafts of Imagine I'm Beautiful before we got to set, and I would say that at least the first 10 of those were me figuring out how to write a screenplay. On a technical level, I quickly realized that people simply can't talk as much. Through drafts and drafts I just kept slashing dialogue. Talking doesn't hold up in a film the way it does onstage. What's exciting to me about film is the subtlety, exactitude, and nuance that is both the gift and requirement of the medium. I love how one shot, or one action, or one line – depending on how it's framed, or spoken, or underscored – can turn the audience upside down or change the course of a movie. Where theater is beautiful in its mad, messy exuberance, film is a delicious sport of precision.
Filmmaker: Finally, can you let us in on your next project Bite Me? A "subversive romantic comedy about the subculture of people who live as vampires" actually sounds like studio-friendly material. Do you plan on going the grassroots indie route with this film as well?
Jones: I am honored to say that Jack Lechner (Blue Valentine, The Fog of War, former executive at Miramax and HBO) will be producing Bite Me, and that we are currently on the hunt for a director.
This is an absolute dream scenario for me – to get to make an indie film on a bigger scale with someone like Jack, who is so fully committed to the artistic vision of the projects he works on. I truly couldn't be happier. As someone said to me the other day, "Bite Me may be a bit more mainstream than your first film, but it's still pretty weird." (To clarify, it's about the real-life subculture of people who believe that they need to drink blood or feed on energy to stay healthy.) So I'm proud and happy to say that Bite Me still belongs squarely in the risky, offbeat world of indie film.