Back to selection
Blackmagic NYC: Shiny Happy People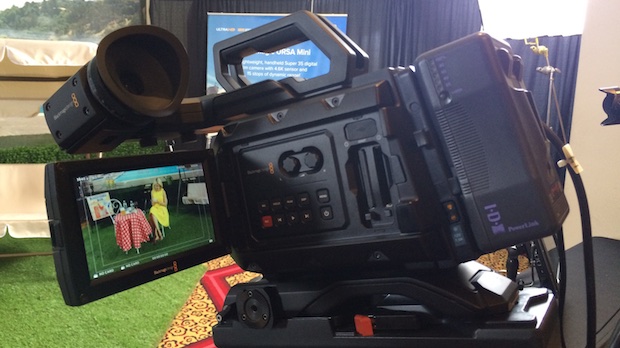 Blackmagic URSA Mini
My biggest takeaway from this year's New York Blackmagic Event is that the people at Blackmagic are really, really happy.
I could dive into a detailed rundown of all the tech specs of their latest products, most of which are easily available online, but, honestly, having gone to this event for the past three years, the most important thing I got from it all was the tone.
After five years of hard work, they know they're nearing the point where it all comes together. Over the next several months, we'll see the releases of Da Vinci Resolve 12, Fusion for Mac, and most important, the 4.6K URSA Mini. What all of this means is that Blackmagic will be offering a top-notch professional workflow including cameras, editing, color and VFX software at incredibly reasonable prices.
How reasonable? The standard versions of both Resolve and Fusion are free, and the full versions are $995 — however, if you buy any of their cameras priced at $2,000 or more, the full version of Resolve comes with the package at no additional cost.
I got to play around with Resolve 12 and liked it. The editing aspect has really been expanded, making it a legitimate option for anybody tired of FCP/Premiere/AVID. I saw convincing demos of everything from multicam to color keying. The color correction section, which it's best known for, had subtle interface adjustments, which took me a minute to adapt to — but once I found everything, I realized it's much better laid out than before.
I also played around a bit with the URSA Mini, which I really dug. At a price range of $2,995-$5,495, it's got the best options for its price on the market. The top of the line 4.6K model will offer 15 stops of dynamic range in rolling shutter mode and 13 stops in global shutter mode. The native ISO will be 800, and it will span 200-1600. It will also be capable of high frame rates — 60 fps at 4.6K and 120 fps in standard HD.
Blackmagic took a gamble. They went after a market — that empty space between cheap DSLRs and five-figure cameras like RED and Canon's C300 — and they succeeded.
I was the perfect person for their products, and like them, I'm happy, too.