Back to selection
"It's Almost Impossible to Watch Something That was Shot on Film Projected on Film": DP Jody Lee Lipes on Trainwreck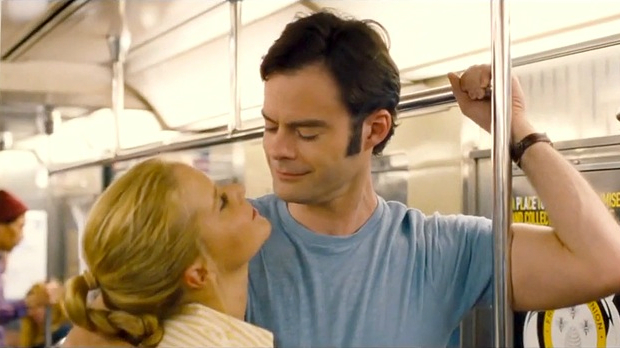 Amy Schumer and Bill Hader in Trainwreck
The Judd Apatow-directed Trainwreck is being hailed as a breakthrough for much of its cast. It's turned Amy Schumer – who stars as a monogamy-challenged New York magazine writer — into a movie star, Bill Hader into a leading man and LeBron James into his generation's Bruno Kirby. But the film is an equally big break for the man behind the camera – Trainwreck cinematographer Jody Lee Lipes. In the past, Apatow has opted for veteran d.p.'s with intimidating credits. Unforgiven's Jack Green shot The 40-Year-Old Virgin. Schindler's List's Janusz Kaminski lensed Funny People. On Trainwreck, Apatow turned the camera over to Lipes, who splits his time between shooting indies such as Tiny Furniture and Martha Marcy May Marlene and directing his own films, like last year's New York City Ballet documentary Ballet 422. Lipes spoke to Filmmaker about entering the world of studio films, comedies that transcend genre and rolling until the mag runs out with Apatow.
Filmmaker: You have a very eclectic filmography – everything from serious indies to documentaries to The Whitest Kids U'Know. How did you first become interested in film?
Lipes: My family was really into movies and everybody in my family liked really different kinds of movies. My brother was into the David Lynch, John Waters and Repo Man world. My dad was really into Bergman and Kurosawa and Carol Reed. And my mom liked slightly more traditional films. Some Like It Hot was her favorite movie. I was always really fascinated by movies and in high school I took a video class just because there wasn't anything else I really wanted to take and I got really into it. I started using my older brother's video camera and I would record everything. My friends would come over and I would record them sitting around and smoking pot in my room. It was sort of like shooting verite documentary, though I didn't really realize that at the time.
Filmmaker: What led you to study film at New York University?
Lipes: I didn't really think of myself as a filmmaker, but when I applied to colleges, I applied to a bunch of film schools because it was something I enjoyed doing. NYU was the hardest school to get into that I applied to and I didn't really expect to get in. (At NYU) I started making lots of movies and meeting other filmmakers and as time went on I got more and more serious about it and more and more dedicated to it.  When I was initially out of college, most of the people that I worked with were people I knew from school.
Filmmaker: Did you have to submit a work sample as part of the NYU application process?
Lipes: I think I sent them a documentary I made about my dad. When he was younger, my dad went to art school, but he also studied pre-med and became a doctor and worked in the emergency room. He was diagnosed with M.S. when I was about two years old, which is something I have in common with Amy's character in Trainwreck [Ed. note: Schumer's character's father in the film, played by Colin Quinn, has M.S.]. He eventually couldn't work in the hospital anymore and he ended up going back to painting and that became his full-time career. He became a pretty successful painter in Bucks County, the area of Pennsylvania that I'm from. So I made this short documentary about him choosing to transition between those things.
Filmmaker: While you were at NYU, were there any films that you saw for the first time that blew you away?
Lipes: (The films of) James Gray, who is really still my favorite director. (While I was still in school) I interned on the Todd Solondz film Palindromes and I had a meeting with Tom Richmond, who was the d.p. on that film, and I asked him about his career. At the time he told me that Little Odessa was the most important film that he had worked on so I went out and saw that and it really blew my mind. It's such a great movie.
Filmmaker: The credits for Palindromes have you listed as an electrician. What did you actually do on the film?
Lipes: I interviewed with Mike Ryan, who was the producer of the film, and he was trying to suss out if I had any special skills. I told him I knew how to load 16mm and so he asked me to go to the (camera) checkout. The ACs had been doing bigger films — this was a very small film and it was shooting on 16mm — and they hadn't loaded 16 in a while. So I was showing the ACs how to load the camera that we were using even though I was an intern and automatically I became the loader. But I told Mike I didn't want to be the loader because I knew that the thing I needed more experience with was lighting. For me, that was a much harder part of the job of a d.p. and something that takes a lot more experience than the camera side of things. I basically made a deal with Mike and Derrick Tseng, the other producer: I would be the loader for the first half of the film and then I would find a replacement for myself and I would go work in the electric department. I learned so much from the gaffer, Matt Hale, and the key grip, Melissa Guimaraes, and that was really the beginning of my lighting education. I was about to be a senior in college at NYU, but Palindromes is really where I learned to light.
Filmmaker: Looking back over the list of cinematographers that Judd Apatow has used for his other directorial efforts, it's a list of pretty heavy hitters. You worked on the Apatow-produced Girls as a d.p. and director,  but how did you end up making the leap to Trainwreck?
Lipes: I guess you'd have to ask Judd. I was kind of shocked myself. We know each other from Girls a little bit and had some other mutual friends and I'd just done a Jay Z music video that Judd was in, so we saw each other then. I just went to meet him at the Soho House and he started telling me about this movie Trainwreck. And even then I didn't really think he was talking to me about (shooting) it. In the past on other shoots, we had talked about cinematography ideas when he was prepping another film, just like at lunch. So I just thought he was asking more questions. I didn't realize he was seriously considering me, which probably made the interview go a little better. (laughs) Also Barry Mendel, who's a producer on the film and also produces for Wes Anderson and M. Night Shyamalan and some other great filmmakers, has been a big supporter of mine for a long time. When I directed NY Export: Opus Jazz, which is this scripted dance film that's based on the choreography of West Side Story creator Jerome Robbins, Barry saw it on PBS and called me and said, "That movie was amazing." He just kind of kept tabs on me and then when I did Girls, because Barry is really close with Judd, he was paying attention to that too. So I think because I had a little bit of a relationship with Barry already and with Judd, I somehow ended up in the pot for Trainwreck. Also, it's a smaller film than they've made in a while. For me, it was a big step up, but for the normal set that Judd works with, it was a smaller film.
Filmmaker: With that jump up in budget compared to your previous features, did you get your hands on any cool tools you hadn't worked with before?
Lipes: I don't know if there was any equipment specifically, but there was a crewmember I had never worked with before who was really amazing and a great leader and taught me a lot — Richie Guinness Jr., who was the key grip. I feel like I owe a lot of what I learned on that film to him and also to gaffer Andy Day. I was surrounded by people who had a lot more experience than I did and who are really talented.
Filmmaker: When you watch behind the scenes footage of a Judd Apatow movie, you always see Apatow tossing out one-liners to the actors from video village. What is the process of working with Apatow like? Do you just roll out mag after mag?
Lipes: A general way of looking at it is when you turn the camera on with Judd, it's going to roll out. There's no quick, grabbed thing. The camera is rolling for 15 minutes and when there are two 35mm cameras rolling for 15 minutes, it's a lot of film. If you need to fix something you try to quickly fix it while you're rolling because you don't want to interrupt the process. That's very much the way that Judd works.
Filmmaker: When you tackle a new genre like the romcom, do you go back and look at references to better understand the genre's grammar?
Lipes: For Trainwreck, I watched things like Tootsie and Working Girl and Funny Girl. There's a little bit of a stigma sometimes regarding the filmmaking of comedies where people automatically put them in this other category even when they're really unique and well-made. But sometimes when a comedy is really, really good, it's so good that people don't think of it as a comedy. So I tried to watch some movies that are like that too, like Punch-Drunk Love.
Filmmaker: Can you give a quick rundown of gear in terms of camera and lenses for Trainwreck?
Lipes: We used Arricam LT and Arricam Studio cameras, Cooke 5i lenses and Kodak film.
Filmmaker: It seems like film has really been relegated to the epic works of major filmmakers, things like Interstellar. Was it much of a fight to shoot 35mm on Trainwreck?
Lipes: It really wasn't a fight. All of Judd's movies have been shot on film except for his last one (This Is 40) and I think he felt like there were good things about shooting digitally, but the bad things outweighed that. So he wanted to shoot on film from day one. Most of the work that I've done has been on film so far in my career so I feel really comfortable (shooting film). At the last second Judd said, "Well, maybe we should just look at digital and compare just to make sure." And I thought, "Well, I guess we're not going to shoot on film because nobody's going to really feel the difference between these two things anymore. Digital has just gotten so good." I do and I still feel it and I care, but I thought nobody else was really going to care. So we did a side-by-side comparison (between Arri 35mm cameras and the Alexa) and it was no question. Across the board, everyone was just like, "film." I was really shocked and happy about that.
At this point in history, there's something a little more stylized about using film so it automatically gives you a feeling and I think for most people it's a good feeling. It really is more human and organic and all those things that people always say. The sad thing is that it's really hard to watch film being projected now and that's an even larger variable in that feeling. When you go to the movies and you watch a digital projector, it feels like you're watching TV at your house. It's almost impossible to watch something that was shot on film projected on film. I was sort of saddened by the fact that the theatrical premiere of Trainwreck was at the Film Society of Lincoln Center, one of the most important film centers in the world, but it wasn't shown on film.
Filmmaker: How did you pull off the grainy, 1970s-esque look of the film's opening scene in which Colin Quinn explains to his daughters that "monogamy isn't realistic"? Is that 16mm or 35mm?
Lipes: That was 35mm. Judd told me that he wanted that scene to have a Gordon Willis kind of look so I got the Baltar lenses Gordon Willis used for The Godfather and we tested them in prep, but Judd felt like they went a little too far. Then I just tried underexposing the image and pushing it one stop (in the photochemical processing) and that's how we got there.
Filmmaker: There's a funny scene in Trainwreck where Amy's character and her boyfriend, played by John Cena, take in a black-and-white art house film titled The Dogwalker. How did you approach shooting that film-within-a-film?
Lipes: We shot that with the Alexa and Super Speed lenses and we tried not to beautify the image. Judd wanted Trainwreck to have a feeling of reality, but also be very beautiful, well-lit and photogenic. So then for The Dogwalker, it was kind of like, "Let's not do any of that. Let's just shoot it and not light it." Basically, Judd's idea was that it was like a Sundance hit. (laughs) (He and I) probably have a different idea of what that means.
Matt Mulcahey writes about movies and interviews filmmakers on his blog Deep Fried Movies.