Back to selection
"It's Possible That There are Two Bosses": Goodnight Mommy Directors Severin Fiala and Veronica Franz on Gender Disparity and Directing as a Team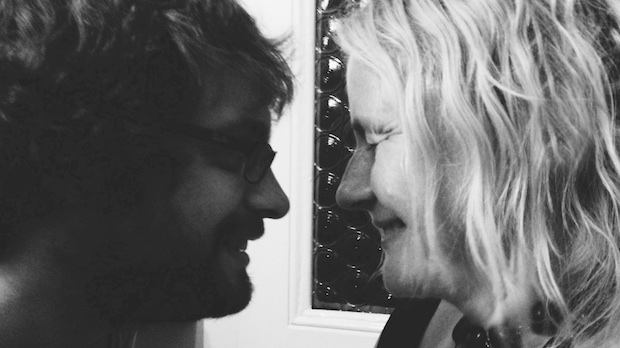 Severin Fiala and Veronika Franz
Austrian filmmaker Severin Fiala accused me of being a sexist. We were in Poland, and it was the night his film, Goodnight Mommy, won the Audience Award at the New Horizons Film Festival. I found his accusation horrifying, tantalizing and ultimately not inaccurate. In the last year, I've interviewed 57 women and zero men. My intention wasn't to disregard men, but rather, to hear from women. My goal wasn't to create a ghetto whereby the marginalized are defined by their gender, but to try and normalize standards from which the male-dominated industry was built and still prevails today. I wanted to promote powerful voices in film: voices that don't just happen to be female, but voices that are specifically female.
Earlier this summer, when the ACLU publicly released an outcry against gender discrimination in entertainment, a friend told me his girlfriend said, "Aren't there more important issues for the ACLU to investigate, like murdered black Americans?" His girlfriend is a French filmmaker but has worked in the U.S. and went to film school at UCLA. To me, her reaction initially sounded unsympathetic towards the implicit and explicit gender biases in film, especially because they affect her more personally than police brutality and racial profiling in today's America. She tells me her comment was meant semi-jokingly, merely to rouse the feminist feathers of her boyfriend. But even said flippantly, her response reflects a truthful and complicated frustration about how women in film are discussed and the ways in which today's gender disparity is exacerbated.
Many writers and outlets allot articles and interviews specifically about women as a way to categorize and streamline headlines for readers. Many programs, initiatives, and funds exclusively for women in film work to combat and compensate gender discrimination and lack of opportunities, like the Meryl Streep-funded screenwriting lab for women over 40. The movement for equality continues to gain momentum, in spirit and in practice, and yet, many find that these efforts to support women in film actually ghettoize them. Many women are reluctant to distinguish themselves as "female filmmakers" because labels are reductive, limiting, or insulting to the work of a filmmaker. Many women dread positive discrimination — they want to make the studio list because they qualify, not because of some mandatory requirement. Even the gendered attention of a report calling for legal action, like that of the ACLU, can irk the cause of those who'd rather work than complain about the working conditions.
So I'm compelled to ask: If I only write about women in film, am I a perpetrating the gender polarity in the film industry? Is my exclusion of male voices any different than discriminatory practices against women? Is my work entangled in the very problem I've intended to help resolve?
I've decided that I'm not sure. I don't know whether my attention on women in film is productive. I certainly took a beating on this issue the night I met Fiala and his co-director Veronika Franz when I attempted to exclude Fiala from my interview request. But, thanks to Fiala and Franz, I've realized that two people, regardless of gender, who work together on one film equally, deserve the invitation to speak together just as equally.
Goodnight Mommy first premiered at the 2014 Venice Film Festival and has since played at over 30 film festivals worldwide. The horror film is about twin boys who grow suspicious of their mother's identity after her reconstructive surgery. Produced by Austrian auteur Ulrich Seidl and released by Paris-based Film Distribution, the film is the official Austrian foreign language entry for the 2016 Academy Awards and will hit U.S. theatres on September 11.
Filmmaker: How did you become a filmmaker?
Franz: I was a journalist for so many years, so for me, being a filmmaker never was a career path. It just grew. And it really grew out of my friendship with Severin, which is a gift I'm so grateful for, and one that'll hopefully last.
Fiala: I always wanted to become a filmmaker, but my parents weren't happy about that decision. If I didn't get into film school, I don't know what I'd have done…even though I was kicked out. I stopped attending classes because we were making Goodnight Mommy and they wrote me a letter that I was dismissed from film school. My mom was sad, but I didn't care so much.
Franz: The best film school is watching films anyway.
Fiala: Yeah, you learn great filmmaking from watching the great filmmakers.
Filmmaker: Veronika, how did you find the transition from journalism to film?
Franz: Once I quit being a journalist, I could invent and imagine while writing scripts, and it was really freeing. I kind of regret that I didn't do it earlier because I'm so happy now. At first, I was so surprised that the film business — at least compared to the journalism business — is such a macho world. I thought it was the Stone Age. In journalism, the opinions of women mattered, but in film, I really had the sense that people didn't take my opinion seriously, and it really surprised me.
Filmmaker: How did you first start working with Severin?
Franz: Severin babysat my children. I paid him in movie cassette tapes. At the time, I was still a journalist and had also started working for Ulrich Seidl. I'm just a curious person who wants to learn about the world or learn about myself and to step forward. I've never intended to make a name for myself as a director, and I have no career master plan. Maybe it's an unusual collaboration that I'm 20 years older than Severin —
Fiala: But it felt very normal for us —
Franz: Because we speak with one voice.
Fiala: We often finish each other's sentences at Q&As because we know each other so well. We spend seven days a week together, maybe six and a half. Veronika and I share a vision of cinema. We like the same stuff, and we live in the same film life.
Franz: It's more fun working together. As a journalist I was alone for so long, and I missed having someone to share my research and my interviews with — I always felt lonely. I really like how film is teamwork and it's particularly a gift to find someone to work with….I think it's very rare, which is maybe why I insist we are interviewed together. I really see our collaboration as a gift.
Filmmaker: But you get why I interview women?
Franz: Yes, but I don't want to do the same thing that men did — excluding the other. Because Severin and I did everything together on this film, it would be wrong to exclude him. In terms of equality, I'm fighting in my own way, by doing what I'm doing as a filmmaker. But in terms of who I work with, I don't care if someone is a man or a woman. I care about working with the best person, and in this way, I don't care about gender. I think this is the right mindset. In Europe, we have state funded-films, and I think it's most fair to get rid of any gender quotas. It should be about the film, not the gender of the filmmaker. I understand the rationale that men have made bad films so why not give women the opportunity to fail too —
Fiala: It's not even about deserving the opportunity to fail. No one should get funding if the script is bad regardless if that person is a woman or a man.
Filmmaker: How do you write together?
Fiala: We have an idea and will write 10 or 15 pages and then we'll go to another idea.
Franz: We need breaks. If we work on many projects at once we can take many breaks on each. When we are writing, we sit across from each other and shift the computer periodically so we can see what the other is doing. And then once a month we read the script out loud together, which is very painful because you can hear all the weaknesses.
Filmmaker: What was your first film?
Fiala: We made a documentary called Kern that was shown in theaters in Germany for one week and had eight spectators in total. In Austria, it was the least successful documentary of the year. We had 482 people attend screenings of the film in total.
Franz: But it wasn't about the spectators or the money we didn't make…we just wanted to make that film. And while we were shooting, we were writing Goodnight Mommy.
Fiala: Well, you broke your leg, so luckily we had time to write.
Franz: I'm a very restless and impatient person so it was actually a gift that I broke my leg and that I was bound to the apartment and forced to write. I broke my leg at Cannes.
Filmmaker: Wearing heels?
Franz: Of course wearing heels!
Fiala: But actually, we were as far from the red carpet as possible…we were somewhere on a balcony. It was pretty gory, but ended up being great because we had time to write the screenplay.
Filmmaker: Do you work creatively well together because of your differences in experience and age or in spite of these differences?
Franz: I don't think age plays a role in creativity. I think the mind is maybe ageless —
Fiala: Up to a certain point —
Franz: At least until you forget everything. But, yeah maybe I've read more books than him or maybe he has seen more films, but it doesn't count. It's about thoughts coming together.
Fiala: Many film directors wouldn't want this though because for them, it's about ego, and they wouldn't want the influence of someone else. But we want our films to be as good and rich as possible.
Franz: Like how Haneke says that someone has to be the boss. This is old school, this idea of "the boss." It's possible that there are two bosses.
Fiala: Or maybe no boss…the boss can be a group of people, and as the directors, we just have to pick the right group of people who are willing to give everything for the film.
Franz: Maybe it was similar with John Cassavetes and Gena Rowlands, only at that time, Gena Rowlands wouldn't have stood up to say, "I put this and this and this into the film," like Hitchcock's wife who never stepped forward. When two people are very involved in a project, and it's a man and woman, it's difficult. But that has changed. Or that should change. With Severin and me, even if one of us is stronger in something than the other, we decide everything together.
Fiala: You can only do films together if you believe you both want to achieve the same result. We never have to discuss a film as we are shooting. We know that we think the same. It's not about vanity or ego. That harms films. Like on a film set when people try to act important, it's an ego thing and it doesn't help the film. For example, when people shout "silence" even though it's already silent.
Franz: Our set was anti-authority. We don't shout at people, and even though we had a dark story, we had a playful atmosphere. Even if the team had to wait for us to shoot a scene because we wanted to play with the children, we'd play with the children.
Fiala: The cinematographer maybe felt uncomfortable because we never had the script on set for a single day. But we wrote it together and read it out to each other over a hundred times. We knew it by heart and didn't need to have it on set. We wanted the actors, especially because we were working with children, to feel free being alive and real.
Filmmaker: Do you satisfy any filmmaker clichés?
Fiala: We are heavy drinkers…maybe that's a cliché and one we fulfill perfectly.
Franz: Well, that's not a cliché for women actually…maybe because they haven't been around in the film business long enough…
Filmmaker: Do you ever fight?
Franz: The only time we argue is in the editing room.
Fiala: Writing films is a way of spending your life. There is nothing to fight or feel melancholic about — you should enjoy it.
Filmmaker: Could you imagine working separately at this point?
Fiala: It doesn't really make much sense because the films wouldn't be as rich and we wouldn't have such a good time.
Franz: No, at the moment, we couldn't imagine it.