Back to selection
Hits & Misses: How Seven Films from Sundance 2015 Performed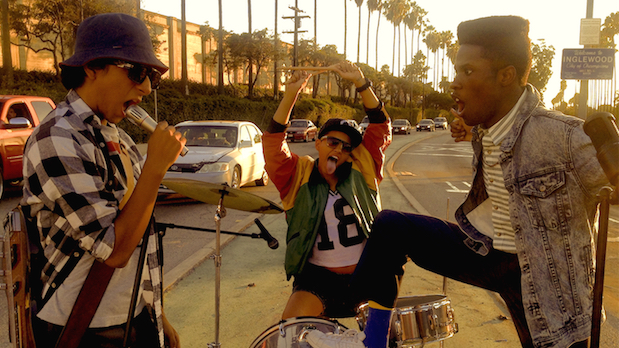 Dope
The health and identity of American independent cinema has always been difficult to gauge and define, but Sundance is our default arbiter and explainer. Of course, indie film exists far beyond the limits of Park City in January, but the festival gives the nebulous American indie sector a test sample — and as any scientist will tell you, that's the first step in making an accurate hypothesis.
So what can the films of Sundance 2015 clarify about the state of American indies, now and in the future? Some trends can be attributed to random cycles and one-time events, but there are also some concrete takeaways.
The standard-bearing 16-film U.S. Dramatic Competition is a good place to start. Half of those films have received or will receive meaningful theatrical releases: One film broke out (Dope, which earned over $17.5 million); two disappointed in wide release (Me and Earl and the Dying Girl, which made an impressive sounding $6.7 million, and The D Train, which earned just $700,000); and another three performed modestly in arthouses, with earnings ranging from high six figures to just over $1 million (The Diary of a Teenage Girl; The Overnight; The Stanford Prison Experiment). Two other big acquisitions, The Witch and The Bronze, will be released in 2016.
Of the remaining films, five received limited theatrical releases in the hopes of propping up digital sales (I Smile Back; People, Places, Things; Results; Unexpected; Z for Zachariah) and the rest (Advantageous; Stockholm, Pennsylvania; Songs My Brother Taught Me) didn't receive any commercial play in the marketplace. (The former was released by Netflix, and Stockholm, Pennsylvania was bought by Lifetime.) Based on past years, this 20 percent to 25 percent success rate has remained fairly consistent. Frankly, it comes as a surprise that nowadays the numbers aren't worse. With a glut of studio "product" and changing viewing habits, it's remarkable that so many indie films were pushed as aggressively as they were in theaters. (CORRECTION: The 2015 competition film Advantageous was commercially released in theaters in New York and San Francisco for one week. Its acquisition and release by Netflix also proved advantageous for the film's producers.)
There are two possible and related causes for the continued fervor around Sundance titles: the rise of new distributors (The Orchard, Alchemy) attempting to stand out from the crowd, as well as the perceived health of the new multiplatform entertainment universe. Both of these phenomena undoubtedly propped up the indie business, both in terms of acquisition prices at Sundance 2015 and in their eventual release strategies.
But the weaker than expected box-office performance of Searchlight's Me and Earl and the Dying Girl and IFC Films' The D Train, given the amount of P&A spent, could dampen the mood at Sundance 2016. Single-digit million-dollar grosses could be found in a few higher-profile, noncompetitive Sundance Premieres, such as Sony Pictures Classics' Grandma ($6.9 million), A24's The End of the Tour ($3 million) and Fox Searchlight's Mistress America ($2.5 million). Still, many executives complained this year that wide-release summer rivals such as Jurassic World and Inside Out dominated screens and the minds of consumers, leaving counter-programmed titles in the lurch. "It was a summer box office where studio tentpoles over-performed and saw little decay week after week," admitted The Orchard's Paul Davidson.
Hollywood dominance won't keep specialized distributors from joining the theatrical fray, however. As Sony Pictures Classics' Tom Bernard says, "I think it's very important to put a movie out there and create that big awareness, because the ancillary marketplace is on its way back." And for that very reason, Sundance 2016 may be as heated as ever.
Below, find seven case studies of films that premiered at Sundance 2015, and what became of them in the wilds of the marketplace — for better and for worse.
Dope
THE FILM: Following in the footsteps of last year's Dear White People, this coming-of-age hip-hop high-school comedy seems destined for similar success from the get-go. Written and directed by Rick Famuyiwa (The Wood), the film follows an African-American teenage geek with Harvard ambitions who finds himself drawn into Inglewood's more dangerous side.
FINANCING: Significant Productions' Forest Whitaker and Nina Yang Bongiovi shop the project around Hollywood, but all the companies pass, suggesting it will cost $8 million to make — too expensive for an offbeat property. So Whitaker and Bongiovi go the non-studio route and bring on their majority investor on Fruitvale Station, the duo's successful 2013 Sundance entry. The investor rallies his friends, and what they hoped would cost $2.5 million eventually comes in at a $3-million price tag, all paid for in private equity. "Filmmakers have to understand budgets and what distributors will pay," Bongiovi says. "For me, at $3 million, the worst case scenario is they'll get their money back. Best case scenario is what we got."
DEALS: What they get is the biggest buy out of Sundance. While critics are mixed on the film, the premiere at the Library Theater stirs massive buyer interest. Representatives from Open Road Films and Sony Pictures, who have worked together before, stay up all night to jointly acquire the film, paying $7 million, with a minimum $15 million P&A commitment for, respectively, U.S. and international rights. Other distributors vying for the project, according to the trades, include The Weinstein Company, A24, Fox Searchlight and Focus. For a film about African-Americans, the international side of the deal is particularly welcoming. "They say that black films don't travel," Bongiovi says, "but Fruitvale travelled. And music travels."
RELEASES: Open Road commits $18 million in P&A to launch the film in a major way on June 19 across 2,002 screens. Opening sales are solid, but not amazing, with per-theater averages of $3,047. The film hangs around win theaters for another 13 weeks. According to Bongiovi, the film also plays well in Australia, France and England.
GROSSES: Total U.S. box office gross amounts to $17,506,470. Ancillary sales are robust: In November, the film is ranked No. 15 on iTunes for the high price point of $9.99.
UPSHOT: Significant and their investors are in the black with their high MG, ready to launch a slew of new projects for 2017. Though Open Road spent a fortune on P&A, they should eventually make a profit on SVOD and VOD. Most of all, the film helps re-launch the career of director Famuyiwa, who after three studio projects hadn't made a film in five years. "It was amazing to see his career resurrected," Bongiovi says. "He's booked on projects for the next year."
Meru
THE FILM: Playing in the Festival's U.S. Documentary Competition and winner of the Audience Award, Meru follows three experienced American climbers — Conrad Anker, Renan Ozturk and co-director and shooter Jimmy Chin — as they attempt to reach the peak of Mount Meru, a 21,000-foot sheer cliff in Northern India.
FINANCING: The production is essentially paid for by Chin himself, as he records himself and his fellow climbers on their treacherous journeys. "It's cheap to make when the cinematographers are also the subjects," says producer Chai Vasarhelyi, who is also Chin's wife. Financed by three executive producers with no history in film finance, most of the $400,000 budget goes to a lengthy postproduction period, which lasts 20 months. Because of the sports aspect of the story, grants are not an option. But from the very start, Chai says it was "important that the film transcended the [climbing film] genre, so that it would be compelling to people who couldn't care less about climbing."
DEALS: Represented by Submarine Entertainment, the filmmakers make a raft of pacts at Sundance: Music Box Films takes U.S. theatrical and home entertainment rights, with the exception of TV broadcast rights, which are acquired by Showtime; Mongrel Media buys Canadian; and Universal Pictures takes all rights for other international territories. The deals top out at $1.3 million upfront. The producers go with Music Box Films, because the company also offers a percentage of the back-end.
RELEASES: With the clock ticking before the mid-September release of the big-budget Everest, Music Box Films' Ed Arentz figures the company only has a month after the film's Aug. 14 release to maximize sales. "We told our exhibitors we need to open quickly," he says. "Because of the climbing and outdoor lifestyle communities, in places like Boulder and Seattle, we were able to go much deeper and quickly than you could normally do with a doc," continues Arentz. Fortunately for the Meru team, Everest bombs in the U.S.; the independent documentary continues to play decently throughout the early fall, helped by strong reviews, social media shout-outs from celebrity climbers and publicity from Into Thin Air author Jon Krakauer, who does publicity and Q&As.
GROSSES: Despite a number of celebrity- and issue-driven nonfiction at Sundance, Meru remains the top grossing of the crop, with box office totals over $2.3 million. (It's ranked second only to Amy for all docs released in 2015.) The mid-November VOD and DVD launch is also strong, ranked in the top 10 on iTunes and a top-seller on Amazon. Home entertainment revenue is expected to exceed, or at least match, theatrical sales, according to Arentz. Reflecting on the film's success, Arentz opines, "The arthouse world is not radically different from the mainstream world in that escapism and experience is something audiences want to see."
UPSHOT: The success of the project — along with a number of year-end accolades from the Producers Guild of America and the Spirit Awards — continues to push the film and Chai's profile as a doc producer. "Doors have opened for us," she says. "There are several new projects that have been offered and we now have greater access to financing and distribution mechanisms." Also, watch out for Music Box Films as a doc buyer.
The Diary of a Teenage Girl
THE FILM: Based on the graphic novel by Phoebe Gloeckner, The Diary of a Teenage Girl recounts the coming-of-sexual-age of a teenager growing up in the countercultural haze of 1970s San Francisco. Featuring a mix of live-action and animation, the film stars Alexander Skarsgard, Kristen Wiig and newbie actress Bel Powley.
FINANCING: With the rights to the book, first-time writer-director Marielle Heller stages a theatrical production, which grabs the attention of veteran New York indie producer Anne Carey. After spending time at the Sundance Institute's writers and directors labs, Heller also teams up with Madeline Samit, head of films at entertainment company Caviar, and Miranda Bailey's Cold Iron Pictures. But it's an early seed grant from Cinereach to help the production move forward on casting that is a "gamechanger," Carey says. The Sundance Institute also offers grant money. With names cast such as Wiig and Skarsgard, the film is able to finance the rest of the budget — a little over $1 million, according to Variety — against foreign pre-sales, handled by UTA and K5 International.
DEALS: At Sundance, on a busy Sunday night, Sony Pictures Classics firms up a deal for a reported $2 million, which includes distribution rights for North America, Latin America, Australia, New Zealand, Eastern Europe (excluding Russia), Asia, Scandinavia and Germany. "We met with a couple distributors prior to Sundance," Carey says, "but SPC had a strong point of view — they got it."
RELEASES: In early August, SPC releases the film in traditional arthouse fashion — in four theaters on the coasts and reaps strong opening numbers (over $13,000 per-screen averages). Subsequent bumps from 22 to 69 theaters are solid enough (with $4,866 and $2,476 per-venue averages in weeks two and three). But a wide release break in week four to 795 theaters falters, and the film never breaks out. "I think the audience was a little reluctant to see the film in theaters, because of the sexuality of the film," says Classics' Tom Bernard, who also blames the "R" rating.
GROSSES: The film plays for over 11 weeks in the U.S., earning $1,477,002. In the U.K., Vertigo opens around the same time and grosses over $125,000. "The box office could have been better," Bernard admits. But he's not worried. He's expecting the awareness built up by the wide-release to more than pay for itself when the film becomes available digitally in January. "It will have a long life," he attests.
UPSHOT: Heller, selected as one of Variety's 10 Directors to Watch, is on her way up, having already filmed some splashy star-studded branded content for Kate Spade. The film also helps launch Brit actress Bel Powley, who garners a Best Actress Gotham Award and is attached to at least five new projects.
The Wolfpack
THE FILM: Winner of Sundance's Documentary Grand Jury Prize, first-time director Crystal Moselle chronicles the lives of the Angulo brothers, six teenagers who are isolated from the outside world, living their entire lives largely confined to their Manhattan apartment. The documentary traces their day-to-day experiences and the worlds they've created by watching and re-enacting their favorite movies.
FINANCING: Initially self-funding, Moselle connects with actor David Cross, who is an early supporter. Financier Cameron Brodie and his brother, Verisimilitude's Tyler Brodie, along with photographer/artist Louise Ingalls Sturges, complete the financing.
DEALS: A few days after the film's world premiere, Magnolia Pictures announces the purchase of worldwide rights for "mid-to-high six figures."
RELEASES: In mid-June, Magnolia stages a slow roll out to build word of mouth. Opening numbers are stellar ($43,920 in just two theaters). There is also an enormous interest from the media, but Magnolia doesn't want to give the film's story away to the news. After a week in release, they book the brothers on several ABC shows, including Good Morning America, The View and 20/20. "That gave us a chance to have the film get major reviews and word of mouth and stand on its own as a beautifully realized artistic work, rather than a tabloid story," Magnolia's Eamonn Bowles explains. Celebrity supporters such as David O. Russell, Werner Herzog, Robert De Niro and Spike Jonze voice their support for the film. At the four-week mark, the film expands to 94 theaters and also launches on VOD.
GROSSES: After 18 weeks in theatrical release, The Wolfpack earns over $1.3 million. Early VOD revenue lives up to expectations, just a bit below the theatrical box office, according to Bowles, who also says that international sales are solid, with the U.K. being a standout.
UPSHOT: Magnolia Pictures proves itself again as a distributor able to generate water-cooler conversation about a doc (remember Capturing the Friedmans 12 years ago?), while Moselle moves up in the documentary world in a major way.
The Overnight
THE FILM: Patrice Brice (Creep) directs this sex comedy about a couple, recently transplanted to Los Angeles, who experiences a night full of surprises at a new friend's house. The film stars some recognizable names from the TV and indie worlds: Adam Scott, Taylor Schilling, Jason Schwartzman and Judith Godrèche.
FINANCING: Actor Adam Scott's company Gettin' Rad Productions and the Duplass brothers raise the film's reported $200,000 budget.
DEALS: During the festival, The Orchard aggressively steps up and buys North American distribution rights for approximately $2 million, beating out other lesser bids. In addition, Universal Pictures International purchases foreign rights for roughly $1 million, according to Variety. ICM Partners and Submarine negotiate the sales.
RELEASES: In its third week in release, the film maxes out on 307 screens, benefitting from its recognizable cast, each catering to different audience demos. Orange is the New Black's Taylor Schilling draws a female audience, while Adam Scott and Jason Schwartzman pull in, respectively, TV comedy and indie-film aficionados. "It tracked really well with a female over-30 audience, which was a pleasant surprise," Davidson says. The Orchard also relies on clever online viral marketing, producing original short comedy segments for Funny or Die and Comedy Central, and releasing the first seven minutes of the film on Facebook. "We looked at the folks who watched all seven minutes to get a good sense of what cities and what markets would be receptive to the film," Davidson explains.
GROSSES: Total box-office receipts amount to nearly $1.2 million — which Davidson acknowledges is below expectations, partly due to the crowded summer marketplace. But the film over-performs on the digital side, earning close to $1.5 million in downloads. "When you can spend smartly on P&A, it may not necessarily generate the box office, but people do remember it, so when it comes back on digital, you do have an opportunity to make money," he says.
UPSHOT: The Orchard makes a name for itself. "It was a huge milestone for the company," Davidson says. After the deal, the company went on a small buying spree, acquiring such docs as Finders Keepers and Cartel Land and, perhaps more importantly, carving out a strategic relationship with low-budget comedy maestros Mark and Jay Duplass on a slate of seven upcoming films. "Even if [The Overnight] lost money, which it won't, it was worth it," Davidson says.
Tangerine
THE FILM: Impressively shot entirely on an iPhone, Sean Baker's low-budget NEXT entry follows Sin-Dee (Kitana Kiki Rodriguez), a transgender prostitute, who goes on a mission to discover whether her pimp boyfriend has been unfaithful.
FINANCING:The film's reported $100,000 budget gets fronted by Duplass Brothers Productions (i.e. Mark and Jay) and Marcus and Karrie Cox's Through Films.
DEALS: In the wee hours after the film's premiere, Magnolia Pictures closes a deal for worldwide rights for "low-to-mid six figures," according to Magnolia's Eamonn Bowles. Other distributors such as A24 and IFC Films are also said to be in hot pursuit. ICM Partners' Jessica Lacy and Submarine Entertainment's Josh Braun represent the filmmakers in the negotiations.
RELEASES: On July 10, Magnolia opens the film on four screens, earning a healthy $15,171 per-house average. A solid start, the film expands incrementally, eventually hitting 44 theaters in early August. Initially, Bowles is concerned that the iPhone publicity "would limit the film in moviegoers' eyes, viewing it as a curio rather than one of the best films of the year." The transgender issue also helps to buoy the film, as it is included in several mainstream trend pieces on the subject. A New York Times Sept. 3 transgender-themed article coincides with a lift in sales over Labor Day weekend. "One of our biggest challenges was to convey to the audience that this film, which is groundbreaking in terms of sexual orientation and technology, is insanely funny and entertaining," Bowles explains. So in pull quotes, they emphasize the "brash, unapologetic, real-world hilarity" of the film over its social aspects.
GROSSES: After 15 weeks in release, box-office sales total $702,354. According to Bowles, the film has also done very well across the board internationally — which "is especially noteworthy," he explains, "because quite a number of more culturally restrictive countries ended up buying the film." U.K. sales were a particular global highlight. Digital numbers were not yet available as of deadline.
UPSHOT: Baker (Prince of Broadway, Starlet) distinguishes himself further as an auteur to watch, while Magnolia and the Duplass Brothers launch a "modest awards campaign" for the film, which they tout is "the first awards season push for a transgender actress." While unlikely to garner nominations outside of heavy Spirit Award recognition — and at the Gothams, where Mya Taylor won the Breakthrough Actor Award — the campaign nevertheless raises the film's profile, setting it up for a long ancillary life. And last, but not least, as Steven Soderbergh tweets: "Tangerine officially ends all debate about the relevance of capture mediums."
The Russian Woodpecker
THE FILM: Playing in the often neglected World Cinema Documentary Competition (and winning a Special Jury Prize), American director Chad Gracia's film follows an eccentric Ukrainian performance artist, Fedor Alexandrovich, who seeks conspiratorial connections between the Chernobyl nuclear disaster and the "Duga," a.k.a. "The Russian Woodpecker," a massive, Soviet-constructed radio antenna.
FINANCING: Gracia budgets for a shorter version of the project, $5,000 for five shooting days. But as the project evolves, Fedor's search deepens, and the "Maidan" protests erupt, Gracia puts more of his own money into the film (the first $100,000 is funded by his savings and renting his New York City apartment on Airbnb). Gracia cold-emails producer Mike Lerner (The Square) at Road Beef Productions with some footage, and the company agrees to help with postproduction and completion. Near the end of the process, they received an $18,000 grant from NYSCA. (Gracia also raises another $9,800 from Indiegogo to help pay for medical treatment for their DP after he is shot by a sniper.)
DEALS: After the film premieres at Sundance to critical acclaim, it remains in limbo for months. Cinetic handles sales and shows it to their sister company FilmBuff, which wants worldwide rights. The company continues to pursue the film, offering the filmmakers a straight percentage of all gross revenue. A deal is finally announced in late September. Subsequently, FilmBuff closes several TV licensing deals around the world: most prominently, ARTE in France, but also in Germany, Norway, Italy, the Middle East, Southeast Asia and North Africa.
RELEASES: FilmBuff organizes a small theatrical release in New York and L.A., along with a VOD release on Oct. 16. The film receives strong reviews — a 95 percent on Rotten Tomatoes — but box office and transactional VOD numbers are modest. "We knew it was going to hit a core audience of arthouse fans and conspiracy-theory enthusiasts," FilmBuff's Jake Hanly says. "It's on-pace to perform as expected — approximately mid-five figures in transactional receipts."
GROSSES: After a year, Hanly estimates the film will earn a total of $200,000 to $250,000, from all licensing, VOD and sales.
UPSHOT: New York off-Broadway theater producer Gracia has found a new métier: his debut film goes on to win five film festival prizes and an IDA nomination for Best Feature. After Maidan but before Winter on Fire, The Russian Woodpecker also has the distinction of one of the first docs about the ongoing political crisis in Ukraine. As Hanly vows, "It will remain a discovery title for a long time."