Back to selection
"Inside a Minivan with a Huge Hog": DP Damian Garcia on Diego Luna's Mr. Pig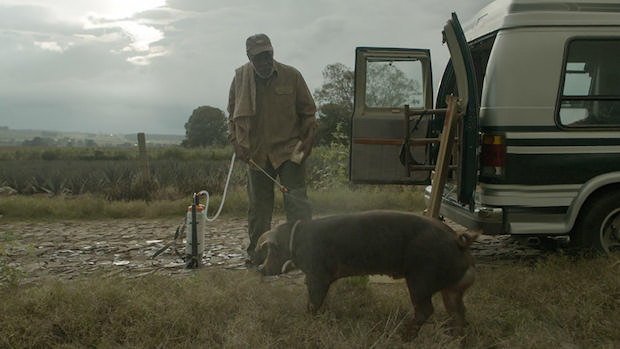 Mr. Pig
Actor Deigo Luna visits the Sundance Film Festival for the first time as a director with Mr. Pig, a rural road movie starring Danny Glover and Maya Rudolph. The film was shot by Damian Garcia, a DP with more than a dozen Spanish-language shorts and features to his name. Filmmaker spoke with Garcia about the film's location shooting and unobtrusive visual style. Mr. Pig played in the Premieres program at Sundance 2016.
Filmmaker: How and why did you wind up being the cinematographer of your film? What were the factors and attributes that led to your being hired for this job?
Garcia: I met Diego while filming a commercial and I have known Pablo Cruz and Arturo Sampson for a long time. We talked about the film, Diego showed me the script and I was immediately excited about it. I couldn't tell you why I was hired but I can say that I feel incredibly fortunate to have worked on this project. The production was very moving and Diego is a wonderful director.
Filmmaker: What were your artistic goals on this film, and how did you realize them? How did you want your cinematography to enhance the film's storytelling and treatment of its characters?
Garcia: From the beginning Diego was set on doing a film that centered around honesty and truth, which is why we decided to film in the least intrusive way possible both towards the characters and the story. So we set out to film this fictional tale as if we were peeking in to see the characters, trying to be as respectful as possible. We worked very hard trying to stick to those rules while remaining close to the story and its protagonists, and also to find images that we liked and an interesting language. We always tried to find the right place from which to shoot a sequence so that everything could work from that spot: it was thrilling when this happened.
Filmmaker: Were there any specific influences on your cinematography, whether they be other films, or visual art, of photography, or something else?
Garcia: We looked at and reviewed many things in preparing for Mr. Pig. I had Nan Goldin's work very present in this process: the way in which, with few alterations to light and locations, he achieves unbelievable strength and narrative.
Filmmaker: What were the biggest challenges posed by production to those goals?
Garcia: The challenges were to some extent the goals themselves (spontaneity when filming). Perhaps the main challenges came in the way we filmed: we shot only in real locations with natural light and inside a minivan with a huge hog. Trying to be consistent in look and style under those conditions and with limited time was really challenging.
Filmmaker: What camera did you shoot on? Why did you choose the camera that you did? What lenses did you use?
Garcia: We originally wanted to shoot on film, but our production schedule and the way in which we wanted to do it made it very complicated. We were a team of 40 people shooting this film. We decided to film with an Alexa XT and Cooke's S5 which are some beautiful lenses.
Filmmaker: Describe your approach to lighting.
Garcia: Ninety percent of the film was shot with natural light. I love working like this but it comes with certain risks when shooting on such a tight schedule. Despite this, I think it was a good approach towards maintaining the natural feel throughout the movie.
Filmmaker: What was the most difficult scene to realize and why? And how did you do it?
Garcia: Perhaps shooting a long and complicated sequence inside a pig farm with thousands of animals inside. Only a few of us went in to film it and our movements were very limited; it was hard for us to even hear each other speak. We tried to maintain the same attitude we had been having for the rest of the film, and I think in the end we achieved it. Plus, the discomfort is very apparent which is good for the story.
Filmmaker: Finally, describe the finishing of the film. How much of your look was "baked in" versus realized in the DI?
Garcia: I could say that we worked hard to establish a very defined look while we were filming. Both Diego and I believe that it's always better to try to get the closest to the final result on set and then only do touch ups in DI. I think in this case the final result looks a lot like what was shot. To color correct we had the fortune of working with Stefan Perry at Framestore in London, who was extremely dedicated and did a fantastic job with the film.
Camera: Alexa XT
Lenses: Cooke S5