Back to selection
Five Questions for Southside with You Writer/Director Richard Tanne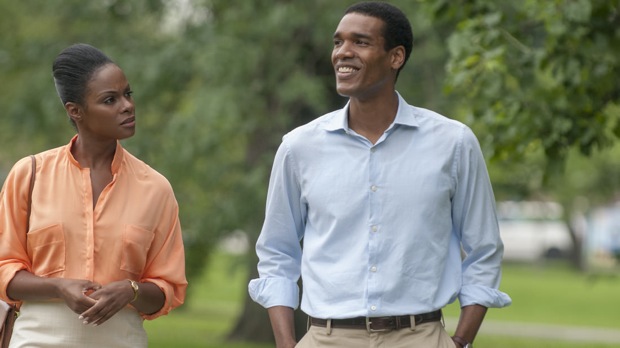 Tika Sumpter and Patrick Sawyer in Southside with You
Intriguing for its logline alone, Southside with You raised considerable interest when it was announced as a Sundance selection. Telling the true story of President Barack Obama and First Lady Michelle Robinson's first date in Chicago in 1989, the film features the leader of the free world at a moment in time where things were perhaps not as high-stakes for him as they are now. Bonding over ice-cream and shared interests, that fateful date would prove to be a more important outing than the lovers could have initially realized.
As the film prepared to make its world premiere, director Richard Tanne discussed the central relationship at the heart of his film, shooting in Chicago and the things to take note of when making a movie about a sitting president still in office.
Filmmaker: When the lineup for this year's festival was announced, Southside with You was perhaps the most striking inclusion, becoming labeled as the "Barack and Michelle biopic." Were you looking to create an all-encompassing story about the lives of the President and his First Lady or were you looking for a microscopic moment to hone in on? What did your research consist of?
Tanne: I was only looking to tell the story of the first date. There's something special about the way the President and the First Lady look at each other. To me, their connection feels authentic, deep, and vibrant. That they're the President and the First Lady makes their dynamic all the more fascinating. Looking at the first date was a way to explore how something like that begins. It was a way to explore the spark and all of the little moments that break down the walls and allow us to connect with someone. In that sense, the film is more microscopic than all-encompassing, but there is a lot of biographical detail that informs the characters, what they talk about, and how they relate to one another. My research primarily consisted of reading. Everything I could get my hands on is in the public domain, and they were mostly articles and interviews. I tried to stay away from anything about their lives that took place after the summer of 1989, which is when their first date took place.
Filmmaker: What is your view on films about sitting presidents being released while their subject is still in office? Should there be a moratorium of sorts between when a president leaves office and when a fiction film can be made about him? I'm reminded of Oliver Stone's W. from 2008 as one such example, and the cold response it received due to the lack of historical context.
Tanne: I'm sure this sounds hard to believe, but the ramifications of making a movie about a sitting president never really occurred to me in any meaningful way. I never felt like I was making a movie about the sitting president. I felt like I was making a movie about this 28-year-old guy named Barry and this 26-year-old girl, Michelle Robinson. The moratorium question is funny because if I said yes, I would be prohibiting my movie from being released anytime soon! But the other thing is, I'm actually a big fan of W. as well as Primary Colors, which was released when President Clinton was in office. Even All the President's Men was released only a couple of years removed from Nixon's resignation, and so I think a moratorium could be limiting to filmmakers and storytellers.
Filmmaker: By not necessarily focusing on his political career (and all that would transpire in the near future), did you have to resist the urge to foreshadow when writing the screenplay?
Tanne: I never had the urge. From the time the idea came to me and all the way through the writing, casting, shooting and editing, the focus was only on the characters and how to make them and their connection feel real. It was a modest ambition, but I really just wanted to capture a moment in time.
Filmmaker: You shot the film in Chicago, where Barack and Michelle met. Were you able to use any real-life locations that factored into how the couple met and did you have to shroud any of the production in secrecy?
Tanne: We shot very close to many of the actual locations [the Obamas went to]. For example, while we weren't granted access to Michelle's childhood home, we did shoot at a home in South Shore, which was her neighborhood, just a couple of blocks down from where Michelle and her family lived. The Hyde Park mini-mall where Barack and Michelle shared their first kiss was too modernized to film at, and so we found the perfect spot a couple of blocks down. As far as secrecy goes, I would say that our production had the standard privacy measures of any film set, but with one exception: the folks on the south and west sides of Chicago were like the invisible hand in our production. Whether it was coming by to watch and cheer us on or to open up their homes, stores, restaurants, and churches, the fine folks of Chicago were there for our cast and crew. We wouldn't have been able to make the film without their generosity.
Filmmaker: I imagine the casting of the two lead roles proved to be a daunting task. Although Tika Sumpter is most well known for her role on One Life to Live, Parker Sawyers has had only a few bit parts in major productions like Zero Dark City and Jack Ryan: Shadow Recruit. How did you determine that these were the right actors for the roles?
Tanne: I had written a very short outline for the script in 2013. It conveyed the tone and perspective the film would take. A mutual friend showed the outline to Tika and she wanted to meet. She expressed her desire to play Michelle and also to help get the movie made. She blew me away when we met. Her strength, passion, and smarts told me would make a great Michelle. I said, "Let me go write the script and then let's see if you're still interested." Some months later, once I finished the script, Tika was still interested and wanted to team up to get it made. Aside from delivering a beautiful and complex performance, she backed me as a first-time director and was instrumental in securing the financing. She has been the movie's guardian angel. Parker's casting came about in a more traditional way. He was one of many actors who sent in an audition tape. His physical resemblance was uncanny, but I was at first put off by the fact that he was doing an impersonation of President Obama. It happened to be a great impersonation, but an impersonation nonetheless. I was looking for someone to play the character on the page, not the man we see on TV every night. Our casting director, Twinkie Byrd, then suggested I call Parker and give him some direction. I didn't have to give him much. As soon as I said "Get the president out of your mind, because you're just a guy trying to get a date with this girl," it totally clicked for him and he wanted to get off the phone and start working on another tape. The next day, a new tape arrived and he was out of this world. I remember thinking, "Okay, now this thing has a real shot at working."