Back to selection
Five Questions with Amber Sealey, Director of No Light and No Land Anywhere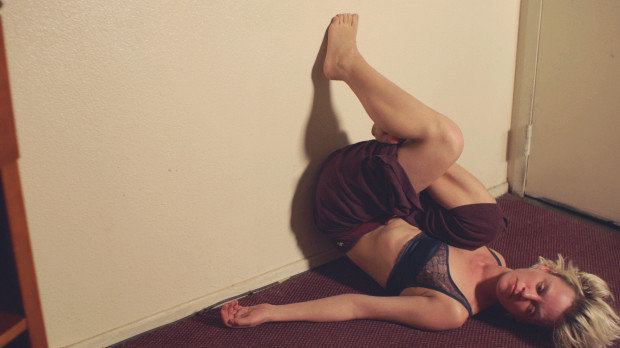 No Light and No Land Anywhere
After having premiered at the 2016 Los Angeles Film Festival, Amber Sealey brings her new feature, No Light and No Land Anywhere, to theaters today. The Factory 25 release screens at the IFC Center, with Sealey doing Q&As at all the evening shows. Tickets and information can be found here at the link. And, below, read Paula Bernstein's interview with Sealey conducted just prior to the film's festival launch.
Five years after her last feature, writer-director-actor Amber Sealey returns with No Light and No Land Anywhere, a psychosexual drama executive produced by Miranda July. Starring British stage actress Gemma Brockis in a riveting film debut, No Light and No Land Anywhere tells the story of a grieving and rudderless British woman who flees to Los Angeles in search of the father who abandoned her as a child. Set against an emotionally bleak Los Angeles backdrop, the film explores the bonds of family and what it means to be a woman adrift at a certain stage age of life.
The L.A.-based Sealey, who won the Best Performance Award at the 2011 Los Angeles Film Festival for her role in How to Cheat in 2012, returns to the festival this year with No Light and No Land Anywhere, which has its world premiere on June 3.
Filmmaker recently asked Sealey about crowdfunding her third feature, why it was so important to hire a predominantly female cast and crew, and her tips for shooting sex scenes.
Filmmaker: You starred in your first feature and had a supporting role in your second. Did you consider playing a part in this film? Why or why not?
Amber Sealey: It didn't really occur to me to act in this one, I'm not sure why. I always look for who is best for each role, and I guess none of the parts particularly seemed right for me. Gemma is also such a dear friend, and I feel very close to her as a performer because we worked together in theater in London for many years. So in some ways I sort of felt like I was in the movie because of my connection to her as an actor.
She and I have a great shorthand, and the way I work with actors is very intimate. So, although I'm not on the screen, I still felt intimately connected to the performances. In my imagination I am in the film! Also, because we were doing this one so fast and dirty, it really made sense for me to not try and wear too many hats. And I found such great actors who I was thrilled to work with, so I didn't feel there was any sort of performing void that I needed to fill.
Filmmaker: Amazingly, this is Brockis's first film. How did you find her as your leading actress?
Sealey: Yes, Gemma is amazing! I've known her for years, and we sort of fell in love with each other as performers in London in the late '90s and early '00s, working in the theater company, Shunt. We always talked about doing a film together once I started making movies, and finally I just said to her one day, "Gemma, this is it! We are doing it now!" I think I even booked her ticket to fly over here and film it before I had written the script. It was just one of those things that we suddenly knew we had to do. And she's the best kind of actress — fearless, devoid of any pointless vanity, generous. I was just so happy to get a chance to work with her again because we've always loved making art together.
Filmmaker: The film handles sex and nudity in an uninhibited and sensitive way. How did you manage to achieve that tricky balance?
Sealey: Well, it turns out I'm a big fan of sex scenes, because I have them in all my movies! I guess I'd have to say that I think romance and sex and that physical part of our lives is a huge part of being human, so it's hard for me to tell a story about someone without also exploring that side of them. This movie would feel incomplete without understanding that part of her life and psyche too.
Filming sex scenes is a delicate thing, but when you have smart and sensitive actors like I had, it's almost easy. The important thing is making sure everyone is comfortable enough that they feel free to go the distance that you need them to go. I find that if you give actors a lot of freedom they will surprise and thrill you. And when you push them into a box and demand something of them, you might not always get what you want. But if you open up the conversation so they feel empowered and included in the decisions you are making about their physical body, then you can get amazing results.
Filmmaker: You crowdfunded to raise money to shoot the film. What did you learn through that process?
Sealey: Crowdfunding is such an intense process, but one that really teaches you a lot about so many things, including how to be tenacious and loving at the same time. People have all sorts of varying opinions on crowdfunding, but mine is that it's a really valid way to support independent art and a way to make tangible the things that you want to see in the world. If you believe there should be more films made by women or people of color, then donate to one of their crowdfunding campaigns!
Crowdfunding is a really direct way to vote with your dollar. We tell corporations every day what we care about by buying certain things, paying for certain things, and if we do that same thing with a few dollars for crowdfunding donations, that's a very important thing you are doing with your money, especially in a country like the U.S. that really has no government arts funding to speak of. It's also an easy way to show kindness towards someone who has the courage to try to make something they believe in, and who has the courage to ask you to help them make it. It's really hard to ask people for money, but I learned that most people actually do want to give — they just sometimes need a few reminders or encouragement in a way that they respond to.
Filmmaker: I know you made it a point of hiring a mostly female crew. Can you talk about why that was important for this film in particular?
Sealey: It was really important to us to hire as many women on this film as possible, and I think our final numbers were something like 83% of all the cast and crew were women. The reason why I did that is because of all the appalling statistics that have been coming out in the last few years about the gender imbalance in this industry. Before this I thought, "Oh, this is so bad, why doesn't somebody do something to fix it?!" I never really saw myself as being that somebody who had the power to do it.
But then I realized that change really starts with oneself, and if I wanted the gender imbalance to change, I actually could make a difference by who I hired on my crews. In a sense, I had to get in touch with my own power to see how I could actually have a hand in shifting that needle a bit. It's sort of like recycling: if we all just do our little part, then soon there will be large scale change.