Ornana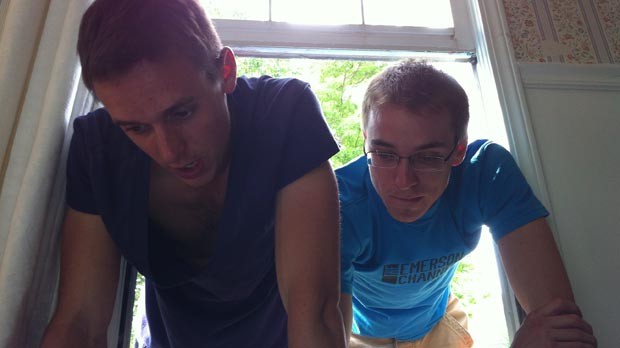 Ornana
When Danny Madden was a kid, he messed around with his dad's video camera, making movies with his younger brother Will. But it was only when Madden was in his late teens that, along with school friend Jonathan Silva, he began taking films seriously. Thus was born Ornana. The name and logo came from a fake smoothie company Silva invented (Ornana = orange + banana); "it helped us not take ourselves too seriously," Madden says.
After high school, director Madden and d.p. Silva left their hometown of Peachtree City, Ga., to attend Emerson College in Boston, where they met Jim Cummings. "Danny and I would compete at the [school] film festival and I would always get second place and he would always get first place," recalls Cummings, now Ornana's producer. Filling out Ornana's ranks are producer Chad Munn and story consultant/co-producer Ben Wiessner, another Emerson alum.
Fittingly for a company founded by school kids, there is a fluidity to the roles within Ornana just as there is to the group's output; for example, Will Madden is both an actor and a.d. "We're always asking, 'What's a new way that we can tell a story?'" says Madden. "That mindset has brought us to almost having a 50/50 mix of animation to live action. Once I realized I could tell any story as long as I could draw it, that was incredibly liberating."
The project that sparked this breakthrough was the hand-animated From a Cow (2009), but Ornana's first true success was 2011's (notes on) biology, a funny and inventive short blending live action with animation, about a bored student in science class and the robot elephant he draws in his notebook. After premiering at Rooftop Films, the film went on to be nominated for an Annie award, win SXSW and get a million views online.
While Danny personally drew much of the film ("I've always been the doodler – I grew up drawing Power Rangers and Jurassic Park"), the live-action scenes were shot with the whole gang in his mother's classroom at Rising Starr Middle School in Georgia. (Peachtree City is hardly Hollywood: craft services is PB&J sandwiches from neighbors, local kids helped do the doodles in biology at "note-taking parties," and Ornana productions are often test-screened on the side of a house.) Right after biology wrapped, Ornana launched into the radically different Euphonia, a highly imaginative and idiosyncratic 50-something-minute live-action film about a teenager (Will Madden) whose obsession with recording the sounds he hears alters the world around him.
Euphonia, now in post, is due to go out to festivals in the near future, but the gang is already working on the animated Confusion Through Sand, about a young infantryman stranded in the desert. With their work growing more diverse, ambitious and accomplished with every project, Madden continues to aim high, saying he wants to continue "sharing stories with people. And if we can do that on a massive scale and keep doing it the way that we think it should be done, I think that's the goal."
Contact: www.ornana.com;  Ornanafilms@gmail.com
– Nick Dawson
Links
www.ornana.com
Ornanafilms@gmail.com