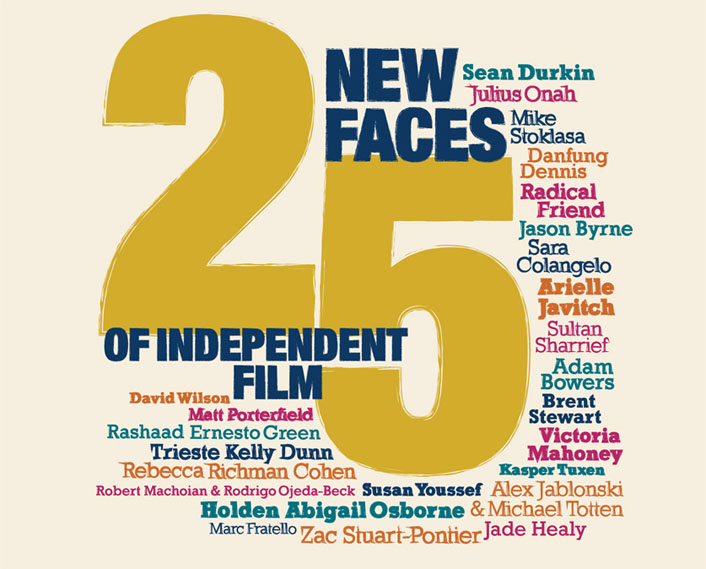 Welcome to the 12
th
 edition of Filmmaker's "25 New Faces" list. Here you'll find 25 up-and-coming filmmakers, editors, writers, actors and new-media people whose work feels new to us. It's our favorite issue of the year because it's the most rejuvenating. Through the course of assembling this issue we watch a huge amount of work – shorts and features that testify to not only the current strength of the independent scene but also its future promise. To compile our list, we don't solicit publicists, and we don't look at release calendars. Instead, we look back over the new filmmakers who impressed us the previous 12 months, and we do a lot of reach-out to fellow members of the community. Thanks to everyone who responded to my calls and emails with their thoughtful suggestions.
We resist making this list a confirmation of people who've already arrived, people we knew about years ago, and instead try to find people who excite us in the moment. Sometimes they are people like Putty Hill's Matt Porterfield, whose first feature, Hamilton, flew under most people's radar, including ours. Other times they are people like Victoria Mahoney, a first-time writer-director whose debut, Yelling to the Sky, Hasn't even been submitted to a single festival yet. All of these people, however, are those whose work at least one member of our editorial team loves. Passion ruled at the end of the day. 
With "25 New Faces" we try to play the long game, pinpointing people you'll hear about in the years ahead. Sometimes, though, broader recognition occurs earlier. For example, last year we selected Lena Dunham as one of our "25". Just a few months later she began her second feature Tiny Furniture, which went on to win SXSW and score a distribution deal with IFC.
If there's one trait that runs through this year's filmmakers it's their astonishing productivity. In a time when film financing is hard to come by and the larger industry is kind of scary, everyone on this list has found a way to keep working. Whether it's bouncing between a large-scale feature and a homemade Web series, a fiction screenplay and a vérité documentary, these filmmakers have mastered the art of balancing the large and the small. They aren't "waiting for their break" but instead are figuring out ways to extend their practice into other mediums, forms or production models in order to keep pursuing their art.
25 New Faces of 2010